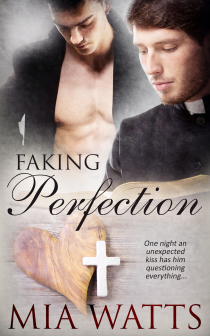 Title: Faking Perfection
Author: Mia Watts
Publisher: Totally Bound
Pages: 88
Characters: Eli, Garth
POV: 3rd
Sub-Genre: Contemporary Romance
Kisses: 4.5
Blurb:
Garth has never regretted his path into ministry…until one night an unexpected kiss has him questioning everything.
Father Garth is a priest with a problem. For years, he's had a fascination with a particular congregant. Though he's never actually acknowledged his sexuality, Garth's definitely more attracted to men than women. Fortunately, he hasn't had to deal with making a moral decision…until the night he is caught in the dark and kissed senseless. Now, he fantasizes that the kiss was from the one man he can't forget—Eli Jennings. For Garth, the man of his fantasies could be his, but how does he reconcile human desire with his vow to God?
Publisher's Note: This book was previously published elsewhere. It has been revised and re-edited for release with Totally Bound Publishing.

Review:
I've read several books by Mia Watts and I've enjoyed them all. She has a real knack of writing heroes that are both interesting and very sexy. Also, there is always an intense attraction that burns between them that really sizzles up the written page.
Forbidden romance is a favorite of mine. Give me two men who aren't supposed to find love together and I'm there. Since one of these heroes, Garth, is a priest and Eli is the man he's clearly not supposed to fall for, well I admit I was in reader's paradise.
The story itself is a smoothly written one. There is some angst and sweet moments and they are very well-balance. I liked that both Garth really ended up getting to the heart of the matter without being bogged down with too much conflict and too much angst. I really liked these two men together and enjoyed the journey they had to achieve a happy ending together.
Faking Perfection is a well-written, sexy story that I couldn't put down once I began reading it. Ms. Watts has once again wrote a thought-provoking and very sexy story that many readers will enjoy.
Highly Recommended!
Reviewed By: Gabbi
BUY HERE