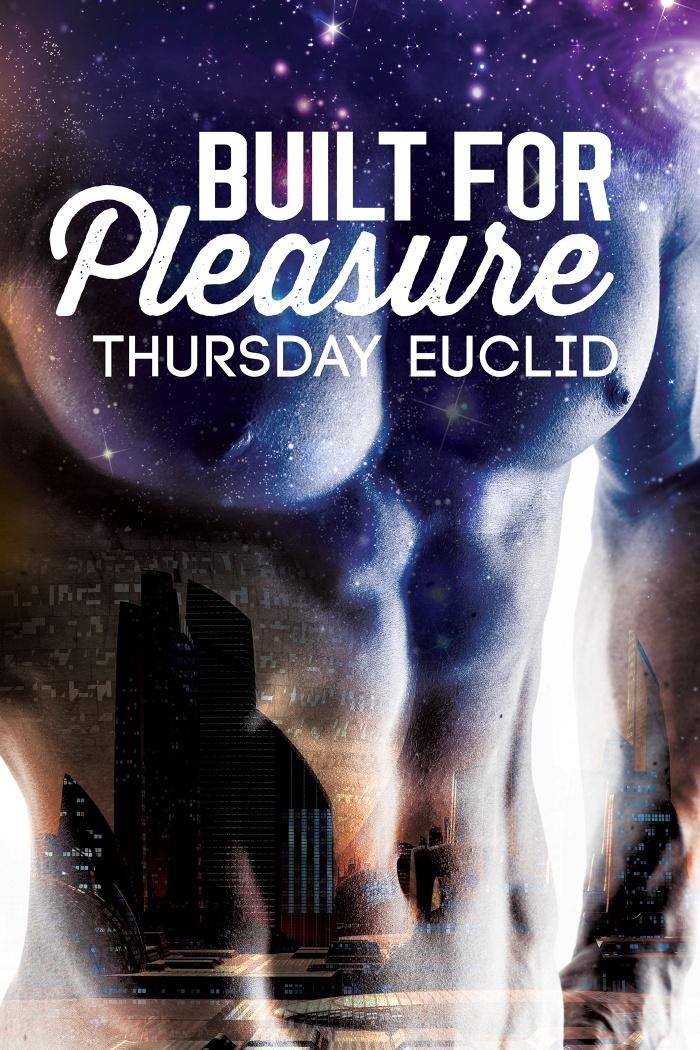 Title: Built for Pleasure
Author: Thursday Euclid
Publisher: Dreamspinner Press
Pages: 200
Characters: Malcolm Torvik, Wolf
POV: 3rd
Sub-Genre: Science Fiction, Romance
Kisses: 5
Blurb:
Retired military officer Malcolm Torvik runs a rehabilitation facility for malfunctioning pleasure cyborgs. When WLF-6759—Wolf—arrives at Reboot Camp, the former battle cyborg presents problems Malcolm's never faced before. Most pleasure cyborgs are sensation junkies, constantly high on the chemicals sex releases into their bloodstream, but Wolf's faulty refit means it's spent a decade suffering through unwanted encounters—and sometimes fighting back despite the consequences.
At first Wolf's rebellion frustrates Malcolm even as Wolf's undeniable physical perfection draws him. Then Wolf's unexpected vulnerability and need open a whole new dynamic between them, and Malcolm finds himself feeling far too much for something that isn't even human. Or is it? Could Homo sapiens technica be just as human as Malcolm is? And if it is, what's Malcolm supposed to do about it? Malcolm's been alone for so long…. Is it possible he's found love with a cyborg? How far will he go to ensure Wolf's freedom? Malcolm knows what he must do—for both of them—but it might cost him much more than his comfortable life.
Review:
I was really excited to read this book. Thursday Euclid is one-half of a writing team that is one of my favorites, so I was real anxious to read a story written by him. Also, science fiction is a favorite genre of mine so I was real interested in reading about the world Thursday created.
It's easy to say I really loved this book. I thought the author did a great job at describing the universe these two characters live in. The author's ability to describe the different settings, cultures and even the characters' beliefs without bogging it down with either too much or too little information is apparent that Thursday is talented at what he does.
It was so natural to fall in love with Wolf. As a cyborg who has been transformed, somewhat very unsuccessfully, as a sexual cyborg instead of a military one made this reader truly feel empathy for him. Wolf is used to be seen as a thing and not a person. In many ways, he himself, sees himself as less worthy than a human and I truly loved how Wolf began to see himself as the wonderful man he truly was. There are many layers to Wolf and though some aren't always pretty, I loved how each layer revealed what a true man he was and appreciated how he grew as a person.
Malcolm was more of a harder sell for me. At first glance, he is a little bit of a cold fish. He's not one to really be around people and he, himself if guilty of just seeing these cyborgs or bots as nothing but machines. BUT as the story continued and as Wolf began to worm his way into Malcolm's heart, I loved how Malcolm's point of view soon changes and the way he ended up truly standing by Wolf as a partner in the end.
The chemistry between these two men is a strong one. I liked the way they brought out the best in each other and loved the way they learned to fight for one another. Together, they are truly stronger together than separate and I felt like they could just about succeed at anything as long as they had each other.
I truly hope the author will continue this story. There is a bit of a cliff-hanger and it made me wonder what in the world was going to happen next. Either way, the ending is a happy and satisfying one.
Built for Pleasure was a highly addictive, well-written romance from start to finish. If you love science fiction with compelling, interesting heroes, this book is definitely one not to be missed!
Highly Recommended
Reviewed By: Gabbi
Click HERE to enter the Dreamspinner Press Homepage