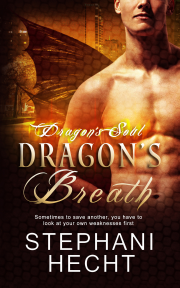 Title: Dragon's Soul, Book 3: Dragon's Breath
Author: Stephani Hecht
Publisher: Pride Publishing
Pages: 77
Characters: Tommy, Nicholas
POV: 3rd
Sub-Genre: Shifter, Fantasy, Series
Kisses: 3
Blurb:
Sometimes, to save another, you have to look at your own weaknesses first.
Ever since Nicholas saw the small Dragon in chains in the scrying bowl, he knew that he had to save him. For some reason Nicholas is drawn to the other man and he won't rest until he knows he's safe.
Tommy has been a captive from the day he was born. When he is rescued by Nicholas he feels an instant connection to him. But Tommy is afraid to let his guard down and let anybody get close to him.
Can Tommy overcome his abusive past? Or will it doom him and Nicholas from finding love?
Review:
Dragon's Breath is quick and easy paranormal themed story with plenty of action, sex and a cast of characters that are all sexy within their own right.
Stephani Hecht is an author I've read before and for the most part, I really liked what I read. She writes heroes who are pretty damn sexy and there is usually a wit to her writing that gives me a chuckle or two.
Who wouldn't love Tommy? He's small and has been a slave all of his life. Unable to shift into his dragon, Tommy has some self-esteem issues but still has a zest for life that I really liked. Nicholas is the perfect man for him. He is sarcastic, funny and a general bad ass when it comes to fighting for what is right and fighting for Tommy. They were a good couple and I liked them together.
The story is a smooth read. I liked the backstory these characters told and overall, enjoyed the interesting life they lead. If you are looking for a short and sexy story this one is for you.
I wish there had been more to it. There is an instalove factor to it and because it is a shifter story, I guess I understand it, I just wish there was more to the relationship than what was given us. There really isn't a buildup between these two men and I missed it. I've read many stories by this author and though I really like them, in some ways they all follow a pattern that I would love for the author to get away from, because I would love to see a fresh take on a much used formula.
I liked Dragon's Breath. I wish it had been longer had more depth to Tommy and Nicholas' relationship.
Dragon's Breath is the third book in the Dragon's Soul series by Stephani Hecht. I haven't read the first two, Dragon's Eye and Dragon's Heart yet but I do plan on reading them some time in the future.
I recommend this read to those who enjoy a shifter story and crave a quick and easy read. Fans of this author will enjoy her latest installment in this series and look forward to more.
Reviewed By: Sophie
Click HERE to purchase Dragon's Breath