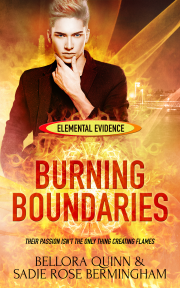 Title: Elemental Evidence, Book 2: Burning Boundaries
Author: Bellora Quinn and Sadie Rose Bermingham
Publisher: Pride Publishing
Pages: 270
Characters: Mari Gale/Jake Chivis
POV: 3rd
Sub-Genre: Fantasy, Paranormal
Kisses: 4.5
Blurb:
Their passion isn't the only thing creating flames.
Mari Gale's life has been a whirlwind since meeting Jake Chivis. A new job prospect and his mother's health preoccupy him, so when Jake invites him on a date he's ready to cut loose. Their night out turns into a nightmare when a fire breaks out in the basement of the bar and they barely escape.
Soon Jake learns that the horrific accident is being investigated as a possible homicide, and it's not the only case. Detective Inspector Cordiline of the London Met hints at spontaneous human combustion but as far as Jake knows, SHC doesn't exist.
When Mari looks into a group called Birthright he finds a connection to the victims of the fires and Jake risks himself to go undercover at the shadowy organization. The race is on to determine the truth before Jake becomes the next target.
Reader Advisory: This book contains a non-consensual scene.
Review:
This is the first book I've read by Bellora Quinn and Sadie Rose Bermingham, and although it's also the second in their Elemental Evidence series, I didn't have any problems following the storyline. However, having enjoyed this story so much I am going to have to read book 1—Breathing Betrayal—now.
I love paranormal/fantasy stories, and this one didn't disappoint. The world building is detailed, and I was quickly drawn into the elemental storyline, which I found fascinating. In this world, individuals called Elementals have powers that are linked to their bloodline, so are either earth, fire, water, or air. Jake is a fire elemental and as such has the ability to read objects and the memories of the last person to touch them AKA psychometry. Mari is an air elemental so his power is connected to gathering knowledge, and communications. I loved how he was able to interface with computers and go beyond the keyboard, following the information to the source while leaving his body behind.
I enjoyed the balance between the investigation and Mari and Jake's relationship. There is quite a lot of sex in the story, but as Mari needs to work through a big issue in that, I felt it didn't detract from the storyline, but advanced their relationship. I also liked how their relationship grows as they work through things. It isn't an instant "I love you" connection, although it's obvious they do love each other by their reactions, and the way they are around each other.
As the story progressed and the tension grew after Jake infiltrated Birthright I was on the edge of my seat, needing to know what happens next, and needing to know it now! The action scenes are well written, and very tense.
I'd recommend Burning Boundaries to readers who enjoy an action filled paranormal story, with interesting characters and a slow burn—no pun intended—romance.
Reviewed By: Anne
Click HERE to purchase Burning Boundaries