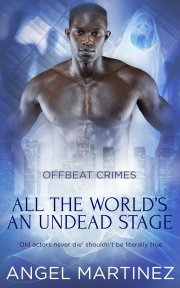 TITLE: All The World's An Undead Stage
Author: Angel Martinez
Publisher:  Pride Publishing
Pages: 151
Characters: Carrington/Erasmus
POV: 3rd
Sub-Genre: Urban Fantasy, Series
Kisses: 5
Blurb: 
Carrington Loveless III, skim-blood vampire and senior officer of Philly's paranormal police department, has long suspected that someone's targeting his squad. The increasingly bizarre and dangerous entities invading their city can't be a coincidence. So when a walking corpse spouting Oscar Wilde attacks one of his officers, Carrington's determined to uncover the evil mind behind it all.
As a rare books librarian, Erasmus Graham thought he understood some of the stranger things in life. Sharing a life with Carrington's shown him he didn't know the half of it. They've survived attack books and deadly dust bunnies together and got through mostly unscathed. Now his world and his vampires appear ready to collide again. Books are missing from the rare books' collection—old tomes of magic containing dangerous summonings and necromancy. He's certain whoever's been stalking the Seventy-Seventh is composing their end game. It's going to take a consolidated effort from paranormal police, librarians, and some not-quite-authorized civilians to head off the impending catastrophe.
Review: 
This series has been on my radar for some time, and it didn't disappoint.  Although I started with the latest book—and am planning to go back to the beginning and work my way forward—it didn't detract.  Given the number of characters, it did take me a while to work out who was who, but I think the author does an excellent job in explaining everything for new readers without it becoming an info dump.
I love the world building in this story, and that the police squad is a mix of different supernaturals all working together to solve crime. I read a lot of urban fantasy and I always enjoy seeing the unique way in which authors approach supernaturals, especially vampires.  These vampires are a little different in that they see their reflection, and can walk in daylight but get sunstroke, and I'm curious as to the hints that Carrington's relationship with Erasmus is having some interesting side effects.  I also liked the fact that Carrington has family, rather than being very old, which is a common vampire trope.  I'm looking forward to reading the series from the beginning to find out more about his background.
The relationship between Erasmus and Carrington is a real strength in the story. I loved the easy sense of humour between them, and it was obvious that they are comfortable together.  I had to smile when Erasmus referred to Carrington as 'his vampire', and Carrington called Erasmus 'my librarian.'  I always love reading about librarians who kick arse, but still are very much librarians in their love of books and ability to research.  The rest of the squad are an interesting mix, both in personality and abilities, and I love Audacity—she's adorable!  Nice Poe reference with the raven being called Edgar, and I appreciated the choice of name for the coroner. I haven't read a story before with animated items of clothing as characters, and I thought the author pulled that off extremely well.
The author is obviously having fun writing this series, and I loved all the literary references in this story especially when someone is horrified that a zombie is mangling Wilde.  After all, that is just not on. Erasmus's mothers being fans of Supernatural and offering advice was a hoot, and I enjoyed the way people in this world just take things in their stride. Of course, there's a database of necromancers—I would have been disappointed if there hadn't been one.   I had a bit of a giggle with the choice of name for one character—Ms Teecosi— and the question "To the Batcave?" which is answered by "To the library!"  This is my kind of story!  The story does get a bit crazy in places, but that added to my enjoyment of it, and I got the impression crazy is a way of life for these guys.
I'd recommend All the World's An Undead Stage to readers who enjoy urban fantasy with a bit of humour, likeable characters who work together and feel more like family than work friends, and fabulous world building.
More please.
Reviewed By: Anne
Click HERE to purchase All the World's An Undead Stage by Angel Martinez