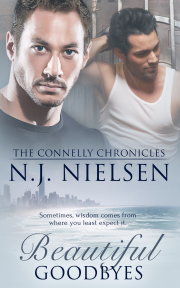 Title: Beautiful Goodbyes
Publisher: Pride Publishing
Author: N.J. Nielsen – Saddington
Pages: 231
Kisses: 5+


Blurb:
As someone wise once said—life is like an ice cream cone. When you think you have it licked, it drips all over you.
When life seems to be running smoothly there has to be a bump, or three, in the road. Ray and Viv realize that while they grow closer in their relationship, their family is falling apart around them, and they can't seem to do anything to stop the heartache from happening. The only thing they can do is pick up the pieces.
Ray would love nothing better than to shake the hell out of the adults in the family and tell them all to wake up. The problem is that Ray has his own demons to face. From being swept away by flood waters to his daughter's unraveling relationship, custody battles and launching a new business that helps abandoned teenagers, Ray loses himself for a while.
Viv tries desperately to hold the family together. He's so used to Ray being the strong one that at first he's clueless how to fix what's going wrong in their lives. Viv enlists the help of the family to get everyone back on track. Sometimes wisdom comes from where you least expect it, but mostly it comes from the ones who know and love you best.
With so much going on in their family, will Viv and Ray keep their love alive? Or will their world come crashing down around them?
Review:
Beautiful Goodbyes is the second book in the, The Connelly Chronicles series. This book picks up where the first book ended so readers need to read Family Connections first. This also means that there will be spoilers ahead for those who have not yet read the first book.
When Family Connections ended, Declan had just showed up to tell Viv he thought Viv was his father. He makes it clear from the beginning that the only thing he is looking for is help finding his missing friend Nate. Much to everyone's surprise Nate turns out to be Girly's half-brother. As fans of the first novel know, this means that not only are Viv and Ray now going to look for Nate but so are Girly and Dan. The addition of these two young men to the Connelly family brings joy and problems.
Ray and Viv also find themselves dealing with problems that have Bear and Jamie. Bear's father doesn't want his son living in the same house with two gay men. It becomes worse when he learns that Jamie and Bear share a bed. The scenes that follow had me crying and while I could understand why the author would do what she did in regards to the two little boys at the same time it made me very sad.
Then there is Girly and Dan. As readers, will remember Dan is bi and was intrigued by both Girly and Ray in the first book. As he told Viv the reason he went after Girly instead of Ray was because Girly kissed him first. When Nate moves into the house, Dan is fascinated with him and Girly can't help throwing them together to see what happens. It only makes since that this would cause more than a few problems and soon someone is going to get hurt.
There is so much going on in Beautiful Goodbyes that readers will be laughing one moment and crying the next. The family faces one issue after the other, more than a few of which are troublesome. I really began to worry just how the story would play out.
In many ways, Beautiful Goodbyes is like the middle of a story. While it gives us more of Ray and Viv, it sets up the rest of the series, giving the readers a hint to what may be coming next. I was up late into the night reading this book, you think I would have learned by now not to start a NJ Nielsen book so close to going to bed, and can't wait to see what the next book will hold. Fans of this author are sure to love this story. Those that have not yet tried either this series, or this author really should give the books a try.
Reviewer: Lydia
Click HERE to purchase Beautiful Goodbyes