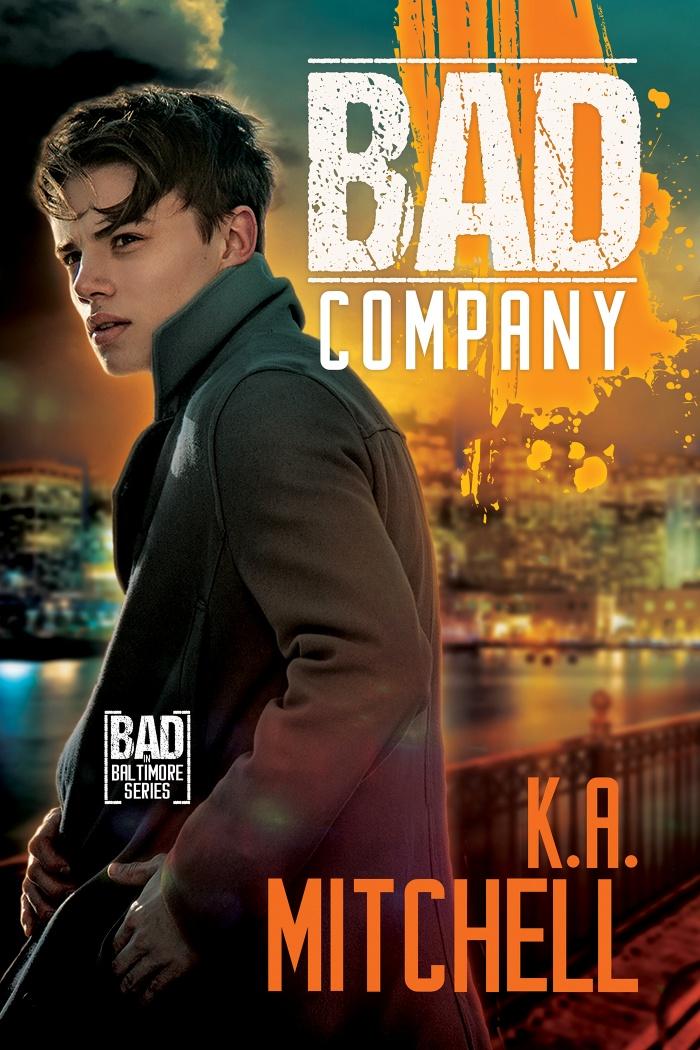 Title:  Bad in Baltimore, Book 1: Bad Company
Author:  KA Mitchell
Publisher:  Dreamspinner Press
Pages: 200
Characters:  Nate, Kellan
POV:  3rd
Sub-Genre: Contemporary Romance, Series
Kisses:  5
Blurb:
Bad in Baltimore: Book One
Some things are sweeter than revenge.
"I need a boyfriend."
Hearing those words from his very straight, very ex-best friend doesn't put Nate in a helpful mood. Not only did Kellan Brooks's father destroy Nate's family in his quest for power, but Kellan broke Nate's heart back in high school. Nate thought he could trust his best friend with the revelation that he might be gay, only to find out he was horribly wrong and become the laughingstock of the whole school. Kellan must be truly desperate if he's turning to Nate now.
Kellan's through letting his father run his life, and he wants to make the man pay for cutting him off. What better way to stick it to the bigot than to come out as gay himself—especially with the son of the very man his father crushed on his quest for money and power. Kellan can't blame Nate for wanting nothing to do with him, though. Kellan will have to convince him to play along, but it's even harder to convince himself that the heat between them is only an act….
Review:
At first, Kellan made me mad.
He wanted to use a man who was once his best friend.  To get even with his day, Kellan abandoned him  in high school. As the story progressed, and things became clear to me about Kellan, I began to like him a lot. In this story,  KA Mitchell puts us face to face with the dilemma that Kellan faces. There are truths about himself Kellan was a tiny bit aware of but couldn't face.
I loved how KA Mitchell fleshed out the characters of both Nate and Kellan. Their mannerisms and the way they held themselves was so clear, I could visualize things as they happened.
Eli was another treat in this book. I LOVED him!  He had this perky personality AND there is something special he could do, BUT the YOU need to read it to find out just exactly what he is capable of.
KA Mitchell didn't give me the satisfaction I craved in regards to Kellan's dad, but that is probably a good thing. The way Kellan and Nate's story unfolds held my attention and made me want to find out how it ended. I enjoyed Bad Company so much, I didn't want it to end.
I hope Eli will get his own story because I liked him so much and wanted to know more about him.  After watching his interactions with Nate and Kellan,  I wanted him to get an HEA too.
Highly Recommended!
Reviewed By: LeeAnn
Click HERE to enter the Dreamspinner Press Homepage