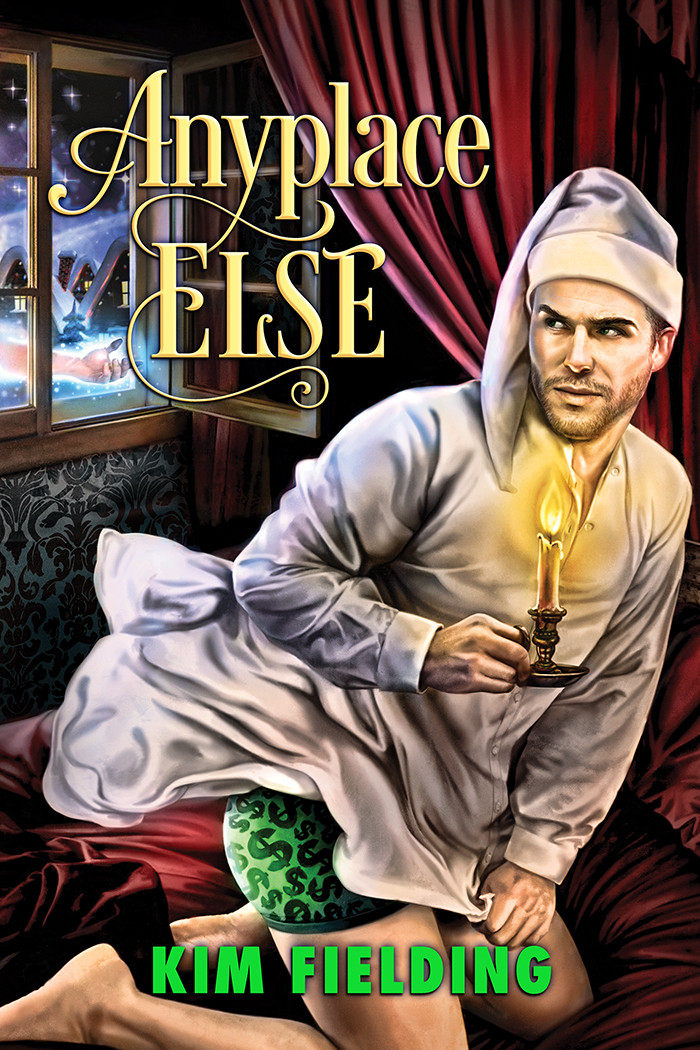 Title: Anyplace Else
Author: Kim Fielding
Publisher: Dreamspinner Press
Pages: 33
Characters: Grant Beaudoin,
POV: 3rd
Sub-Genre: Holiday, DSP Advent Calendar 2016
Kisses: 3
Blurb:
Grant Beaudoin should be thrilled to escape Minneapolis at Christmastime and grateful to lounge on a Hawaiian beach. Instead he is mired in self-pity and drowning in too much tequila. His twin is marrying the perfect man, while Grant is stuck in middle management with no love life in sight. A walk into the rain forest leads to a meeting with a doomed man who has a story about a holiday that predates Christmas. Grant comes to realize that difficult endings can lead to new beginnings—and perhaps a brighter future.
Review:
Anyplace Else is a quirky story by Kim Fielding. Out of all of the books in the Dreamspinner Press Advent Calendar this short was the most unique and strangely interesting.
I love the author's works. Ms. Fielding has a real knack at writing thoughtful, well-written characters. She also thinks out of the box when it comes to unique storylines and so on…but having said this, Anyplace but Here is wildly different and more than a little strange.
Grant has gone to Hawaii to be in his twin's wedding. Grant is down in the dumps and feeling sorry for himself. When he meets several different people who talk about the mysterious god that lives on the island once a year, Grant is confused *I was too* and intrigued by what he thinks is an old wives tale.
I can't get into this story without giving it away but believe me when I say, this story is more of a Halloween story than a Christmas one. There is a lot of mythology and urban legends to this tale…almost to the point that it left this read confused as to what was going on and what was going to happen next.
Here's the thing…though the story was a bit odd…I found it oddly endearing. I liked to two heroes and thought this little short story would have been really great if it had been more fleshed out and a full blown story.
Anyplace Else is unique and I liked it. I wish I could have loved it. I wish it had been a stand-alone novel. Instead, I was left a little confused.
Reviewed By: Gabbi
Click HERE to enter the Dreamspinner Press Homepage