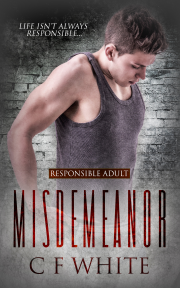 TITLE: Misdemeanor
Author: C F White
Publisher: Pride Publishing
Pages: 226
Characters: Micky O'Neill and Dan Peters
POV:  3rd
Sub-Genre:  Contemporary
Kisses: 4
Blurb:
Life isn't always responsible…
After his mother tragically dies and his deadbeat father goes off the rails, nineteen-year-old Micky is left to care for his disabled little brother, Flynn.
Juggling college, a dead-end job and Flynn's special needs means Micky has to put his bad-boy past behind him and be the responsible adult to keep his brother out of care. He doesn't have time for anything else in his life.
Until he meets Dan…
Review:
I want to be up front from the beginning of this review and let you know that Misdemeanor drove be crazy and when the book ended I almost tossed my iPad.  It is not that I did not like this story, I did.  In fact, I was drawn in from the very first page.  Micky and Finn grabbed my heart from the beginning and I wanted only the best for them.  Micky is barely 19 and taking care of his little brother after the death of their mother.  It is a struggle but he is doing all he can. However, the fact that there is little money, plus he is trying to finally finish his schooling, and with Finn having special needs, it makes things hard  on Micky, especially since he is trying to keep the state authorities from finding out.
Dan is a department manager in a grocery store.  He has been working at the store since he was a teenager and even though he has a degree in education, he is comfortable where he is.  He does not really have the time to take care of another department or to interview the young man showing up for a job.  When Micky is up front about the troubles in his past, Dan cannot help but give him the job.  These two really click and it is not long before the two men and Finn have formed a family unit.  But things do not go smoothly.  While Dan may be out, Micky is not.  As you can imagine that causes a few conflicts, especially when misunderstanding cause Dan to be beaten.
If that were not enough, the authorities are really getting persistent about meeting up with Finn's father.  This is when the book started to drive me crazy.  I did not realize that this was the first book in the author's Responsible Adult series.   When the book ended, my first response was OMG!!  You got to be kidding me.  I hope the follow up to this book will be out soon because I need to know what happens to Micky, Dan, and Finn.
Reviewed By: Lydia
Click HERE to purchase Misdemeanor by CF White