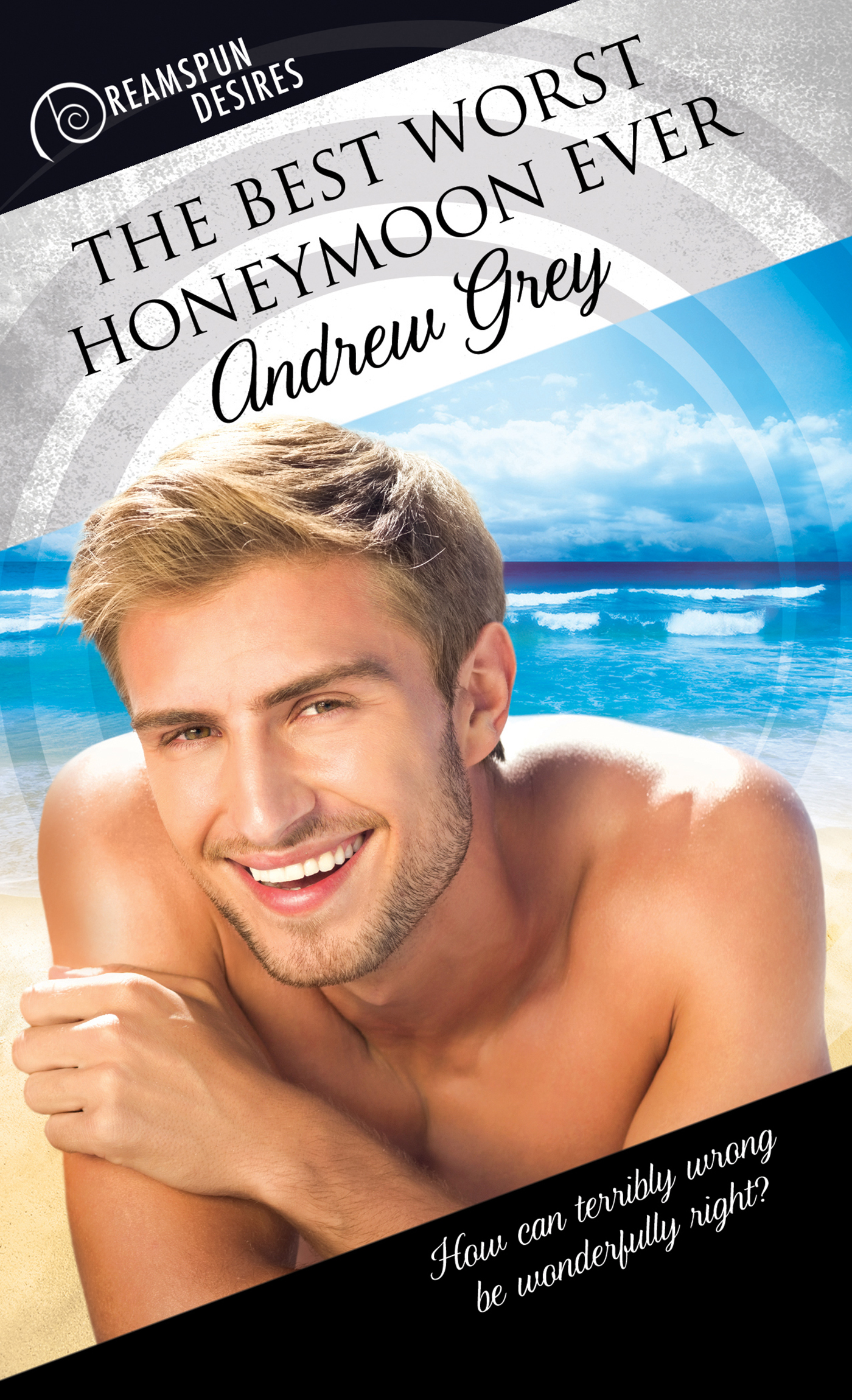 Title: The Best Worst Honeymoon Ever
Author: Andrew Grey
Publisher: Dreamspinner Press, Dreamspun Desires
Pages: 190
Characters: Tommy, Grayson, Petey
POV: 3rd
Sub-Genre: Contemporary
Kisses: 4.5
 Blurb:
How can heartbreak turn into happily ever after?
Tommy Gordon is all set for happily ever after—until heartbreak strikes when his husband-to-be leaves him at the altar. In a bid for distraction, his best friend, Grayson Phillips, suggests he takes advantage of the luxury honeymoon anyway! But the last thing Tommy wants is to go alone, so he invites Grayson and his son, Petey, along.
Beautiful Bonaire lends itself to romance, and along with close quarters, relaxing on the water, and a matchmaking kid, Tommy and Grayson soon find themselves closer than ever… and considering more, much to Grayson's delight. But before they can plan the best best honeymoon ever, dark clouds descend in the form of Tommy's ex and a sting from paradise that could ruin everything.
Review:
Friends to lovers stories are always a favorite of mine, as are kids-fics, so The Best Worst Honeymoon Ever hit all the right buttons for me. Left at the altar, poor Tommy Gordon feels like his life is over and just wants to be left alone to sulk inside his house in isolation. His best friend, Grayson, isn't going to let that happen. Instead, they're going to take the honeymoon trip that Tommy's already paid for and have a great vacation together, along with Grayson's son, Petey. And what develops in the island paradise of Bonaire will change their lives for the better.
In terms of character background, I felt like we got quite a rich and cohesive story for the main characters. We find out how Petey entered Grayson's life and what his current status is, as well as what befell Grayson's past relationship in terms of prioritizing his son. And we got information on how Tommy and Grayson became friends, standing beside each other over the years, as well as how Tommy's been a part of Petey's life since Grayson started raising him. Should we get a sequel within this universe, I'd like to see some more exploration around Petey's mother, as well as Tommy's aunt. Both of these women got a bit of time within the story, but there is much more to delve into for both of them. Perhaps we'll get to learn more later.
I enjoyed seeing how both Tommy and Grayson's unsaid attraction to each other finally got to come to the forefront. They had such an easy relationship as friends, and Tommy already treated Petey as a beloved nephew, so the transition was pretty smooth to being lovers. There were hints towards the need to ease Petey into the changed status, but overall there didn't appear to be any real issues ahead. Even the supposed threats from Tommy's former fiance, Xavier, didn't put any real barriers towards their eventual committed relationship status.
If you enjoy happily-ever-after stories where best friends become a family, The Best Worst Honeymoon Ever is a great choice! Life can throw curve-balls, and threats might be lurking around the corner, but in the end, it all works out. I look forward to what else Andrew Grey brings us with these characters.
Reviewed By: Kimberly
Click HERE to enter the Dreamspinner Press Homepage