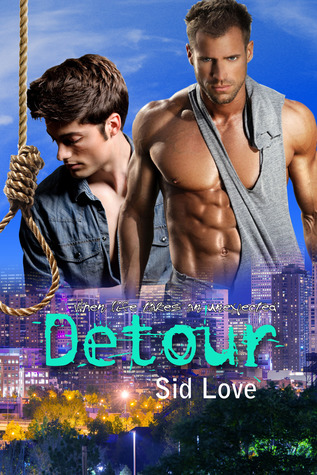 TITLE: Detour
Author: Sid Love
Publisher: Cool Dudes Publishing
Pages: 264
Characters: Austin Reyes/Dylan Carver
POV: 1st
Sub-Genre: contemporary
Kisses: 3.5
Blurb:
Austin Reyes works as a bartender to support his ailing mother in a small town called Eaton. But his life takes a horrible turn when his boss' son, Caleb, arrives in town and forces himself upon Austin. There is no end to Caleb's lustful intentions. Austin leaves Eaton and flees to Denver to start a new life when his mother commits suicide after succumbing to depression. There, he meets Dylan Carver.
Dylan is out and proud. He's also a well-known actor in the porn industry. When haters damage his car, Austin, now homeless and destitute, is injured and Dylan helps him. In the immediate aftermath, Dylan develops more than a passing interest for Austin, and, though they part ways, chance meetings never stop.
Austin lets Dylan in on the secret about his past, but soon realizes that the man who looked so happy on the outside, has his own baggage. Unbeknownst to them, someone is plotting to get Austin killed.
Even while surrounded by danger, Austin and Dylan's relationship takes a detour that was always meant to be. Will this detour be Dylan's undoing? Will Austin finally come to terms with his mother's suicide and follow his own truth? Or will their lives implode?
Trigger Warning: Content includes a rape scene.
Review:
I enjoy reading books with flawed heroes and the characters in Detour make plenty of mistakes. I found the writing style very easy to read, and the story flowed well. The settings and characters were easy to visualize, and I really liked the secondary characters especially Amy and Liana. I enjoyed the fact that they had their own HEA to pursue. The bad guy was really horrible—but then he's meant to be. Detour brings to home the importance of family and their influence in a person's life, which I think is one of its strengths.
I did find the plot a little predictable in places although that didn't stop me from continuing to read to find out what happened next. I also had some reservations about the decisions some of the characters made considering what they'd just been through, and found myself thinking "seriously, why would you do this?" in places, but I figure people make mistakes and that is part of what makes these characters come across as human. Although I felt the story was more of a HFN with a hint of HEA in the future, as the characters still have a way to go on their journey to work through their experiences, I felt satisfied with that, and it worked well for the story.
I'd recommend Detour to readers who enjoy contemporary romance with flawed characters, well developed secondary characters, and a strong sense of family.
Reviewed By: Anne
Click HERE to purchase Detour by Sid Love