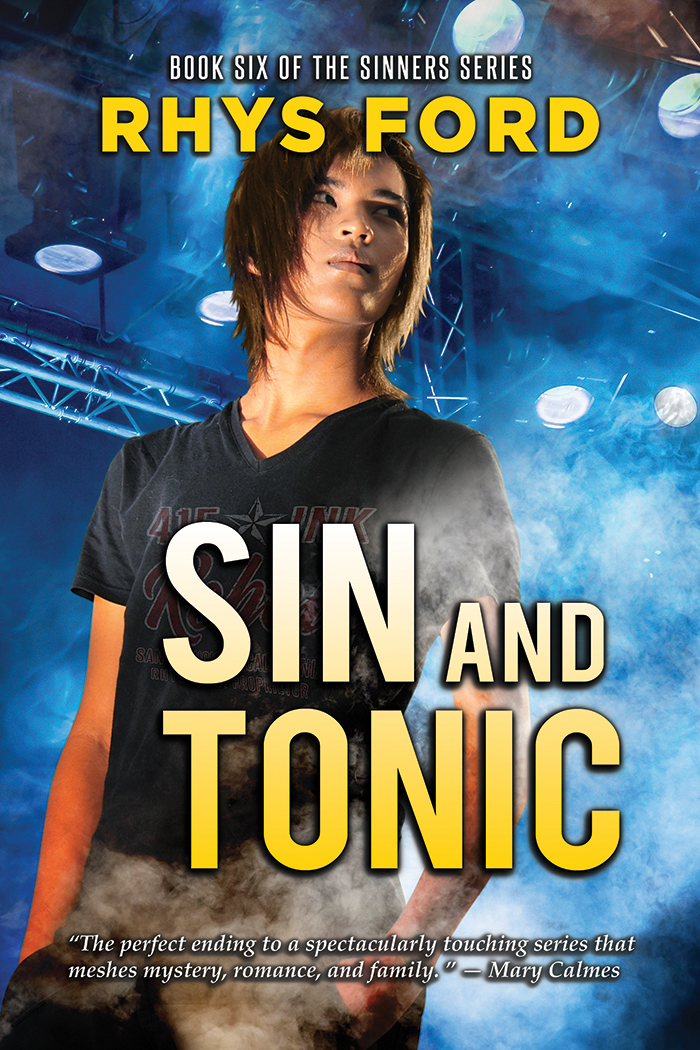 Title: Sin and Tonic
Author: Rhys Ford
Publisher: Dreamspinner Press
Pages: 270
Genre: Mystery, Series
Kisses:5+
Blurb:
Miki St. John believed happy endings only existed in fairy tales until his life took a few unexpected turns… and now he's found his own.
His best friend, Damien, is back from the dead, and their new band, Crossroads Gin, is soaring up the charts. Miki's got a solid, loving partner named Kane Morgan—an Inspector with SFPD whose enormous Irish family has embraced him as one of their own—and his dog, Dude, at his side.
It's a pity someone's trying to kill him.
Old loyalties and even older grudges emerge from Chinatown's murky, mysterious past, and Miki struggles to deal with his dead mother's abandonment, her secrets, and her brutal murder while he's hunted by an enigmatic killer who may have ties to her.
The case lands in Kane's lap, and he and Miki are caught in a deadly game of cat-and-mouse. When Miki is forced to face his personal demons and the horrors of his childhood, only one thing is certain: the rock star and his cop are determined to fight for their future and survive the evils lurking in Miki's past.
Review:
Sin and Tonic is the sixth and final book in the Sinners series by author Rhys Ford.  This book returns to the beginning with Miki and Kane as the MC's and Miki's past once again destroying his life.  When Edie, the band's manager is approached regarding Miki's mother she is shot during an exchange of information. The shooting messes with Miki's head, especially since he is already having trouble adjusting to all the changes he has had to face over the last few years.
In my opinion, Ms. Ford always does a wonderful job developing a mystery that keeps the readers turning the pages, and Sin and Tonic is no different.  She pulls the readers back into the mystery of Miki's birth and how he ended up on the streets and answers all the questions readers may have had.  There are a lot of twists and turns along the way. Some, the readers may see coming, and others that will surprise the reader.
Another aspect of Sin and Tonic that I enjoyed was seeing all the secondary characters come back, especially Donal and Brigid.  When Miki first met Kane's parents he was unsure how to act or what to expect. Now as the years have passed, Miki has formed a tight bond with Donal, one that has him calling the older man Dad.  His relationship with Brigid, on the other hand, is still tense. In some ways this is understandable, yet I found myself feeling bad for Brigid. When Miki finally calls Brigid for help, I was as happy as she was.  There is also a change in Miki's relationship with Damie. In many ways, this is understandable as their lives are following different paths with the loves of their lives. Yet, these two are brothers of the heart and will always find time for the other.
Finally, there is Miki and Kane.  These two have already been through so much and with the new threats to their lives, both men are worried.  But, where Kane is holding things together fighting to find out who is after his boyfriend, Miki is worried that Kane will finally reach the point of no return and break things off once and for all.  This fear leads Miki to act out in ways that are not normal for the young man and those around him are worried.
I sincerely hate seeing this series end.  From the beginning I found myself caring about all the characters, wanting to see them all get their happily ever afters.  The way Ms. Ford wraps up the series, however, is done in such a way that fans are sure to love it.
Reviewed by: Lydia
Click HERE to enter the Dreamspinner Press Homepage