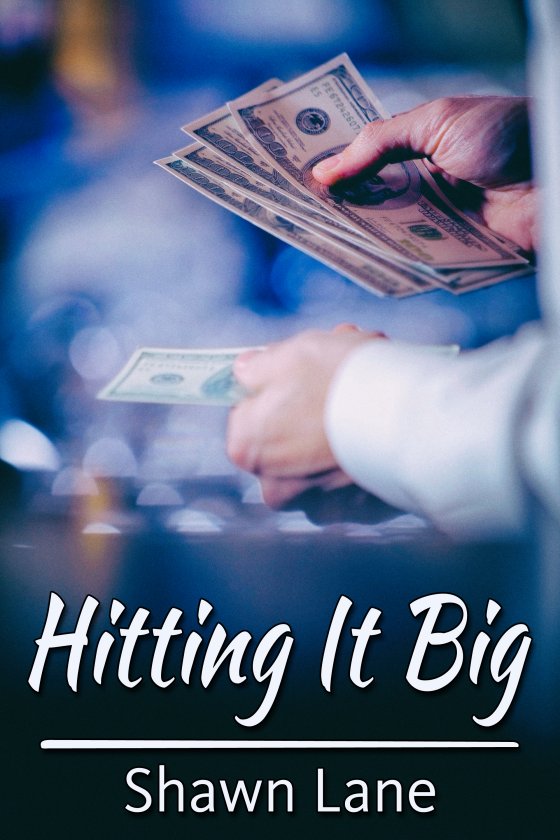 Title: Hitting it Big
Author: Shawn Lane
Publisher: JMS Books
Pages: 17
Characters: Billy,Mitch
POV: 3rd
Sub-Genre: Contemporary
Kisses: 2.5
Blurb:  
Six years ago, Billy Grant had a night he never forgot losing his virginity to the jock of his dreams, Mitch Crestfield. But Billy fled afterward, not wanting to hear Mitch's regrets.
Now Mitch has hit it big, winning the lottery, and Billy finds himself invited to Mitch's celebration. When Mitch suggests another night of passion, Billy can't seem to resist. But Mitch has something more than one night in mind. 
Review: 
When I asked to review this book, I didn't realize how short it was going to be. As a general rule, I try to avoid short stories because of lack of character development and the hasty storyline isn't my cuppa at all. What sucks is this book had great potential to be a good story. I've read this author's work before and she can write a good book. Maybe for those whom like a short stories more than I, will enjoy this quick read more than I did.
I felt cheated because I didn't get to know the characters. The story was rushed and because of it, there isn't time to know that much about them and what truly makes them tick. I did think the relationship that started to develop between them had great potential and it's because of it that I gave this short story more than 2 Kisses.
I'm sorry. This wasn't for me. I do recommend Shawn Lane's longer books. She is a good writer and her HIS series is a favorite of mine. 
Reviewed By: Laura
Click HERE to purchase Hitting it Big