---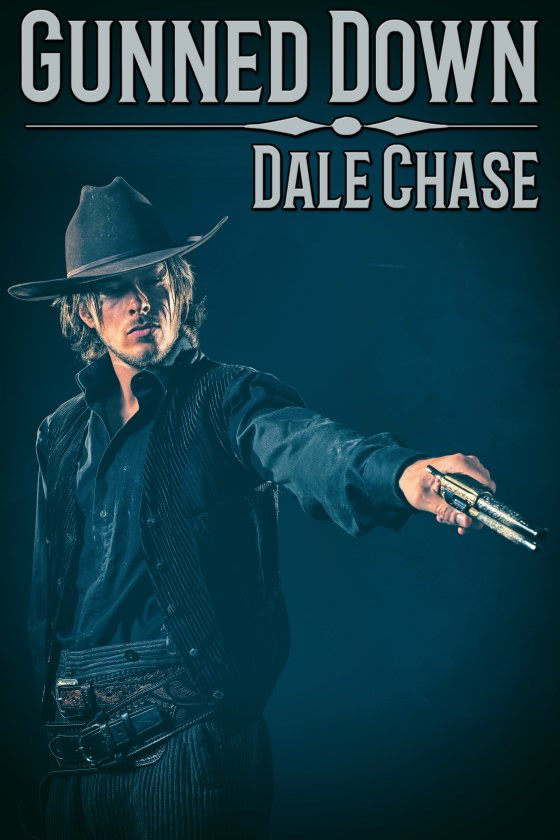 TITLE: Gunned Down
AUTHOR: Dale Chase
ISBN: 9781634866026
GENRE: Gay Historical Western Erotic Romance
LENGTH: 16,672 words
PRICE: $2.99
The Farrow Gang robs banks with great success, but when Evan Langer is allowed to join, he unsettles things. Young and suffering the recent loss of his outlaw older brother, Evan is in need not only of new partners in crime, but friendship and solace.
Both Wade Farrow and Roy Fitch, gang leaders and sexual partners, take note of Evan, but it's Roy who orchestrates time alone, where he finds Evan an eager partner. As the gang continues their robbing, Roy finds himself falling deeply for Evan while in turn resisting Wade. Tensions build between the men, and there seems no solution in sight, until the law steps in.
---
TITLE: No Snarkasm in Love
AUTHOR: J.D. Walker
ISBN: 9781634866033
GENRE: Gay Romance
LENGTH: 5,137 words
PRICE: $1.99
Nye Havers is in his forties and has given up on love. Life hasn't done him any favors, and his acerbic nature has just gotten worse over time. He rides a bicycle to work, gets splashed by cars in the rain, and is constantly in trouble because he can't resist being a smart mouth.
He is the co-owner of a small courier service that has sadly become his life. But there is one surprisingly bright spot in his world, even if Nye feels he doesn't have a chance in hell of getting the guy.
The guy, Donal Soames, is a client. He and Nye encounter each other on occasion, but when Nye is his usual snappish self, he ruins everything. Nye has to learn to curb his snarky behavior and catch a clue, because the love he's been looking for might just get away.
---
TITLE: Spar
AUTHOR: Nikko Lee
ISBN: 9781634866019
GENRE: Gay Erotic Romance
LENGTH: 55,387 words
PRICE: $4.99
As a black belt, Tyler helps his students face their fears, but he has yet to come to terms with his own bisexuality. When he finds a new sparring partner in Jaime, an openly gay man struggling to find his place in the dojo, Tyler is surprised at how right it feels to be intertwined with him.
Determined to put his partying days behind him, Jaime returns to martial arts training and swears off one-night stands. He is finally ready to look for something more when Tyler approaches him with a request – help Tyler explore his new found sexuality. Their physical relationship intensifies in secret. It isn't long before their time together becomes about something more than just sex.
Despite their growing closeness, Tyler refuses to acknowledge their relationship in public. Now Jaime must choose between returning to his former lifestyle and falling in love with someone afraid to embrace him in front of their friends. Tyler doesn't want to lose Jaime as a student, much less as a lover, but can he overcome his fears and accept his new identity?
---
TITLE: The Chartreuse Door
AUTHOR: Lisa Gray
ISBN: 9781634865968
GENRE: Gay Interracial Romance
LENGTH: 27,966 words
PRICE: $3.99
Keir Moreau, a middle school teacher living a solitary life, is excited to welcome a handsome new neighbor. But after their first meeting goes alarmingly wrong, Keir decides it's safer to keep his distance. Besides, he has to focus all his attention on finding help for a student who is being forced into conversion therapy.
Riley Quinn used to be an award-winning photojournalist, roaming the world and exposing corruption. An injury put an end to all that. Now he's frustrated with his new aimless life, wondering if he'll ever do anything again that really matters. When he first meets Keir, a case of mistaken identity leads him to mistreat his intriguing new neighbor. Riley tries again and again to redeem himself, but everything he does seems to push Keir farther away.
Keir, obsessing about his failure to help his student and fighting his stubborn attraction to Riley, takes a reckless gamble that goes dreadfully wrong. Or does it? Can an act of desperation open the door to romance?
---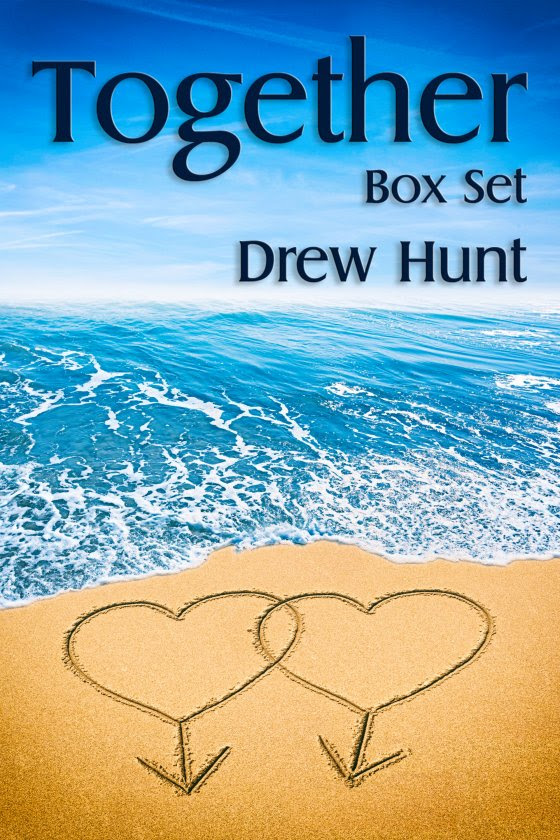 TITLE: Together Box Set
AUTHOR: Drew Hunt
ISBN: 9781634865630
GENRE: Gay Erotic Romance Box Set
LENGTH: 127,456 words
PRICE: $7.99
Five of Drew Hunt's best-selling gay romance stories are together in one box set for the first time! Contains the stories:
Colin and Martin's First Christmas: Blind since birth, Martin orders groceries online. It doesn't hurt that the delivery driver is hot. Colin usually leaves Martin's deliveries until last so he can spend extra time with the man he has a secret longing to protect. Martin is making soup, and asks Colin to join him. As they eat, Martin offers to cook Christmas dinner for Colin. Will turkey and stuffing be all they'll share?
Rough Road to Happiness: David Grover meets sexy Marine Bud Williams when the two are forced to share a hotel room. What starts as a one-night stand turns into regular weekend trysts, but Bud harbors a secret that threatens to tear them apart. When Bud's injured in Iraq, David struggles to forgive him for his past. It's a rough road to happiness as the two men move towards a life together.
Saving Ernest: Ernest Porter is drawn to PC Liam McAvoy after the man saves him from falling in the street. But it can't go anywhere. Liam isn't gay, there's a big age difference, and Ernest is still hurting from a previous betrayal. When Ernest finally confesses all, Liam's reaction is not what he expects.
Something About Trevor: Paul is straight, Trevor is a flamer. But the two soon discover they have many things in common. However, long-held prejudices, fear of history repeating itself as well as an ex lover showing up all threaten to stop what has only just begun. Can Trevor learn to trust again, and will Paul listen to his heart and discover that despite first impressions, there's just something about Trevor?
Trapped Nerves: Two men trapped in an elevator discover they have more in common than the inconvenience of lost time. Mason Grant recognizes Parker Collins, whom he had loved in high school, but Parker does not immediately recognize Mason. Maybe it's the passage of time … or maybe it's the wheelchair in which Mason is confined. What happens when Parker realizes who's trapped in the elevator with him?