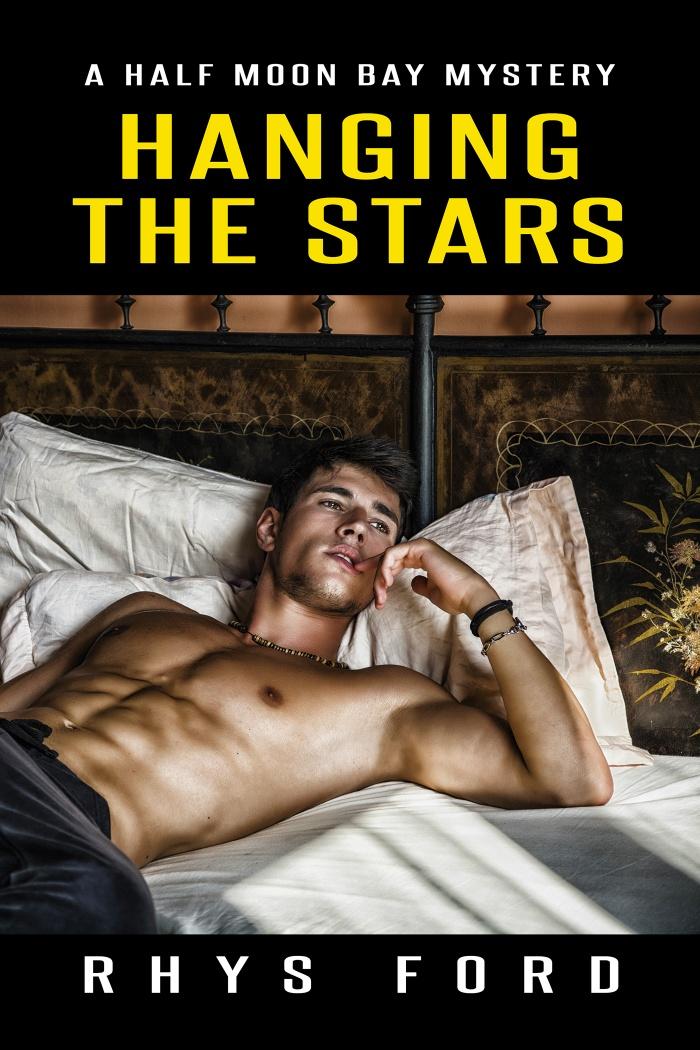 Title: Hanging the Stars
Publisher: Dreamspinner Press
Author: Rhys Ford
Pages: 206
Kisses: 5
 Blurb:
Angel Daniels grew up hard, one step ahead of the law and always looking over his shoulder. A grifter's son, he'd learned every con and trick in the book but ached for a normal life. Once out on his own, Angel returns to Half Moon Bay where he once found… and then lost… love.
Now, Angel's life is a frantic mess of schedules and chaos. Between running his bakery and raising his troubled eleven-year-old half brother, Roman, Angel has a hectic but happy life. Then West Harris returns to Half Moon Bay and threatens to break Angel all over again by taking away the only home he and Rome ever had.
When they were young, Angel taught West how to love and laugh, but when Angel moved on, West locked his heart up and threw away the key. Older and hardened, West returns to Half Moon Bay and finds himself face-to-face with the man he'd lost. Now West is torn between killing Angel or holding him tight.
But rekindling their passionate relationship is jeopardized as someone wants one or both of them dead, and as the terrifying danger mounts, neither man knows if the menace will bring them together or forever tear them apart.
Review:
Hanging the Stars is the second book in Ms. Ford's Half Moon Bay series.   This is the story of West, you remember him, he is Lang's brother who just happens to be an ass.  Well in this story, which takes place two years after the end of Fish Stick Fridays, West has changed, some.  I love the way he is with Zig, the love he shows his niece is proof that he can't be all that bad.  I also like that his and Lang's relationship has improved as well.
The story also introduces several new characters, one of whom is our second main character, Angel.  There are many similarities between Angel and Deacon. Like Deacon, Angel grew up in a dysfunctional family.  When he was finally able to get away he had to start over with nothing.  Now he has a bakery that he loves, and manages a small run down motel that serves as a second chance location for those in need.  He also cares for his eleven-year-old brother who was dropped off one day by their father.   The relationship between the brothers is shaky but Angel his best.  Also like Deacon, Angel has a distrust of cops, something that comes into play during Hanging the Stars.
Where this story differs from Fish Stick Fridays is that West and Angel already know each other.  The two met years ago as teenagers.  The attraction between them was instant and the two fell in love before they knew it.  But they came from different backgrounds and where separated by parents who were only looking out for themselves.  Now, all their unresolved issues come to the surface when the two are forced back together.
West has plans for the motel, however, due to his grandmother's will, Angel has a say as to what happens to it.  When Angel refuses to sell either the motel or bakery, someone decides to take matters into their own hands.  Soon things start to happen that leave both men wondering who is out to get them.  Then there is the chemistry that still exists between them.  Neither man is ready to start a relationship but they can't seem to help it.  For them it is almost as if time hasn't changed.  I liked that the two waste no time getting reacquainted, as well as clear the air with regards to their past.   I also like the connection that West forms with Angel's brother, Roman.
This story has several twists and turns, as well as a few close calls that will leave the reader worried about what will happen next.    While one of the bad guys was easy to guess, the other was a bit of a surprise.  The destruction he leaves behind could have a lasting effect in West's life.
I am a fan of Ms. Ford's.  I love her many series and was sadden when some of them ended.  I would strongly recommend this series to anyone who has not yet tried it.  While it is not necessary to read the first book before reading this one I would suggest you do so anyway.
Reviewed by:  Lydia
Click HERE to enter the Dreamspinner Press a Homepage