Spring into reading an AWESOME New Release from JMS Books!!
---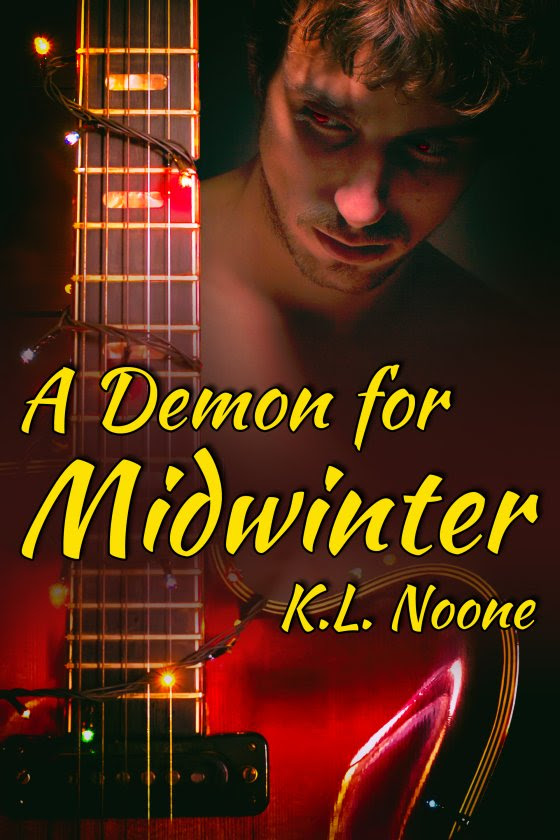 TITLE: A Demon for Midwinter
AUTHOR: K.L. Noone
ISBN: 9781634865920
GENRE: Gay Paranormal Erotic Romance
LENGTH: 85,788 words
PRICE: $5.99
Kris Starr used to be famous. Rock and roll. Sold-out shows. Literal magic. Empathic talents and screaming fans.
But he has a problem or two. He's having a hard time writing new music. It's Midwinter, which means he's surrounded by depressing holiday cheer. And he's in love with Justin, his manager, who has a talent for rescuing almost- or once-famous bands … and who's hiding secrets of his own.
Justin Moore, on the other hand, is very good at keeping those secrets — he's had to be for years. One secret involves a demonic inheritance that would make him a target of suspicion. Another involves his past.
And the third involves Justin's feelings for Kris Starr, rock and roll icon and now his client … and a powerful empath of his own.
---
TITLE: Baby Face
AUTHOR: Temple Madison
ISBN: 9781634865845
GENRE: Gay Erotic Romance
LENGTH: 32,075 words
PRICE: $3.99
Stoney Martin is a well-known porn star whose life is filled with bright lights and photo shoots. One night when he's helping out a friend, a thug breaks into a local diner, recognizes him, and cuts into the flesh on his face, forcing him to sink down into anonymity.
While hiding out, Stoney is discovered by Hud Spencer, a fan who has worshipped him through Baby Face Magazine for years. Hud pays to have Stoney's fixed. They slowly fall in love and stay together until Hud learns Stoney wants to use his new face to continue his career in porn. This causes a rift between them Hud can't handle, so he walks out.
They move on with their lives. Stoney gets discovered by the Prima Donna Modeling Agency, and Hud starts his own software company. But at a modeling gig, they meet up once again, and neither can deny the old feelings that resurface. Should they give their love another chance, or is it dead and gone?
---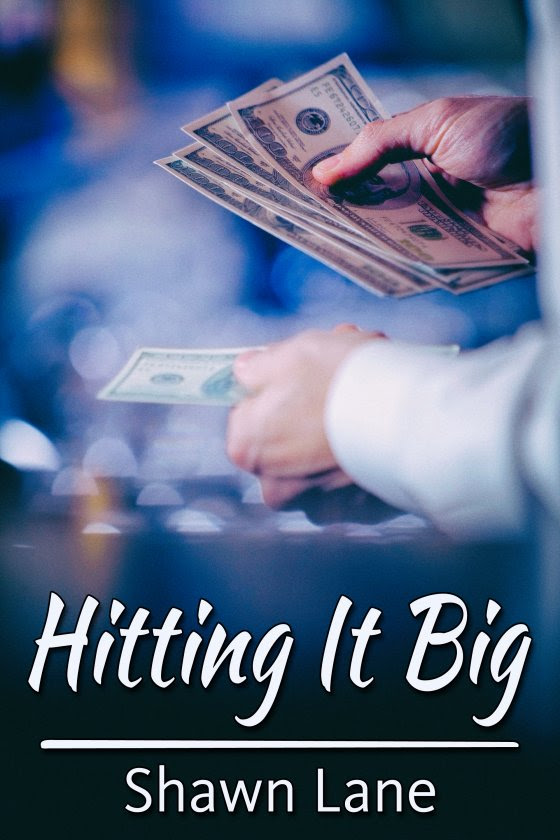 TITLE: Hitting It Big
AUTHOR: Shawn Lane
ISBN: 9781634865418
GENRE: Gay Erotic Romance
LENGTH: 5,078 words
PRICE: $1.99
Six years ago, Billy Grant had a night he never forgot losing his virginity to the jock of his dreams, Mitch Crestfield. But Billy fled afterward, not wanting to hear Mitch's regrets.
Now Mitch has hit it big, winning the lottery, and Billy finds himself invited to Mitch's celebration. When Mitch suggests another night of passion, Billy can't seem to resist. But Mitch has something more than one night in mind.
---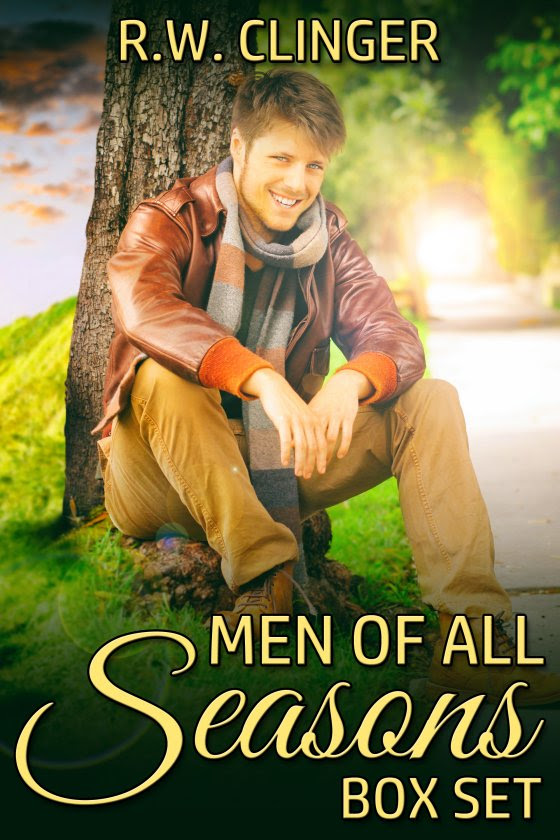 TITLE: Men of All Seasons Box Set
AUTHOR: R.W. Clinger
ISBN: 9781634864701
GENRE: Gay Erotic Romance Box Set
LENGTH: 93,521 words
PRICE: $6.99
In these four stories by R.W. Clinger, gay men find romance all year long! Contains the stories:
The Fine Art of Reading Riley: While out shopping on a winter's day, Stone Daye bumps into Cameron Phillips, an old friend and former lover who now works as an administrator at a local college. The two have a heated and romantic history, and seeing Cameron again brings it all back for Stone. Old feelings are stirred up again, but are the fiery embers of their previous relationship strong enough to ignite a new romance together?
Mr. Hideaway: In spring, Josh Hideaway is taking a much-needed break at his family's cabin, where he meets ranger Zeth Mandell, his neighbor by the lake. A pack of dangerous coyotes brings Josh to Zeth's rescue. Will something more than friendship blossom between the elusive Mr. Hideaway and the ranger? Sometimes hiding out is the only way to fall in love.
Autumn Cliche: When writer Chad Best heads to Haven Island to interview the famous Finn O'Rourke, he learns there's a softer side to the reclusive artist. To Chad's surprise, Finn woos and seduces him. When his visit comes to an end, will Chad choose to return to his busy life, or stay on the artist's island with a man he might love?
20 Days of Tuck: During twenty days of a particularly hot summer on the shores of Lake Erie, Micah and Tuck fall head over heels in love. A year later, life has unexpectedly changed for Micah. He meets and falls hard for Carl, a witty, romantic guy along the lake. What will Micah do when various ties between his twenty days with Tuck and his current days with Carl begin to unravel?
---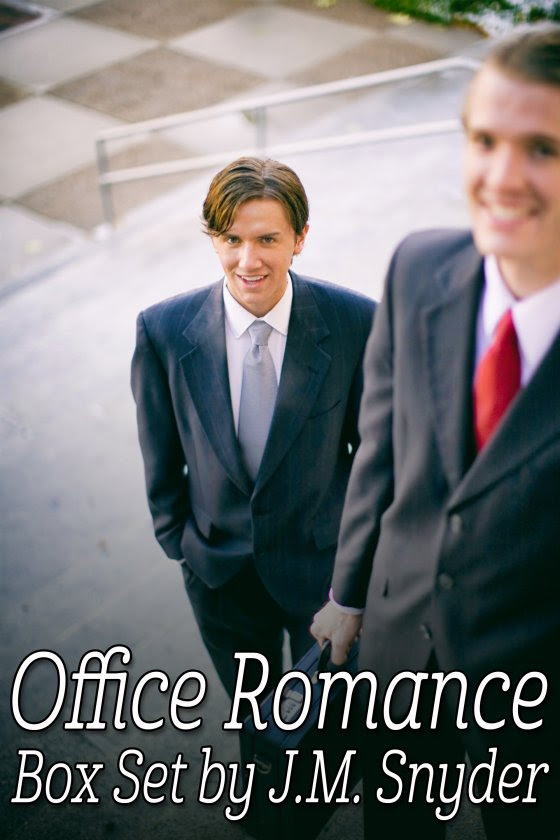 TITLE: Office Romance Box Set
AUTHOR: J.M. Snyder
ISBN: 9781634865777
GENRE: Gay Erotic Romance Box Set
LENGTH: 143,683 words
PRICE: $6.99
PURCHASE EBOOK
Most of us spend forty hours or more a week at the workplace. Shuffling papers at a desk job, taking orders, waiting tables, working in the field, punching a time clock. Whether it's a career or simply a job to be done, we do whatever it takes to make a living. Sometimes the people we meet at work are among the best — and the worst — we'll ever know.
From harmless, sweet flirting to fulfilling hot sex, these stories show you just how much some men enjoy their line of work!
This box set contains all J.M. Snyder's Working Men stories:
At Your Service
Blurring the Lines
Café de l'Amour
Car Trouble
Closing Time
Easily Addicted
Hot Merchandise
Knocking Boots
Lunch Break
Maintenance!
Makin' Copies
On the Job
Opening Day at the County Fair
Order Up
Out for Delivery
Pleasure Cruise
Quintessential
Rub Me the Right Way
Speed Trap
Summer Kisses and Ice Cream Dreams
Tech Support
Yes-Man