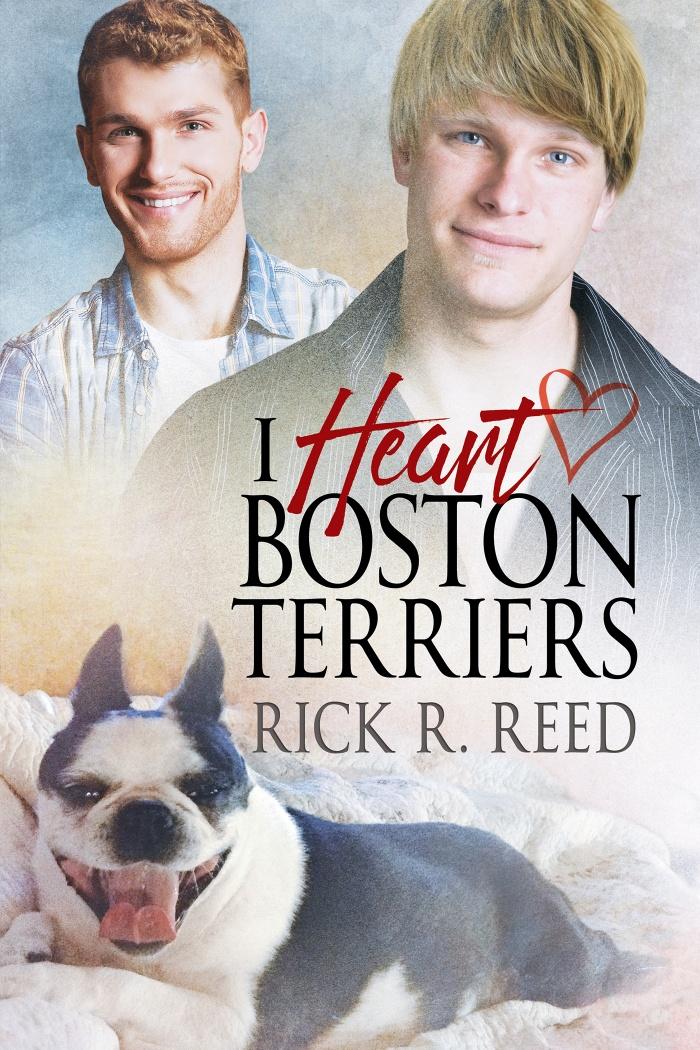 Title: I Heart Boston Terriers
Author: Rick R. Reed
Publisher: Dreamspinner Press
Pages: 54
Characters: Aaron, Christian, Mavis, and Becca
POV: 3rd
Sub-Genre: Contemporary
Kisses: 3.5 
Blurb:
When Aaron finds Mavis, an emaciated and shy Boston terrier, at a pet adoption fair, his heart goes out to her—completely.
When Christian, manning the adoption fair for the Humane Society that autumn Saturday, finds Aaron, his heart goes out to him—completely.
This is a story about embracing love, whether it's for someone who walks on four legs or on two. Mavis's journey back to wholeness and finding her forever home parallels the story of two men discovering each other at the perfect moment—a moment that defies logic, propriety, and common sense. But when did love ever follow a rational course?
Review:
I am always a fan of stories involving pets, so finding a Rick R. Reed novella centering around the adoption of a dog was a nice treat. We first got to know Aaron and his sister, Becca, when they are visiting an adoption fair at the local pet shop. And then we meet Christian, who seems to feel there are some sparks flying between him and Aaron, since he purposely tracks the man down in order to pursue whatever level of relationship they might have.
The build-up of the romance between Aaron and Christian was more a hook-up with a "maybe more later", but I do feel like there is something there that they can work off of and see where it goes. Both men were crafted in a way that made them feel real, with flaws and all. I appreciate that in a story. And Mavis, of course, was a treat to get to know…even if the glimpses we got of her were brief. 
While the writing was stellar overall, there was a noticeable issue with one part of the character trio. Becca, Aaron's sister, is a bit uneven in her portrayal. She pushed Aaron to adopt Mavis, but as soon as the dog destroyed her footwear she was ready to drop Mavis back off at the shelter. And she seemed shocked when her brother had actually bonded with his new dog. What did she expect? You don't just adopt a dog, love her one day, then kick them out the next. At least Aaron stood up for Mavis, even if Becca did an about-face in the middle of the storyline. I just couldn't follow the ups and downs of Becca's reactions. And with this being such a short story, it became more noticeable.
I Heart Boston Terriers is a feel-good novella that's a good taste of potential romance, yet leaves you wanting for more. First published by Amber Quill Press/Amber Allure back in 2012, this updated second edition retains the same storyline without expansion, and that's a shame. I feel like so much more could have been explored in this, especially with the talented Rick R. Reed wielding the pen. I look forward to more character-driven storylines from him in the future, and hopefully more pages. 
Reviewed By: Kimberly
Click HERE to enter the Dreamspinner Press Homepage