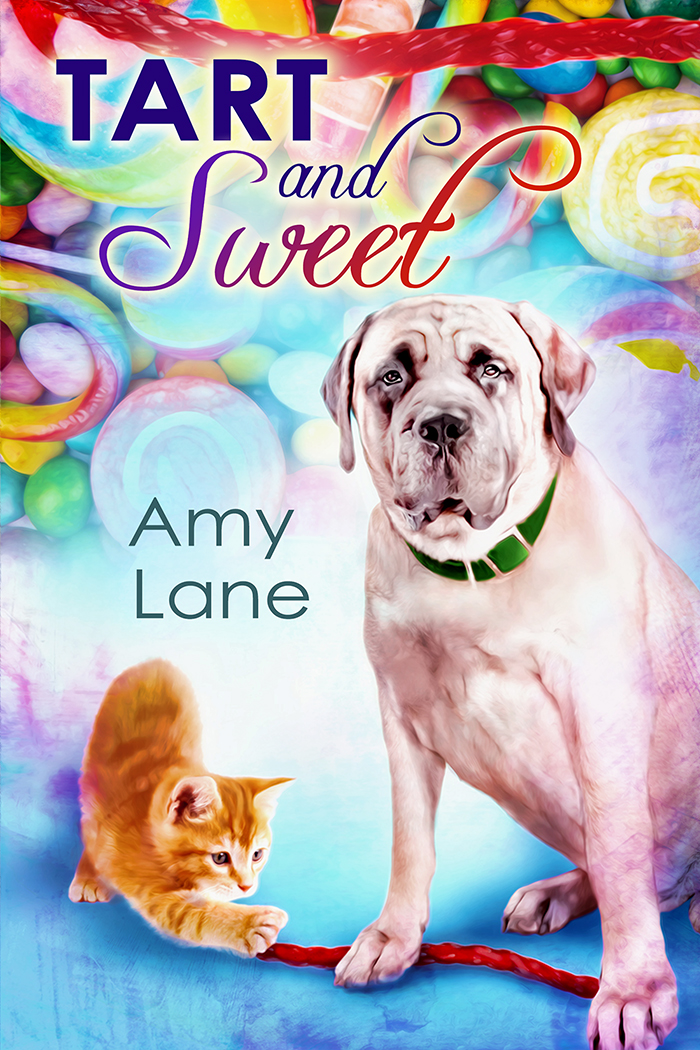 Title: Tart and Sweet
Author: Amy Lane
Publisher: Dreamspinner Press
Pages: 220
Characters: Robbie, Cy, Adam, and Finn
POV: 3rd
Sub-Genre: Contemporary
Kisses: 3.5

Blurb:
In the Army, Robbie Chambers turned on his lover out of fear—and he hasn't been able to live with himself since. Now he's out of the Army but still trapped in the closet that brought on his most cowardly moment, and he starts to think he'll never be able to fight his way free.
Until he sees Cy McVeigh. Beautiful and uninhibited, Cy is dancing on the boardwalk at Old Sac for no other reason than the moment called for it. Robbie not only joins in the dance but is smitten from the very beginning.
However, Robbie still has old business to clear up, and when he helps out a kid in need and comes face-to-face with the man he betrayed, he's forced to come clean with himself. He can't redeem his mistake if he's still locked into his old patterns, and he won't ever be worthy of Cy if he can't earn Adam's forgiveness. He's going to need all the help he can get from the people at Candy Heaven in order to make things right with his past so he can have a future with Cy.
Review:
Tart and Sweet is the fourth and final book in the Candy Man series. The story centers around Robbie and Cy's developing romance, as well as Robbie's need to rectify some issues from his past. There was past lover drama and family drama, but overall the characters came out of this with a happy ending an a bright look towards the future.
Having never read the former books in the series, I came in having to get to know the multitude of characters that were mentioned, and that perhaps put me at a disadvantage because there was an expectation that the reader would already know the names well and the short-hand descriptions would suffice. For me, though, it was extremely difficult to know who was who, what significance each side character might have in the larger universe of the series, and who I should pay attention to more thoroughly. Instead of trying to sort them all out, I concentrated my attention on Robbie and Cy's relationship and not let many of the casual mentions about the other characters' issues weigh me down too much. Was it impossible to enjoy the book? No. However, I think that the story would be much more enjoyable to those who had read the prior books in the series and knew all the characters well.
If you'd like to read the entire Candy Man series, the books in order are:
• Candy Man
• Bitter Taffy
• Lollipop
• Tart and Sweet
What drew me in to Tart and Sweet the most, aside from the developing relationship between Robbie and Cy, was the way Robbie came to terms with who he was and non-apologetic for his sexuality. He walked away from his girlfriend and into the arms of Cy perhaps a bit too quickly, but his interactions with his parents and trying to get them to see him for who he truly was made for great storytelling. I wouldn't mind seeing where Robbie and Cy might end up a few years from now, whether Robbie's father might accept him or if his mother continues to try to bridge the gap in the fractured family. For now, though, I'll believe that Robbie and Cy retain their happily ever after.
Reviewed By: Kimberly
Click HERE to enter the Dreamspinner Press Homepage