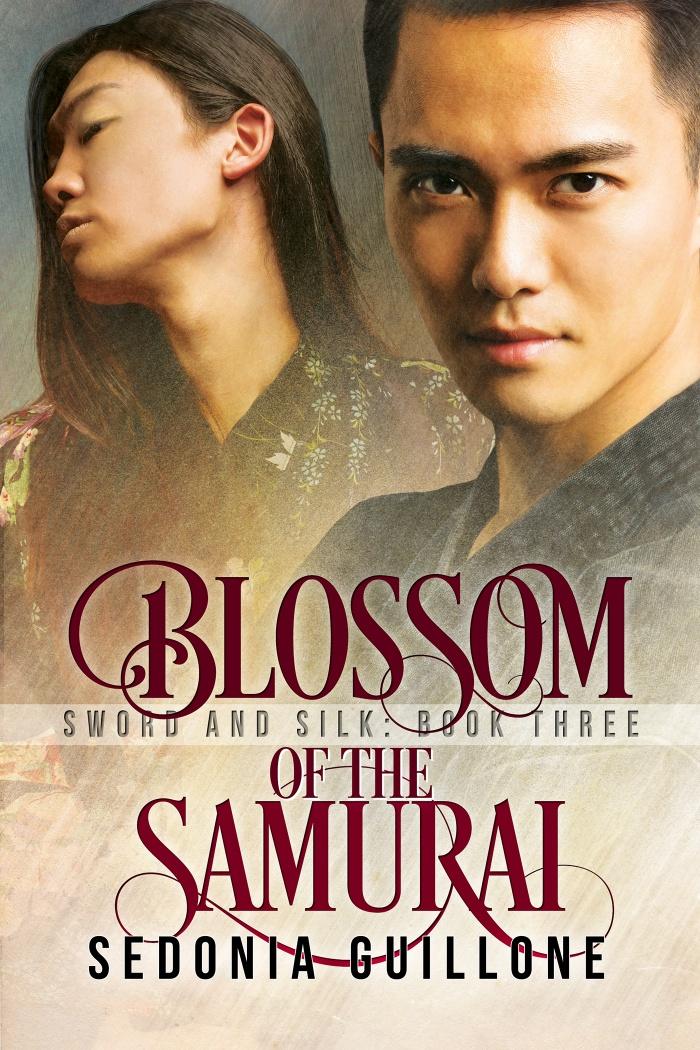 Title: Sword and Silk, Book 3: Blossom of the Samurai
Author: Sedonia Guillone
Publisher: Dreamspinner Press
Pages: 112
Characters: Aoki, Toho
POV: 3rd
Sub-Genre: Historical, Series
Kisses: 5
Blurb:
The samurai's only true master is his heart….
For seven years while training for his life as a samurai, Toho Morimasa has been away from Aoki, the beautiful actor who helped him to heal from the trauma of his parents' brutal murders. Now, nightmares that Aoki is in trouble plague Toho's sleep, and he makes the journey back from Edo to Kai, no longer wanting to be away from Aoki's side. Once there, Toho meets the very real source of his nightmares and vows to honor and protect Aoki. When his beloved Aoki is brutally assaulted, will Aoki survive long enough to understand that the love Toho has for him is the love he too has been craving his whole life but doesn't feel he deserves?
Review:
Blossom of the Samurai is the third and final installment in the Sword and Silk trilogy. To say that I am saddened by this is an understatement because I love the characters Ms. Guillone has created and truly hate to say goodbye to them. There is something very special about Ms. Guillone's characters. Each and every one easily touches the heart of her readers and quickly becomes a unique and loveable hero that lives and breathes off of the written page.
I've been looking forward to reading this book because I fell in love with Aoki and Toho's characters. I had hoped they would somehow find a way to their own happiness with one another and I'm pleased to say, this book did not disappoint.
I truly love heroes that are genuinely nice men and that's what these men are. Though they've both been through so much in life, and it would be so easy for both of them to be bitter and aloof, both Aoki and Toho's inner beauty and strength persevere through a very tough past and are truly amazing men. I loved the way Toho's love for Aoki gave Aoki the determination to be strong again. I also loved the way Aoki's love for Toho allowed the younger man to find who he is truly destined to be.
As a reader, I appreciated the slow buildup and the way their relationship developed throughout the story. Watching Toho become a man in Aoki's eyes was a beautiful thing to behold. They must go through a lot to get their happy ending, but oh what a lovely ride it was to see.
Although this book could probably be read as a stand-alone in the series, I do NOT recommend it. The characters in the first two books play an important role in this story AND to truly understand the dynamics between all of them, including the bond between Aoki and Toho, I would read this series in book order. Believe me, if you enjoy a well-written, historical romance, then the Sword and Silk series is not to be missed.
A word to the wise, though there are many uplifting and beautiful moments in this story, there are some heart-retching ones too. I needed a tissue and wept from Aoki's assault, but the beauty of friendship and of Toho's love lightened my heart and made Blossom of the Samurai one of my favorite reads in this series.
The Sword and Silk books are:

Flying Fish
Blind Love
Blossom of the Samurai
Highly Recommended!
Reviewed By: Gabbi
Click HERE to enter the Dreamspinner Press Website