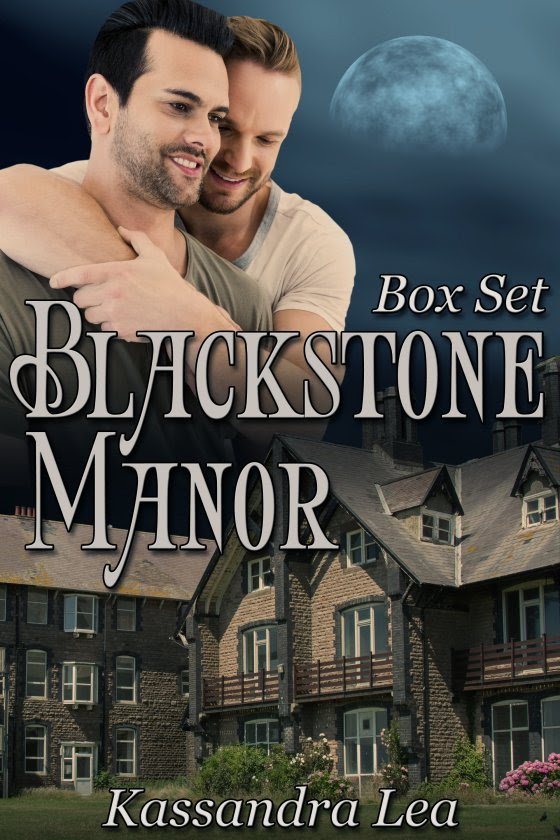 TITLE: Blackstone Manor Box Set
AUTHOR: Kassandra Lea
ISBN: 9781634863285
GENRE: Gay Paranormal Fantasy Erotic Romance Box Set
LENGTH: 49,258 words
PRICE: $4.99
Masonry gargoyle Io is head over heels in love with the alpha Cinder, but it might take some convincing to get Cinder on board. What better way of catching Cinder's eye than gifting him Blackstone Manor? Cinder has a soft spot for the rundown mansion. And once he notices Io, sparks fly.
Not everyone is happy about the idea of the two becoming a couple, however. Beta Ran'imy also has her sights set on Cinder, and she loathes Io. If she can just get him out of the picture …
From the first kiss to building Christmas snowmen together, Cinder's about to learn that loving Io isn't always easy.
Contains the stories:
Blackstone Manor: Masonry Gargoyle Io is determined to give his alpha and crush, Cinder, the greatest birthday gift he can imagine. Blackstone Manor. The old manor, slated for demolition, has captivated Cinder for years. Io will do whatever he has to, including crossing the line and potentially getting banished from the family.
Heart's Triumph: The gargoyles Io and Cinder are still in the early stages of their relationship. Will their love be strong enough to withstand the Council and revenge?
Promised: Io wants to throw a Halloween party in the newly renovated Blackstone. Cinder isn't exactly on board, harboring a secret from his lover. But how can he deny the love of his life a little fun around the spookiest time of the year? And after all, what could possibly go wrong?
A Gargoyle Christmas: It's the most wonderful time of the year and all Io really wants is snow. And to find just the right gift for his husband, Cinder. Meanwhile, Cinder needs to appoint a new beta, find a gift for Io, and figure out what's wrong with Daisy.


TITLE: Galen's Destiny
AUTHOR: Edward Kendrick
ISBN: 9781634863773
GENRE: Gay Paranormal Mystery Erotic Romance
LENGTH: 50,991 words
PRICE: $4.99
What would you do if you turned eighteen, with your whole life ahead of you, only to find out you were a dhampir, destined to spend your nights hunting vampires? Would you accept your fate, or walk away? Galen faces that decision, and makes the right choice.
By the time he's twenty-five, he's an expert at what he does. Then fate intervenes when a powerful elf emerges who wants to rule the world. Will Galen, with the help of his father Rénald, a loup garou named Marc, and two elves, Ian and Ewan, be able to foil the rogue elf's plan? And, in the process, can Galen find true love … without dying before that happens?


TITLE: Heaven's Light
AUTHOR: Thomas Grant Bruso
ISBN: 9781634863858
GENRE: Gay Romance
LENGTH: 32,031 words
PRICE: $3.99
Sequel to Winter's Light
Christian Rivers receives the phone call he has been dreading for six months. His father has died.
Flying home to Arizona with his husband Phillip, Christian arrives in Glendale to a family in chaos. Christian's mother Lori struggles to go on without her husband. She collects lots of things to occupy her mind and pass the time. Her sleeping habits have changed, too, and she's no longer able to stay in the same house without the man she loved.
To make matters worse, Christian finds his sister Paula in a life-and-death situation. In an attempt to escape the news of her father's death, Paula turned to drugs, and Christian is the only one able to help her through this tumultuous time.
Fraught with his own demons, is Christian strong enough to solider on and battle the challenges awaiting him when he arrives home to say a final goodbye to the man he called Dad?


TITLE: Maelstrom
AUTHOR: Kass Barrow
ISBN: 9781634863766
GENRE: Gay Romance
LENGTH: 69,063 words
PRICE: $5.99
When Kylor Knightley, a multi-millionaire nightclub owner, is out talent-spotting at an open mic event in London's Limehouse district, the last thing the stiff-lipped Brit expects is to fall head-over-heels for a devastatingly handsome singer ten years his junior.
Born in New York, twenty-two-year-old Eden McFadden now calls London home and has ambitions of making it big in the capital's music scene. In the meantime, the feisty free spirit is secretly rocking it as a stripper at a gay club in Soho. But when fate brings him and Kylor together in Limehouse, it starts a chain of events that tears both of their worlds apart.
It's going to take some serious attitude adjustment for the smart-mouthed stripper and the arrogant British gent to find common ground, but the attraction is too strong to ignore. Sometimes you have to trust in fate and see where it takes you.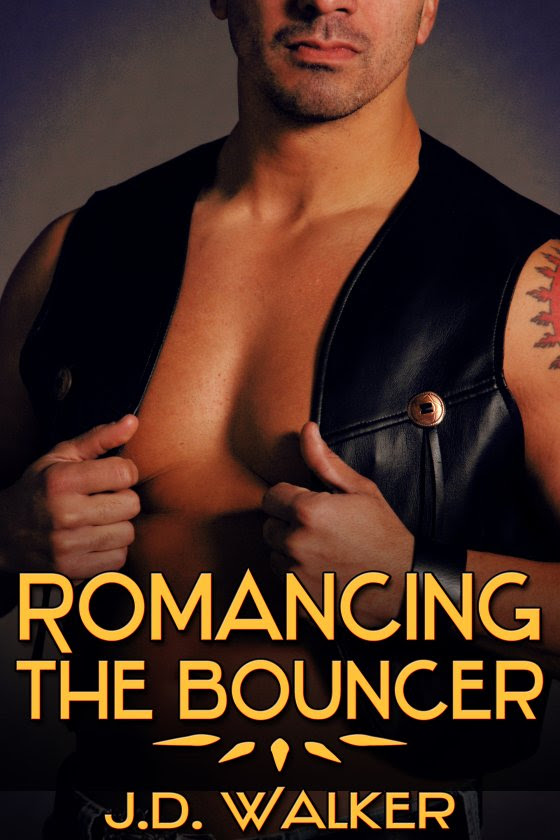 TITLE: Romancing the Bouncer
AUTHOR: J.D. Walker
ISBN: 9781634860918
GENRE: Gay Erotic Romance
LENGTH: 12,532 words
PRICE: $2.99
Bennett "Ben" Pachowski is a bouncer at Throwbacks. He likes his job, though he gets tired of being thought of as more brawn than brain. He loves books, prefers to be romanced before sleeping with a man, and has a crazy feline companion named Bessie.
Ben's favorite band, Rebel's Ultimatum, plays at the club on weekends, giving him an eyeful of sexy bass player, Monty Mabuse. Ben is content to flirt — nothing more. He knows the kind of person Monty is, and commitment is not something the bass player is interested in.
When Monty resorts to something devious to get what he wants, it backfires, and Ben walks away. Before he goes on tour with his band, Monty finally gets Ben to talk to him, but if Monty really wants to have something serious with Ben, he'll have to change his ways.
A little romance could go a long way.