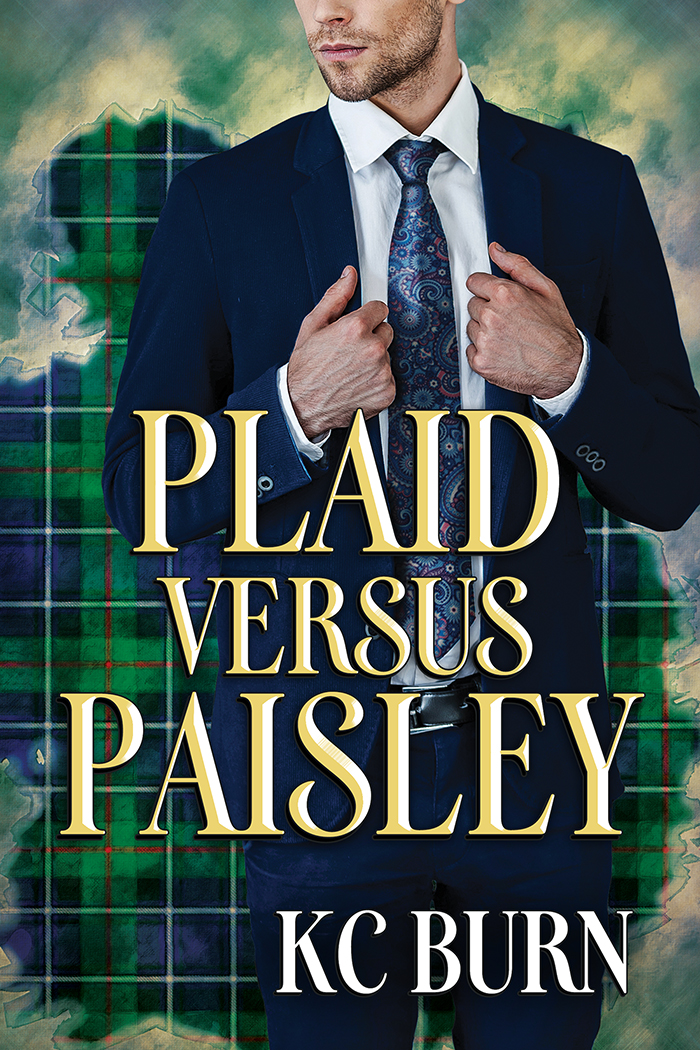 Title: A Fabric Hearts Story, Book 2: Plaid versus Paisley
Author: KC Burn
Publisher: Dreamspinner Press
Pages: 209
Characters: Will Dawson, Dallas Greene
POV: 3rd
Sub-Genre: Contemporary Romance, Series
Kisses: 5
Blurb:
Two years after his life fell apart, Will Dawson moved to Florida to start over. His job in the tech department of Idyll Fling, a gay porn studio, is ideal for him. When his boss forces him to take on a new hire, the last person he expects is Dallas Greene—the man who cost him his job and his boyfriend back in Connecticut. He doesn't know what's on Dallas's agenda, but he won't be blindsided by a wolf masquerading as a runway model. Not again.
Dallas might have thrown himself on his brother's mercy, but his skills are needed at Idyll Fling. Working with Will is a bonus, since Dallas has never forgotten the man. A good working relationship is only the beginning of what Dallas wants with Will.
But Dallas doesn't realize how deep Will's distrust runs, and Will doesn't know that the man he's torn between loving and hating is the boss's brother. When all truths are revealed, how can a relationship built on lies still stand?
Review:

Plaid Versus Paisley is the second book in the Fabric Hearts series and it's one not to be missed. This contemporary series is full of angst, romance and just the right mix of flirtatious fun. Because of a few misunderstanding and a lot of lack of communication, Dallas and Will's relationship is a complex one.
Enemies to lovers us usually a hit or miss for me. I'm not a huge fan of this theme because, in my opinion, and as the saying goes, there really is a fine line between love and hate. Because of this, I don't always believe the transition from two characters who go from hate to love, so I admit I was a tad bit worried about this book. BUT I loved Will in the first story and hoped his story would be one that I would enjoy, and quite frankly, be a story that was worthy of him.
I am so pleased to say that I was very pleasantly surprised by this book. I liked the way the relationship developed between Will and Dallas and quickly became captivated by the story they had to tell. There were times I wanted to shake some sense into Will because he can be a stubborn ass sometimes, but it was highly gratifying to see Will and Dallas work through their differences and misunderstandings and develop a strong and loving relationship.
Though Will can be full of self angst and self doubt, I still liked him. He is grumpy and often doesn't think before he acts, but it's what is inside of him that made him a man I really cared for. Once he works through his fears and insecurities and allows the warm and even compassionate person he is inside, I could easily see why Dallas was so enamored with him.
I liked Will BUT I adored Dallas. He's sweet and loving and craves to be loved and accepted for the man he really is. His sheer determination to have a better life than the one he lived before he moved to Florida is a noble one. I liked how he was able to tear down the wall around Will's stubborn heart. Despite Will's best efforts to hate Dallas, it's Dallas's sheer determination for Will see him for the smart, warm and caring person he really is, is the reason why I truly loved him. Better yet, Dallas is able to do this without becoming a doormat to Will's strong and sometimes overly dominant personality.
Between the intriguing heroes and the addictive story they had to tell, Plaid versus Paisley is a highly satisfying read filled with the right mix of angst and romance. Will and Dallas may have started off on the wrong foot, but watching their relationship grow and evolve into a strong and loving one was a lovely thing to read.
Highly Recommended!
The Fabric Hearts series in book order are:
Tartan Candy
Plaid versus Paisley
Reviewed By: Gabbi
Click HERE to enter the Dreamspinner Press Homepage