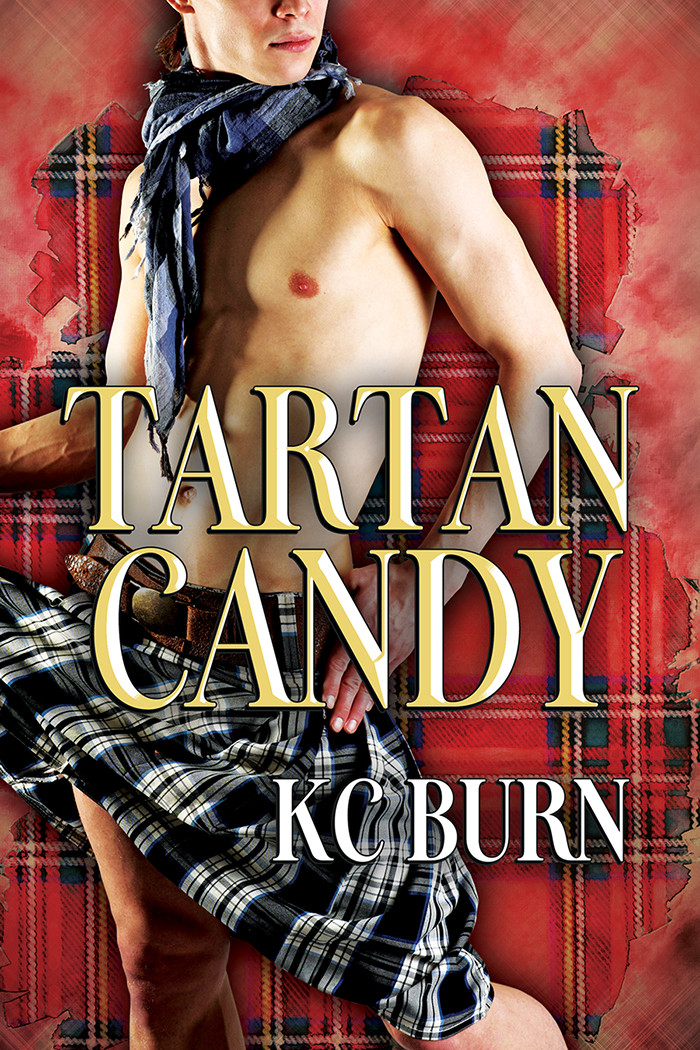 Title: Fabrics, Book 1: Tartan Candy
Author: KC Burn
Publisher: Dreamspinner Press
Pages: 206
Characters: Raven McIntyre, Caleb Sanderson
POV: 3rd
Sub-Genre: Contemporary Romance, Series
Kisses: 4.5
Blurb:
Finlay McIntyre (aka Raven) is a successful adult film star with a penchant for kilts, until an accident cuts short his stardom and leaves him with zero sexual desire, lowered self-esteem, and no job. He knew his porn career wouldn't last forever, but he wasn't prepared for retirement at twenty-eight. While trying to figure out the rest of his life, Raven agrees to attend a high school reunion. That's when a malfunctioning AC unit in his hotel room changes everything.
Caleb Sanderson, an entrepreneur with his own HVAC business, has no idea what to expect when he steps into Raven's hotel room to fix his AC unit. They're attracted to each other, but Caleb, closeted, can't afford a gay relationship, not with his mom pressuring him to produce grandchildren. If he wants to keep Raven—who no closet could hold—he'll need to tell his family the truth. But Raven has a few secrets of his own. He refuses to reveal his porn past to Caleb, a past that might be the final obstacle to Caleb and Raven having any kind of relationship.
Review:
Tartan Candy is the first book I've read by KC Burn and it won't be my last. I was immediately wrapped up into Raven and Caleb's lives and I enjoyed every minute I spent reading this book.
I though the author did an excellent job at writing compelling, interesting characters that I easily found myself caring for. From the moment he turned eighteen, Raven has had to survive on his own. Unable to find work, Raven fell into the world of being a porn star. For years, Raven was very popular, but when he survives a terrible accident, Raven is forced to quit the one job that has been his saving grace for many years.
Caleb is a blue collared worker *I love blue collared workers* with a heart of gold. He comes from a wonderful family who has come through a lot…so much so, Caleb feels like he can't be truthful about his sexuality to his family because he loves and doesn't disappoint them. Because of this decision, Caleb is a lonely man.
Sparks fly when the two men meet and from that first meeting a sweet and loving relationship begins to develop between them. As they slowly begin to trust the other man, there are still old fears and secrets that they must face if they want a lasting love together.
I really loved this book. I loved the tender way Caleb takes care of Raven. I loved the way Raven saw Caleb for the warm and wonderful person that he was. I loved the way they learned to communicate with one another and I adored the secondary characters. Even Caleb's family is amazing…his mother and father are truly wonderful people.
There is a some misunderstandings this couple must go through before they reach their happy ending. I thought Raven should have come clean about certain things before it was revealed. I was also empathetic to Caleb's reason for staying in the closet from his family but I wasn't quite sold on why he stayed there so long. His family was amazing…but that's only my opinion.
I can't wait to read the second book in the series and look forward to reading many more books by KC Burn in the future. Tartan Candy is a very easy book to recommend if you are looking for a sexy, rainy day read.
Highly Recommended!
Reviewed By: Gabbi
Click HERE to enter the Dreamspinner Press Homepage