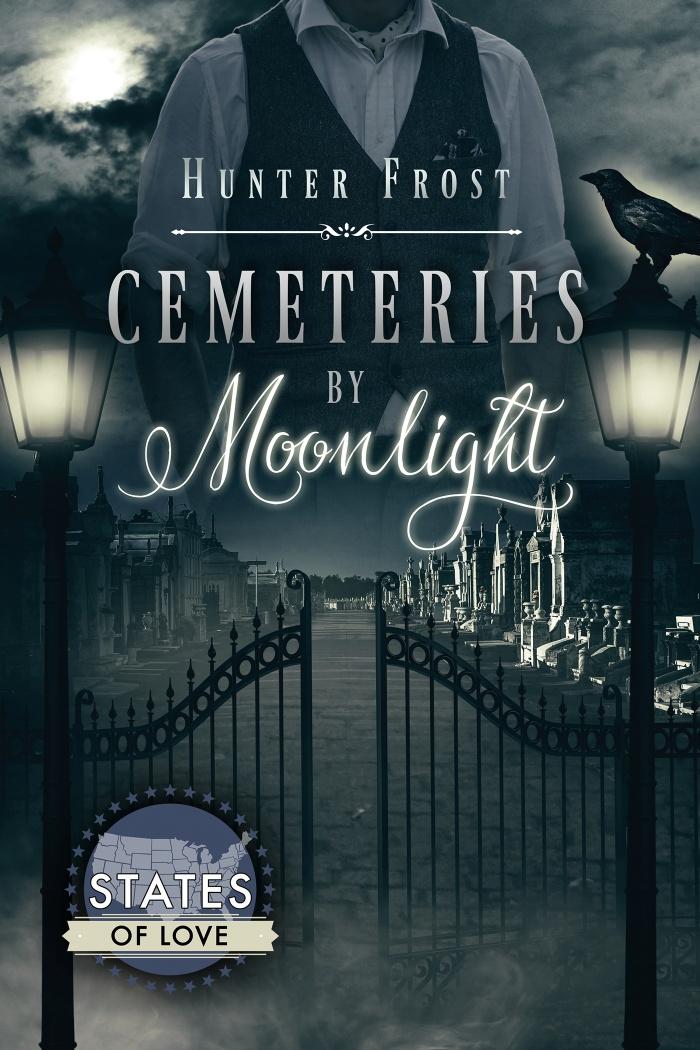 =
Title: Cemeteries by Moonlight
Author: Hunter Frost
Publisher: Dreamspinner Press
Pages: 108
Characters: Drew Daniels and Finn Murphy
POV: 1st Person
Sub-Genre: Mystery
Kisses: 4
Blurb:
When a serious bout of writer's block threatens to delay mystery author Drew Daniels's newest book, his aunt offers her New Orleans apartment in the heart of the French Quarter as a writing retreat. She neglects to mention that it's occupied by the enigmatic and sexy Finn Murphy, a cemetery tour guide with a penchant for Victorian attire and a Cajun accent.
A body discovered in an open crypt forces reclusive Drew to deal with Finn's eccentric group of friends and his underlying attraction to the hot Cajun—despite warnings about Finn's violent past. Drew might write this stuff, but he's never had to solve a real-life murder. With a deadline looming and a killer on the loose, this retreat is proving to be anything but helpful for Drew's novel. Drew can only hope he won't end up a tragic tale for the Ghostly Legends & Lore, Inc. haunted tour.
Review:
Drew Daniel's is an author on a deadline. Problem is he has writers block and if he does not get something to his editor soon he will be dropped by his publisher. He ends up going to New Orleans after being pushed by his family and what is supposed to be a calming time is anything but. First, his aunt's place turns out to be in the French Quarter, a place not known for being quiet and second, the apartment he thought he would be using turns out to have an occupant already.
Finn Murphy is a tour guide, one of many in New Orleans. If he was anywhere else his specialty would raise eyebrows, but not so much in the Big Easy. Like his job, Finn's friends are outside the norm and while that is not such a sad thing, it was hard not to think something was off every time they came into the story.
While there is a strong attraction between the two men, and I loved watching their relationship form, it is not the main focus of Cemeteries by Moonlight. Someone has killed one of Finn's friends and is doing an excellent job of making it look like Finn did it. With Finn's history, Drew is the only one that thinks the man could be innocent. There are a lot of little twists and turns in this story and more than a couple of surprising moments. I was surprised by who did it and why, so it is easy to imagine how Finn felt.
The author, Hunter Frost, is new to me but after reading Cemeteries by Moonlight I will be looking for more stories by this author. If you are looking for a good mystery then I strongly suggest giving this book a try.
Reviewed By: Lydia
Click HERE to enter the Dreamspinner Press Website