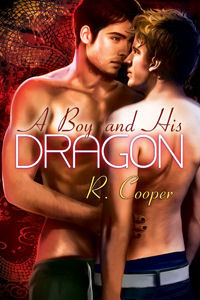 Title: A Boy and His Dragon
Author: R. Cooper
Publisher: Dreamspinner Press
Pages: 242
Characters: Arthur MacArthur, Bertie
POV: 3rd Limited
Sub-Genre: Urban Fantasy, Shifter Romance, Series
Kisses: 5+
Blurb:
A Being(s) in Love Story
Arthur MacArthur needs a job, and not just for the money. Before he dropped out of school to support his younger sister, he loved being a research assistant at the university. But working for a dragon, one of the rarest and least understood magical beings, has unforeseen complications. While Arthur may be the only applicant who isn't afraid of Philbert Jones in his dragon form, the instant attraction he feels for his new employer is beyond disconcerting.
Bertie is a brilliant historian, but he can't find his own notes without help—his house is a hoard of books and antiques, hence the need for an assistant. Setting the mess to rights is a dream come true for Arthur, who once aspired to be an archivist. But making sense of Bertie's interest in him is another matter. After all, dragons collect treasure, and Arthur is anything but extraordinary.
Review:
A Boy and His Dragon is an absolute delight to read from start to finish. It is filled with plenty of intrigue and romance and I absolutely adored how the relationship between the two heroes evolved throughout the story.
This is Arthur's story to tell. As a hero and the main character, Arthur is a very likable man. His determination to do right by his sister and try and make a better life for himself is an admirable one. Though he thinks he is somewhat unqualified to be an assistant to Dr. Philbert *Bertie* Jones, his drive and dedication to do the best job possible for Bertie was both honorable and endearing. Though Bertie is brilliant, he is very unorganized and he doesn't take care of his things, which drives Arthur totally crazy. Arthur has a bit of OCD, which makes the relationship between him and Bertie a match made in Heaven. I loved watching these two men truly form a friendship and learn about each other.
As a reader, I also appreciated the well-written backstory and the world that was created about Bertie and dragons. Like Arthur, I found myself intrigued by Bertie and his heritage and the history of dragons themselves.
A Boy and His Dragon by R. Cooper is a book that is so easy to recommend. Between the exciting storyline and the strong and sexy romance between Arthur and Bertie, A Boy and His Dragon will be an easy favorite and a story that will live within your heart for many years to come!
Highly Recommended!
Reviewed By: Gabbi

Please NOTE: This book is also part of the R. Cooper's "Beings in Love" Anthology but since I am reviewing each story individually, I have put the original artwork for each story in the book.

Click HERE for more information and to purchase Beings in Love by R. Cooper
Click HERE to enter the Dreamspinner Press website