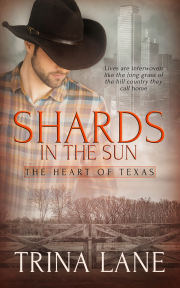 TITLE: Shards in the Sun
Author: Trina Lane
Publisher: Pride Publishing
Pages: 251
Characters: Brandon Blackstun and Tyler Synder
POV: 3rd Person
Sub-Genre: Western, Contemporary
Kisses: 4.5
Blurb:
The heart of Texas beats strong, fueled by the love between two men whose lives are in-terwoven like the long grass of the hill country they call home.
Brandon Blackstun has spent the last decade moving on from the hellish halls of high school. With an invitation to his reunion in hand, he plans to show his former classmates that not only did the repeated occurrences of being slammed into lockers not cause brain damage, but he's now a successful cover artist for the very books they buy off the shelves.
Tyler Synder was determined not to follow in his father's footsteps as head of the interna-tional corporation that bears the family name. Instead, his heart is tied to the beat of his horses' thundering hooves. He operates a breeding program for Tennessee Walkers and a guest ranch a couple of hours from the urban luxury of Dallas where he was raised.
The two men might live very different lives, but the heat between them is hotter than any Texas sun. With the help—or meddling—of an unlikely pair of friends, the two explore a re-lationship that stirs something deep inside them. Distance and misunderstandings force Ty-ler and Brandon to consider whether the fulfillment they've experienced in each other's arms is worth the sacrifice of the lives they've built individually.
Texas may be the second biggest state in the union, but is it large enough to embrace the love between these two men, or will their deeply hidden fears shatter the boundaries of their hearts?
Review:
Shards in the Sun is the first book in Ms. Lane's The Heart of Texas series. This book is a contemporary western that spans over a period, however the author does such a good job with this story that it does not feel as if is dragging.
Brandon was raised by a single mother and while he's smart he felt college was not for him. After some struggles he found himself a job at the library, which he sort of loves, and a side job designing book covers. When his ten-year high school reunion rolls around, Brandon would prefer not to go but gets talked into it. While there, two things happen. One, one of his old tormentors apologizes for what he did and explains why he behaved the way he did. Two, Brandon meets the love of his life, he just doesn't know it yet.
Tyler was raised with everything he wanted. However, when he decides not to follow in his father's footsteps, his parents do not approve and things between them become tense. Tyler had plans though and with an inheritance from his grandfather he buys a ranch and starts on his dream. While he doesn't leave the ranch much, he does go out occasionally and when he's out one night he comes across Brandon.
The two have a rocky start. There are numerous misunderstandings that lead Brandon to believe that he just imagines a connection between him and the gorgeous cowboy. After a little meddling by his friend, Jessenia, and Tyler's brother Zach, Brandon and Tyler finally get together.
The chemistry between the two men is intense and the men really heat up the pages, however, there are so many issues between them that I could not help wondering when the two would face a separation. That eventually becomes an obstacle that they must overcome but their biggest problem is Brandon and his feelings of not being good enough.
I really liked this story. The men pull you into their story from the get go, and keep you wondering how things will play out. I loved the interaction between them even if there were some times when I wanted to shake Brandon. I did like the way he got Tyler's parents to see that what Tyler was doing was something to be proud of. As for Tyler, I liked that he stood by Brandon, even if he should have been a little firmer with him a time or two. One of the best parts of this story for me was watching the way Brandon grows as an individual. He comes into his own professionally and realizes just what is important personally.
Shards in the Sun is also full of wonderful secondary characters that play import roles in this story. There is of course Brandon's mother, who is a little crazy. Jessenia who is Brandon's best friend. There is also Tyler's parents and brother. What is a little unexpected is the role that Brandon's former bully plays.
Javier has a connection to both main characters and while his past actions have long lasting effects in their lives, a friendship of sorts does eventually form. He's not in the story a lot, but it is hinted at that he will be the focus of book two.
Fans of Ms. Lane's are sure to like this new story, and while I believe this is the first of her books I have read, it will not be the last. I can't wait to see what book two has in store.
Reviewed By: lydia
Click HERE to purchase Shards in the Sun by Trina Lane