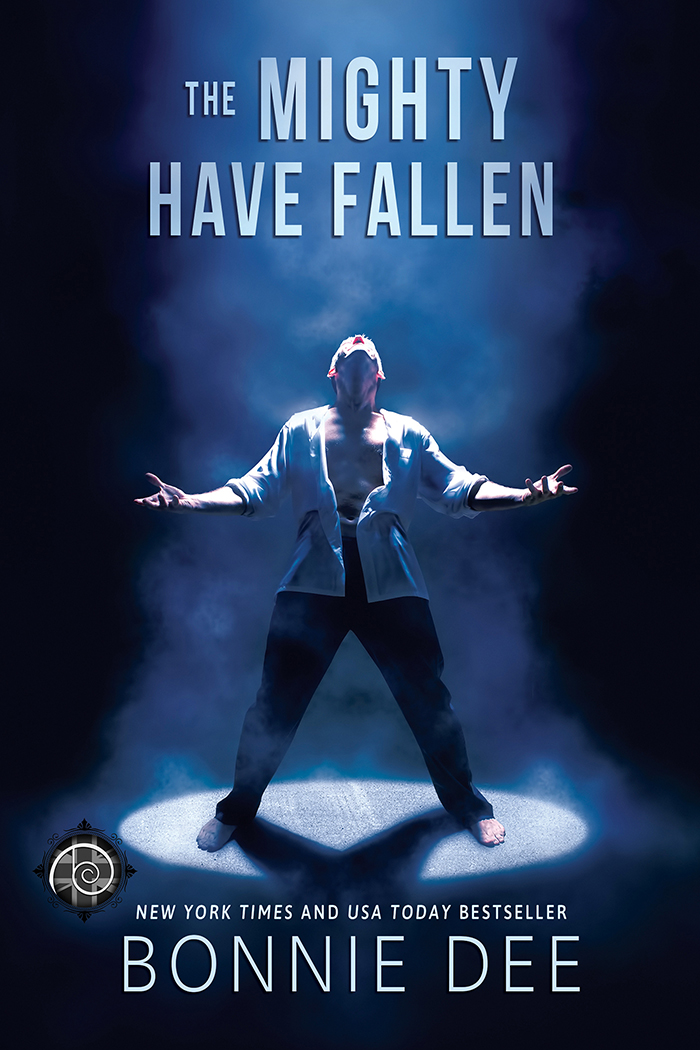 Title: The Mighty Have Fallen
Author: Bonnie Dee
Publisher: Dreamspinner Press
Pages: 112
Characters: Trevor Rowland, Jack Burrows
POV: 3rd Limited
Sub-Genre: Contemporary Romance
Kisses: 4.5
Blurb:
Theatre headliner Trevor Rowland is at the peak of his career when disaster strikes. In one fell swoop, he loses his eyesight, his fame, and his boyfriend, who absconds with most of his money. Trevor must take on a flatmate, hardworking East Ender Jack Burrows, to afford the rent. Anger and bitterness have taken up residence in his heart—but Jack shines light into the shadowy corners with his relentlessly sunny disposition.
Jack introduces Trevor to a local drag club and convinces him he can enjoy the stage again. Trevor's defences slowly come down as Jack becomes much more than a barely tolerated roommate.
But will Trevor's fragile trust be destroyed when it appears he's been manipulated yet again by a man he's come to care for? Will he reclaim his life or crawl back into a shell of defeat? Trevor must learn to trust not only a man, but himself, once more.
Review:
The Mighty Have Fallen by Bonnie Dee is a story about forgiveness and what the healing power of love can do for the wellness of your soul. I was quickly gripped into the engrossing lives of these two men and ended up reading this story in one sitting.
Told through Trevor's point of view, we get to truly know him as a man. In the beginning of the story, Trevor really isn't living. As a newly blinded man who has lost everything, including his dignity and Trevor's bitterness about his life is apparent as newly cleaned glass. It was easy to understand and empathize with him because of his devastating losses. Trevor is surly and grouchy and is easily triggered to be resentful over the loss of his eyesight and the helplessness he feels because of it. To make matters worse, Trevor's former lover left him and took all of his money, so Trevor is now having to share a living space with a roommate, Jack, who gets on Trevor's last nerve.
At first, Trevor is a bit of a snob. He comes from a good family and hasn't had to fight for a lot in his life. Now that his charmed life is over, Trevor is trying to come to grips with having to start living his life in a new way. This isn't easy for him, but through Jack's persistence and unconditional friendship, Trevor begins to realize that wallowing within his own misery isn't hurting anyone but himself.
Though Trevor is far from perfect, I really liked him. As a reader, I appreciated his willingness to overcome the barriers that life has thrown his way. Through Jack's guidance, Trevor is able to find the strength it takes to brush himself off and start a new life. I liked how these two men began to communicate with one another and enjoyed watching their relationship develop as time went by.
Jack himself is nothing but a sweetheart. He's witty, likeable and has a heart of gold. His sheer willingness to be the solid ground for Trevor to stand on really made him a hero that I could respect and admire. I liked how Trevor began to see Jack as an intelligent, thoughtful man instead of the oaf he once mistakenly thought he was.
The relationship between the two men isn't smooth sailing. Trevor has some serious trust issues and must go through some personal growth if there is to be something special to grown between them.
The Mighty Have Fallen is an easy book to recommend. Ms. Dee has written an exceptionally lovely story that will leave you with a huge smile on your face.
Highly Recommended!
Reviewed By: Gabbi
Click HERE To enter the Dreamspinner Press Homepage