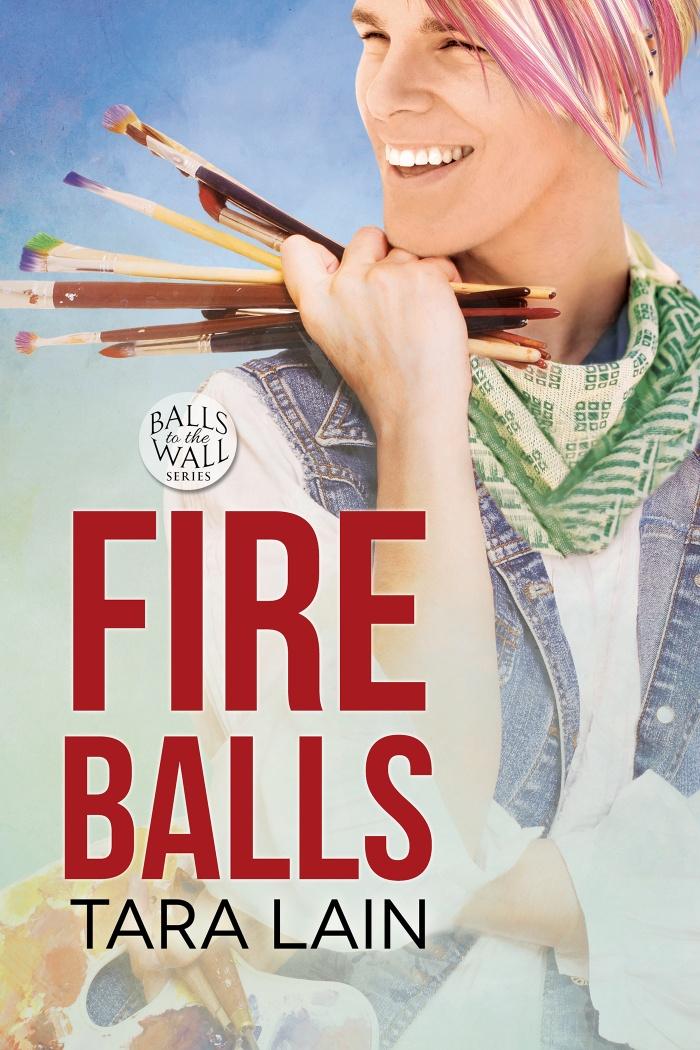 Title: Balls to the Wall, Book 2: Fire Balls
Author: Tara Lain
Publisher: Dreamspinner Press
Pages: 112
Characters: Rodney Mansfield, Hunter Fallon
POV: 3rd
Sub-Genre: Contemporary Romance, Series
Kisses: 5
Blurb:
2nd Edition
A Balls to the Wall Romance
Renowned artist Rodney Mansfield stands five foot six, has pink hair, six earrings, a black belt in karate—and a desperate yearning for firefighter Hunter Fallon. But Rod, the Runtback of Notre Dame, knows he'll never land the beautiful "straight gay" guy, so Rod musters his altruism and helps his more masculine friend Jerry attract Hunter. As if a broken heart wasn't enough, Rod saves Hunter from a firehouse homophobe—humiliating Hunter in front of his dad!
Hunter lives a dream life—his father's dream. While he'd like to teach literature in college, read poetry in the sun, and find a strong guy to top him, he fights fires for his dad. Hunter hates flamboyant guys like Rodney. So why can't he resist him? Maybe it's time to admit this is one flame he has no desire to put out.
First Edition published by Etopia Press, 2012.
Review:
Fire Balls by Tara Lain is the second book in the Balls to the Wall series. Since this is a re-release, this is the second time I've read and reviewed this book. Like before, I am starting this series on the second book because the first book in the series, Volley Balls, is a ménage based romance. If you follow me, you know that I'm not a fan of ménages, so I've opted not to read it, BUT having said this…if the first book is as good as the second, it is definitely something you should consider.
I've read several books by Ms. Lain and I have to say, I've enjoyed them all. She writes characters who are fun, unique and sexy as hell. Plus, the heated chemistry her heroes share, as well as the genuine love and affection they feel for one another, truly resonates off of the written page.
Rodney is one of those heroes that you can't help but adore. He is a successful artist whose love of poetry make him a true romantic at heart. (Even if he doesn't want to admit it to himself) Because of his short stature and flamboyant-and-larger-than-life personality, Rodney has learned that not all men can appreciate him as he is. Normally, this doesn't bother him because Rodney likes and accepts himself for who he is really is.
Though Rodney is a big personality with a lot of zest for life, when it comes to relationships and falling in love, Rodney keeps his heart safe behind a big wall of indifference. This is somewhat surprising because Rodney is loyal to his friends and likes and is liked by many others, but no matter how many barriers he keeps between falling in love and his heart, when he meets the handsome and very masculine firefighter, Hunter, all of his indifference to the possibilities of love begin to crumble.
Hunter has been living his life to please others. Though his homosexuality is known to others, he is afraid to truly live his life as he wants. Because of his larger, muscular size, Hunter is often looked at as an Alpha male who shouldn't have a soft and sensitive side. Since Hunter aims to please those people he loves, he has pushed aside his own wants and needs and is living a life that doesn't truly suit him. When he meets Rodney the first time, Hunter is intrigued by the sexy, flamboyant artist but his shame in being attracted to someone so different that what is expected of him, keeps Hunter from allowing himself to own up to his fascination and attraction to the larger-than-life artist.
Opposites can attract, but as we read the story it's clear that Hunter and Rodney have more in common than at first glance. I liked the way they tiptoed around their attraction for each other, despite both men not wanting to admit how hard they are falling for one another to their own selves. The intense physical chemistry between them struck me as a special one and I began to love how they *despite themselves* began to communicate and then fall in love.
There were times these two drove me crazy. I'm not a fan of deception and both Rodney and Hunter deceive one of Rodney's friends, Jerry throughout the novel. I didn't like this aspect of the story at all, but in a way I did understand it. This might turn some readers off, but thankfully the two men do seem to redeem themselves in the end. Also, as a side note…I loved Jerry and hope he gets his own story one day…just sayin'.
Fire Balls is romantic tale of two men who are clearly made for one another and it's an easy book to recommend. Tara Lain truly writes romance with a heart and I can't wait to read more of this series.
Highly Recommended!
Reviewed By: Gabbi
Click HERE to enter the Dreamspinner Press Homepage