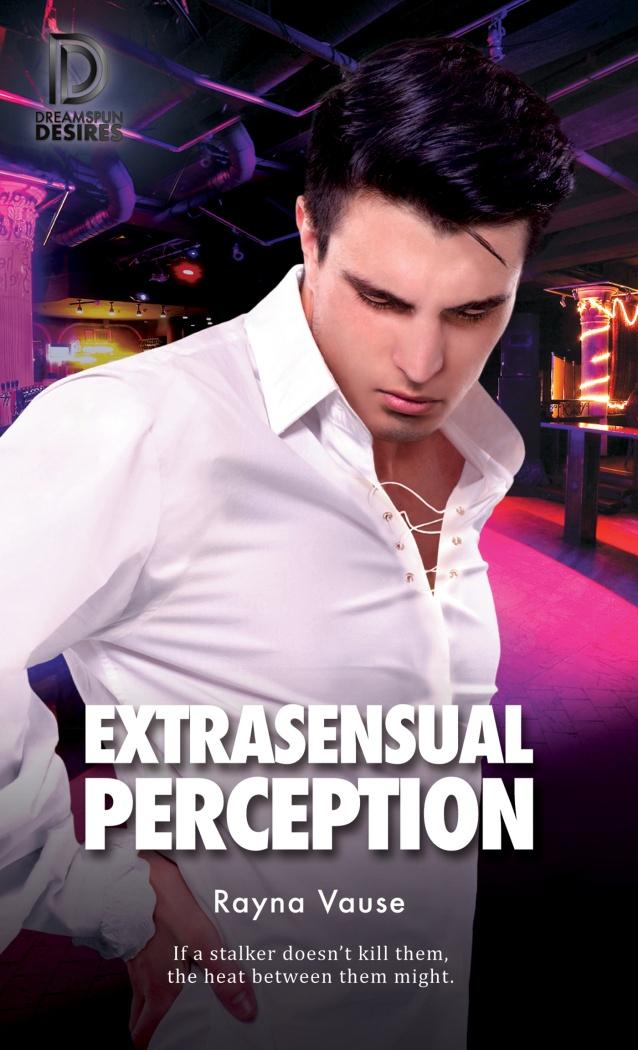 TITLE: Extrasensual Perception
Author: Rayna Vause
Publisher: Dreamspinner Press
Pages: 208
Characters: Christopher Vincent and Jackson Whitman
POV: 3rd Person
Sub-Genre: Contemporary, Mystery
Kisses: 4.5
Blurb:
If a stalker doesn't kill them, the heat between them might.
Christopher Vincent is desperate enough for a job that he accepts an offer to entertain as a psychic in a friend's nightclub. Jackson Whitman, one of the club's co-owners, is less than thrilled by the new act. To him, psychics are ridiculous and a liability. But when they come face-to-face, attraction flares to life between them.
Someone is watching Jack and Chris from the shadows. What starts as a series of creepy encounters leads to deadly attacks.
Jack and Chris must set aside their differences and work together to survive a homicidal stalker. But can they survive their explosive connection?
Review:
Extrasensual Perception is part of Dreamspinner Press' Dreamspun Desire line. This book is by author Rayna Vause, who is new to me, however I will be looking for more stories from her. In this book, the author brings two men together who have very little in common, not just financially but also belief wise. There is also a mystery woven through the story, that while it is easy to guess the bad guy, still leaves you turning the pages to see what is going to happen.
Like his mother, Christopher is psychic and when she asks him to deliver a message he does so, no matter how much he does not want to. When Angelica, his best friend and the person he needs to deliver the message to, offers him a job in her new night club reading fortunes, he takes it to cover his mother's medical expenses. It's there he meets Angelica's brother Jackson.
Jackson does not believe in psychics and in fact thinks Christopher is going to be a liability to the family company. He can't deny that he is intrigue and attracted to the younger man however and vows to keep a close eye on their new employee.
While Christopher is just as attracted to Jackson he is not planning to get involved with anyone who does not believe in him. But then Christopher's visions start coming true and Christopher and Jackson need to figure out who is out to get Angelica.
I liked the interaction between Christopher and Jackson. Christopher does not take any gruff from Jackson, and while he does not force Jackson to accept what he can do, he also does not hide it. The attraction between them is strong as well and the two heat up the pages when they get together. I also like the mystery Ms. Vause has woven through out this story.
Someone is trying to kill Jackson's little sister and the who is easy to figure out, it is the why that leaves readers turning the pages of this book. I like how action packed this story is and that the author was still able to hold my interest even after guessing the bad guy. I also liked that Christopher began to accept the visions rather than trying to ignore them. As readers, can guess, the fact that Christopher's visions seem to be coming true, makes Jackson a believer. The little twists and turns in this story are well done and the way the author wraps up this story was fantastic. I am looking forward to more from this author and encourage others to give her a try.
Reviewed By: Lydia
Click HERE to enter the Dreamspinner Press Homepage