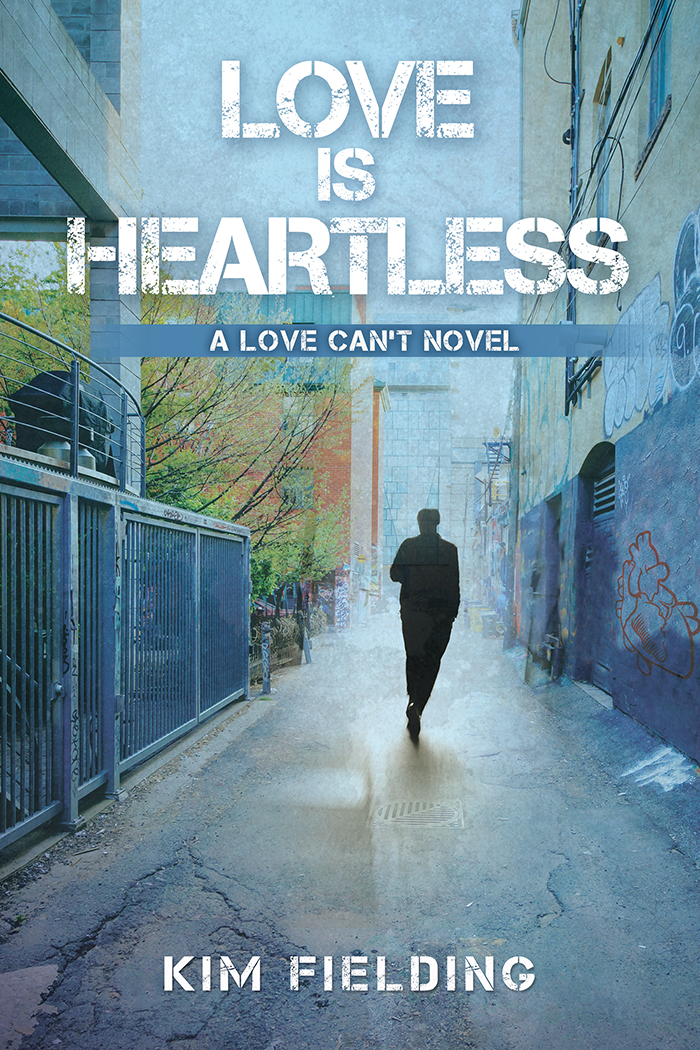 Title: Love is Heartless
Author: Kim Fielding
Publisher: Dreamspinner Press
Pages: 254
Characters: Nevin Ng and Colin Westwood
POV: 3rd Person
Sub-Genre: Contemporary, Mystery, Series
Kisses: 4
Blurb:
Small but mighty—that could be Detective Nevin Ng's motto. Now a dedicated member of the Portland Police Bureau, he didn't let a tough start in life stop him from protecting those in need. He doesn't take crap from anyone, and he doesn't do relationships. Until he re-sponds to the severe beating of a senior citizen and meets the victim's wealthy, bow-tied landlord.
Property manager and developer Colin Westwood grew up with all the things Nevin never had, like plenty of money and a supportive, loving family. Too supportive, perhaps, since his childhood illness has left his parents unwilling to admit he's a strong, grown man. Colin does do relationships, but they never work out. Now he's thinking maybe he won't just go with the flow. Maybe it's time to try something more exciting. But being a witness to a terri-ble crime—or two—was more than he bargained for.
Despite their differences, Colin and Nevin discover that the sparks fly when they're togeth-er. But sparks are short-lived, dampened by the advent of brutal crimes, and Colin and Nevin have seemingly little in common. The question is whether they have the heart to build something lasting.
Review:
Love is Heartless is the second story in the Love Can't series by author Kim Fielding. While there is some crossover between the first two books, it is not necessary to read the first book before reading this one.
The main characters in this book are a little intense. Nevin is a detective with the Portland PD. He's a total alpha, and the fact that his looks belay that fact causes some issues for the detective. Readers will want to read the prologue as it really explains why Nevin is the way he is. But looks aside, he is good at his job and tough as nails. Nevin is called in to investigate the murder of an elderly women who supposedly had no enemies. While there he meets Colin Westwood.
Colin's background is completely different from Nevin's. Where Nevin did not know where his next meal was coming from or which foster family he would be with next, Colin had the life of luxury. The only problem he had was one centered on his health and that only made his family more protective of him. Now an adult, Colin has had to work hard to prove he can be on his own. While volunteering for a charity that helps elderly gay people he finds one of his people dead. It's now that he meets Nevin. The two men are intrigue by the other yet because of personal issues ignore what they are feeling. When another of Colin's people shows up missing Nevin is once again called in. Because of the attraction the two feel for each other, Colin and Nevin make a one night stand deal. Problem is neither man wants it to end at one night.
I really like these two together. Nevin shows Colin it's okay to be a little tough while Colin brings out the softer side of Nevin. While Colin is a little hesitant to fight for his independence, it is Nevin that has a harder time dealing with change. The chemistry between them is intense and I loved watching them move from one night stand to lovers and friends. When the two become serious and Nevin met Colin's family, I had to laugh at some of Nevin's actions.
While the men's relationship is an important part of the story, it is not the only part that will hold the reader's attention. Someone is killing the elderly and whoever it is has a connection to Colin. I think that the readers will love the twists and turns in this story. There are a couple of OMG moments in this story that I did not see coming and one moment where I was not happy at all. While it may be easy for some to figure out who the killer is, the why is something we hear about every day on the news.
I believe this is my first book by Kim Fielding but it will not be the last. I am curious to see what the next book in this school will be about and will look for more stories by this author.
Reviewed By: Lydia
Click HERE to enter the Dreamspinner Press Homepage