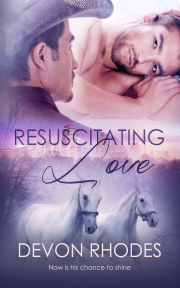 Title: Resuscitating Love
Author: Devon Rhodes
Publisher: Pride Publishing
Pages: 33
Characters: Hill and David
POV: 3rd
Sub-Genre: Cowboy and Western
Kisses: 3.5
Blurb:
If Hill keeps putting cowboys ahead of his marriage, even being a cardiologist won't help David fix their broken hearts
Hillard 'Hill' Pearson, the new events director of the American Royal, has worked hard to get to where he is. This is his first year as director, and the huge responsibility of the more visible position has taken over his life. Yes, he could be considered a workaholic, but he's put fifteen years into the event he's loved since he was a kid, and now is his chance to shine.
When David Weinstein finally convinced his long-time partner, Hill, to marry him, he thought it would bring them closer together. Instead, they're not even to their first anniversary and their relationship is suffering. David's finally at a stage in his medical career where he has regular hours, but he can't seem to connect with his husband when he's free. Now, with the event that he's sick of hearing about underway, he feels like he's making all the effort with no return.
Can Hill and David resuscitate their love before David gives up on the promise of forever?
Review:
I read Resuscitating Love twice, not sure what I felt about it the first time around. I'm glad I did, because I better appreciated the nuances of the storyline after a re-read.
This is a classic story of two men at different stages of their careers, one reaching the pinnacle of his career as the other has more time to relax. It's not surprising that the relationship ends up with issues.
Like many short stories, I wish this had been expanded into at least novella length. This was a snapshot of an important moment in Hill and David's life together. I think it's testament to the quality of writing from Devon Rhodes that I felt Hill and David deserved a longer story. I wanted to know more about the couple as I felt dropped in the middle of the scene and then it finished. I wanted more.
Reviewed By: Pippa Wood
Click Here to Purchase Resuscitating Love