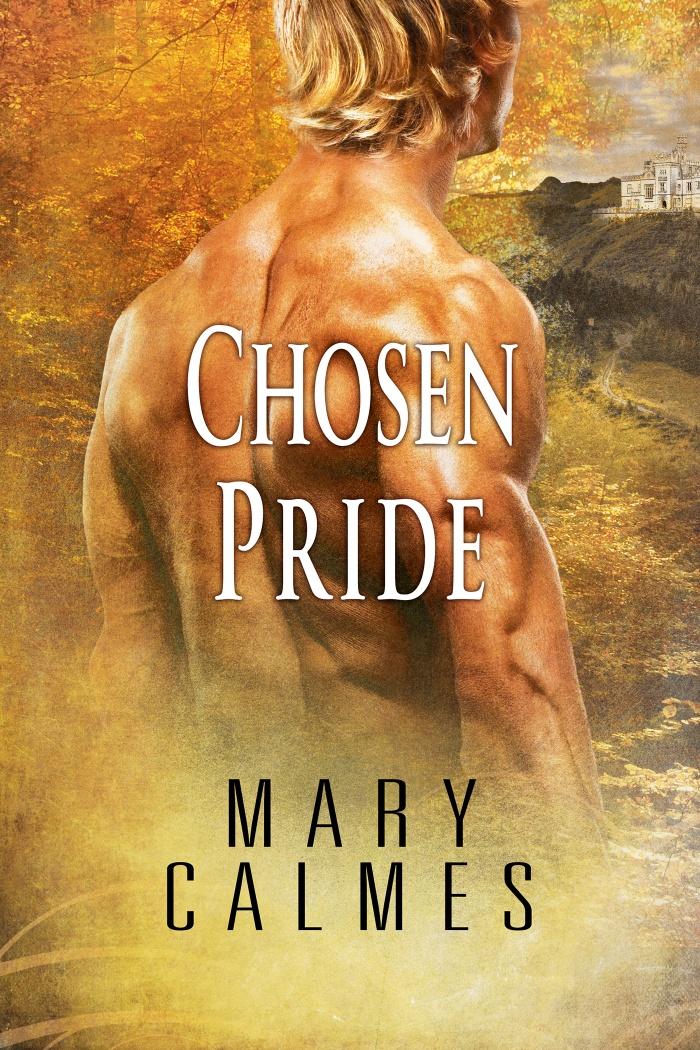 Title: Chosen Pride
Author: Mary Calmes
Publisher: Dreamspinner Press
Pages: 240
Characters: Jon Slade and Kelvin MacCurdy
POV: 1st Person
Sub-Genre: Paranormal
Kisses: 4.5
Blurb:
Jon Slade finally met his mate, but instead of it being the happiest day of his life, it became the saddest when wolf shifter Kelvin MacCurdy chose his obligations over their fated bond, leaving Jon to pick up the pieces of his shattered dreams. Lucky for him, Roman Howell, his boss and the owner of L'Ange, saw promise in the forlorn lion and put him to work so he wouldn't have time to sit around and lick his wounds while he waited for his wounded spirit to heal.
Then the wolves make an official visit to L'Ange, and Jon finds out Kelvin's pining for him is taking its toll on his position as the king's champion. Though Kelvin's training and the ex-pectations of others steer him toward an intended mate, Jon has an unbreakable hold on his heart, and it's no longer possible for Kelvin to keep himself from where he truly belongs.
But the conclave brings more than Kelvin to the château. It also brings a challenge to jackal alpha Quade Danas, a threat that Quade and Roman, Arman and Linus, and Jon and Kel-vin may have to fight in order to keep L'Ange's family intact. Jon never wanted to lead a pride, but the loyalty and devotion to one is ingrained in him. Kelvin was raised to punish anyone who questioned his king, but the calling to protect others runs through his veins just as deeply. To come out on the other side of the battle together, Jon and Kelvin will have to hold the darkness of solitary pride and broken hearts at bay—and find strength in belonging to something bigger than themselves.
Review:
Chosen Pride is the third book in the L'Ange series by Mary Calmes. This is a series that must be read in order so if you have not read the first two books you may want to wait to read this review. Chosen Pride is the story of Jon Slade, who you will remember was hired to seduce Roman in book one. He came across as a bit of a prick, but Roman liked him and brought him into the fold. In book two, Jon met his mate but was rejected, much to his shock. Now in Chosen Pride, Jon is one of the MC's and is forced to decide whether he should move on or not.
Jon has been working with Linus at the chateau. Recently his performance has been lacking, causing Linus to come down on him. Jon is shocked when Sheridan, another worker at the chateau comes to his rescue and soon the two strike up a friends with benefits relationship. Just when Jon is starting to get a grip on things, his mate Kelvin, along with the wolf king and his group show up at the chateau.
Kelvin did not want to walk away from his mate, but because of his position within the king's circle he had no choice. the separation is killing Kelvin however and when he shows up at the chateau with the king he knows he has no choice but to finally claim his mate.
Once Ms. Calmes brings these two together things really take off. Neither man can deny want they are to each other and I liked that the author did not drag this part out. They are also hot together and I was surprised by the way Jon took control. These two waste no time claiming each other which means that they are going to have to inform the king, who will not be happy since one of the reasons they are at the chateau is to announce the bonding of Kelvin to a female of another pack. What neither man realizes is that their mating affects more than just their lives.
While I loved this story as a whole, I really loved the way it changes up the series and am curious as to what Ms. Calmes will bring us next. Ms. Calmes is an author that is on my must buy list and Chosen Pride does not change that.
Reviewed By: Lydia
Click HERE to enter the Dreamspinner Press Website