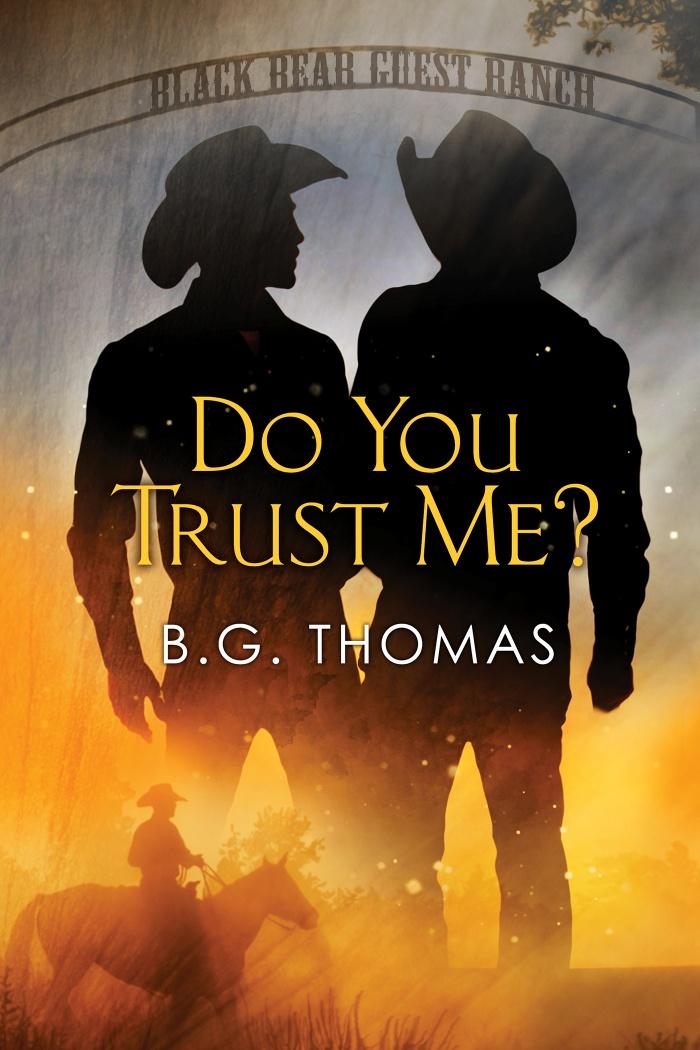 Title: Do You Trust Me?
Author: BG Thomas
Publisher: Dreamspinner Press
Pages: 191
Characters: Neil Baxter, Cole Thompson
POV: 1st
Sub-Genre: Western, Contemporary Romance
Kisses: 4
Blurb:
2nd Edition
The path to happiness starts with acceptance, and sometimes the chance for a bright, loving future means letting go of the past.
All his life, Neil Baxter has buried a large part of himself—the part that's attracted to other men. He married a woman and denied that side of him existed. And he plans to keep right on pretending to be straight after his beloved wife has passed away.
To help him deal with his grief, Neil's sister-in-law convinces him to vacation at a dude ranch. There, Neil meets Cole Thompson, a young, gorgeous, unabashedly gay wrangler—who is unabashedly attracted to Neil. And try as he might, Neil cannot deny he feels the same way. But desire soon becomes something more profound as the two men get to know each other. Cole is much more than a sexy cowboy: he's kind, spiritual, and intelligent. In fact, he's perfect for Neil… except he's a man, and Neil isn't ready to let go of a lifetime of denial. If he cannot find the courage to be true to himself, he might let something wonderful slip through his fingers.
First Edition published as Trust Me by Amber Quill Press, 2011.
Review:
I've read several books by this author and I've enjoyed them all. Mr. Thomas has a real knack at writing sweet and endearing characters that are easy to like.
It's been two years since Neil's wife has passed. Though he has a good job and a daughter that he loves to pieces, in some ways, he's an unhappy man. When his best friend-who is also his wife's sister- asks him to go to a dude ranch with the family, he's not sure about going. Neil isn't the outdoorsy type and really doesn't think he'd enjoy it much. But since his sister-in-law is recently widowed herself he reluctantly agrees to go.
When he does a little research about the ranch he is immediately captivated by a picture of one of the ranch hands and is more than a little disturbed by his intense attraction he has for the man. Shrugging it off, when he and the family arrive there weeks later, Neil is even more disturbed when he meets the ranch hand, Cole, in person and worried when he finds out that Cole will be their guide/host for the week.
As the two men begin to know one another it becomes very apparent to Neil that Cole is attracted to him and even worse *to him* Neil is also attracted to the younger man. As the week progresses, Neil must face the sexual side he is denied all of his life, as well as, push aside some of his own prejudices and fears if he wants to take a chance a finding love again.
Do you trust me? is a sweet story about being true to oneself and to others. Since it is told in first person through Neil's eyes, we get the full perspective of how he thinks and feels. This is good in some ways because Neil is like an onion…there is a lot more to him than meets the eye. He is known to be somewhat of a homophobe at first, but as the story continues it is revealed as to why he acted this way and why he has denied being his true self for all of his life. I admit there were times I wanted to shake some sense into Neil, but all in all he is a good man who finally faces his fears so he can be open to new possibilities and love.
Cole is a really sexy man. He's strong and noble and you can't help but like him. I know I did. But, because the story is in first person we don't know as much about him as I would have liked. His persistence to get Neil to notice him and to take a chance on him was a romantic gesture within itself. I liked him and I liked Neil so they were a good couple together.
I had a few niggles with this story. I thought the last couple of chapters was rushed and not as fleshed out as it could have been. There is little to no angst when it comes to Neil being out to his family…they all seemed to know he was gay before he allowed himself to believe it. Also, this might be a tad bit petty but I hate it when one hero calls another one Daddy. I'm sorry it's always made me cringe…I wish I didn't feel that way, but I do. I know this won't bother most people, but it did me.
Do you trust me? is a solid read with plenty of sizzling moments and romance to satisfy the pickiest of readers. I enjoyed the story and I hope Sloane gets his own story one day. If you like May/December stories with sexy characters and sweet romance, then this is definitely the book for you!
Recommended
Reviewed By: Gabbi
Click HERE to enter the Dreamspinner Press website