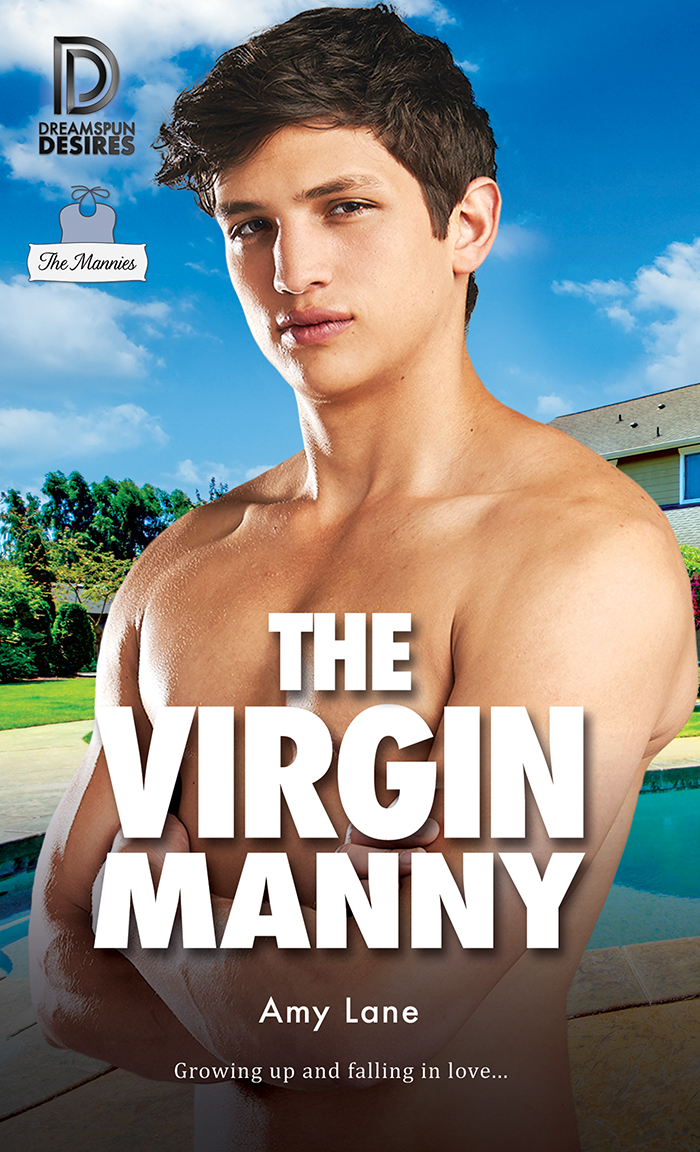 Title: The Virgin Manny
Author: Amy Lane
Publisher: Dreamspinner Press
Pages: 228
Characters: Tino Robbins and Channing Lowell
POV: 3rd Person
Sub-Genre: Contemporary
Kisses: 4
Blurb:
Growing up and falling in love…
Sometimes family is a blessing and a curse. When Tino Robbins is roped into helping his sister deliver premade dinners when he should be studying for finals, he's pretty sure it's the latter! But one delivery might change everything.
Channing Lowell's charmed life changes when his sister dies and leaves him her seven-year-old son. He's committed to doing what's best for Sammy… but he's going to need a lot of help. When Tino lands on his porch, Channing is determined to recruit him to Team Sammy.
Tino plans to make his education count—even if that means avoiding a relationship—but as he falls harder and harder for his boss, he starts to wonder: Does he have to leave his new-ly forged family behind in order to live his promising tomorrow?
Review:
The Virgin Manny is the first book in Ms. Lane's new series, The Mannies. This is a story that will have you alternating between laughing and crying and you will have a hard time putting this story down.
Tino has his life all planned and that means relationships must take a back seat. For Tino that is not a problem, since he really does not have that much luck with guys anyway. When his baby sister asks him to do her a favor, and make one of her deliveries for her he agrees, after much complaining. What surprises him is the instant attraction he feels for the man who answers the door.
Channing's life is not going the way he planned. He's used to working all hours and when he needs a little relief he finds a quick hook up. But things change when his sister dies, leaving him custody of his little nephew. Between his job and his nephew, Channing has little time for a relationship, but then he meets Tino and his life takes another turn.
Ms. Lane can create characters that make you care about them from the very beginning. In The Virgin Manny, she gives us Tino and Channing, two characters with nothing in common. Tino is trying to finish college and worried about getting a job that will let him pay off his student loans as well as help his parents. He's a little on the snarky side but that just made me like him more. Channing is well to do, and used to getting his way. He's completely out of his depth when it comes to caring for his nephew and will jump at any chance for help. When Channing and Tino meet for the first times it is easy to see the attraction between them, but then Sammy comes into the picture and I wanted to cry. Sammy is having a hard time adjusting to the fact that his mother is gone but knows that when the Dinner Box Girl shows up, everything will be right in his world again. When the Dinner Box Girl turns out to be a guy, Sammy is devastated. After helping Channing out, with dinner, Tino is offered a job as the manny. The pay and benefits are too good to pass up and Tino now has new plans for the summer.
There is a lot of adjustment needed by all involved and the author handles the situation between Sammy and his uncle in a way that is believable. I like that Ms. Lane lets this play out in a natural manner rather than having Sammy accept his mother's passing overnight. I liked that while the relationship between Tino and Channing developed fast, they took their time getting to know each other. I also liked that the author had Channing take Tino's concerns regarding school and work seriously, even though he wanted to rush in and take care of things for the younger man.
While there are some conflicts, The Virgin Manny is a sweet read that will leave fans of this author on the lookout for the next installment in this series. This is also a story that will fulfill several sub-genre themes so those that are into mannies, kids, rich man/working class, should check out this book.
Recommended!
Reviewed By: Lydia
Click HERE to enter the Dreamspinner Press Homepage