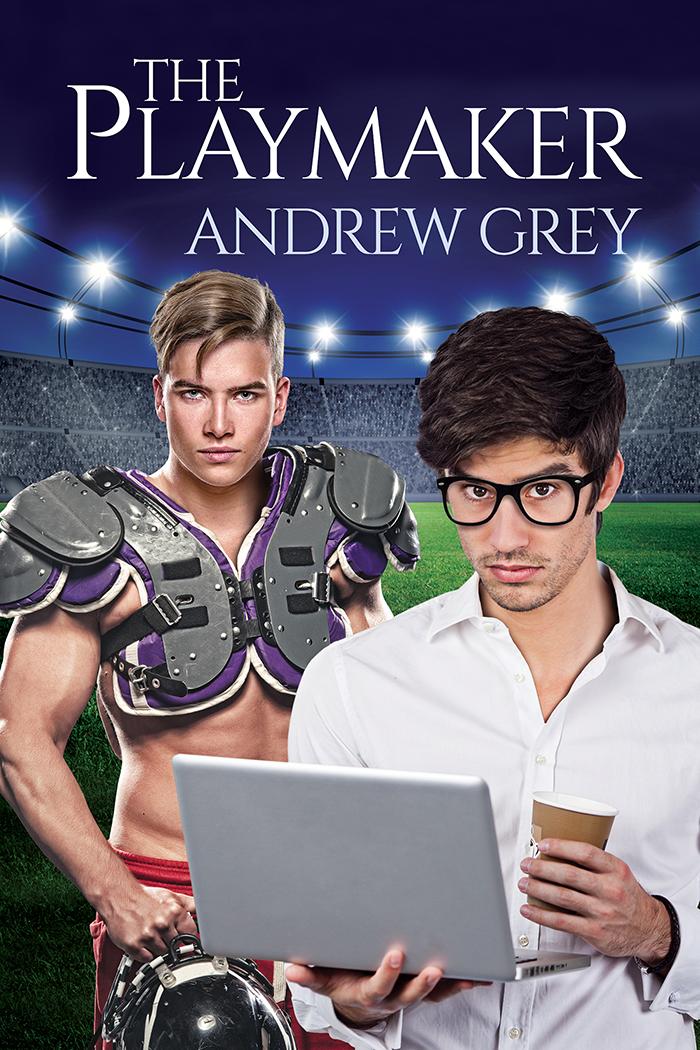 TITLE: The Playmaker
Author: Andrew Grey
Publisher: Dreamspinner Press
Pages: 200
Characters: Hunter Davies and Montgomery Willis
POV: 3rd Person
Sub-Genre: Sport
Kisses: 4
Blurb:
Professional football player Hunter Davis is learning that saying he's gay is very different from actively being in a relationship with another man—especially in the eyes of his team-mates and fans. So when Hunter needs a personal assistant to keep him organized, he asks for a woman in order to prevent tongues from wagging.
Montgomery Willis badly needs to find work before he loses everything. There's just one position at the agency where he applies, but the problem is, he's not a woman. And he knows nothing about football. Still, Hunter gives him a chance, but only because Monty's desperate.
Monty soon proves his worth by saving Hunter's bacon on an important promotional shoot, and Hunter realizes he might have someone special working for him—in more ways than one. Monty's feelings come to the surface during an outing in the park when Hunter de-cides to teach Monty a bit about the game, and pictures surface of them in some question-able positions. Hunter is reminded that knowing he's gay and seeing evidence in the pa-pers are two very different things for the other players, and he might have to choose be-tween two loves: football and Monty.
Review:
The Playmaker is a recent release by author Andrew Grey. This is a contemporary sports story that is set in the football world. This story is slightly unique in that football player, Hunter Davis, is not hiding the fact that he is gay. The problem as he sees it is that while everyone knows he is gay, they don't really want to see it. While it does not make him happy, he knows that he won't be a football player forever and is willing to ride it out. So, he's a little surprised when his new assistant turns out to be a man he can't seem to resist.
If Montgomery does not find a job soon he will be forced to move back in with his mother, a fate worse than death. Going to a job agency with hopes they can help him, Montgomery ends up going on an interview for a job he's not qualified for. Montgomery is surprised when he is offered the job but soon finds out that while he may not know anything about football, what he knows about organization makes him more than qualified for the job.
Hunter and Montgomery soon move from employer/employee to friends and then to lovers. The chemistry between them is strong so when they come together they heat up the pages. There are obstacles in the way of them finding their happily ever after however, and unfortunately the two must decide just what it is they want.
I am a big fan of Mr. Grey. I love the characters he creates and the worlds they live in. He has the ability to pull me into his stories from the first page and keep me turning the pages to see what happens next. The Playmaker is no different. I found myself liking the main characters from the start. Hunter comes across as your typical jock but in some ways, he is very insecure. When the readers find out his secret I am sure many will be shocked, although it is a story that is not new. As for Montgomery, I loved the way he steps up to the plate and takes care of Hunter. I was surprised by the way he handled the photographer and the way he could bond with Hunter's friends and teammates. There are some tense moments towards the end of the book and I found myself close to tears as far as Montgomery was concerned. I was also a little mad at Hunter.
Andrew Grey does a wonderful job wrapping up The Playmaker however. I plan on re-reading this story again and again. Fans of Mr. Grey are sure to enjoy this new story and those who are wondering if they should pick it up, do so you won't be disappointed.
Reviewed By: Lydia
Click HERE to enter the Dreamspinner Press Homepage