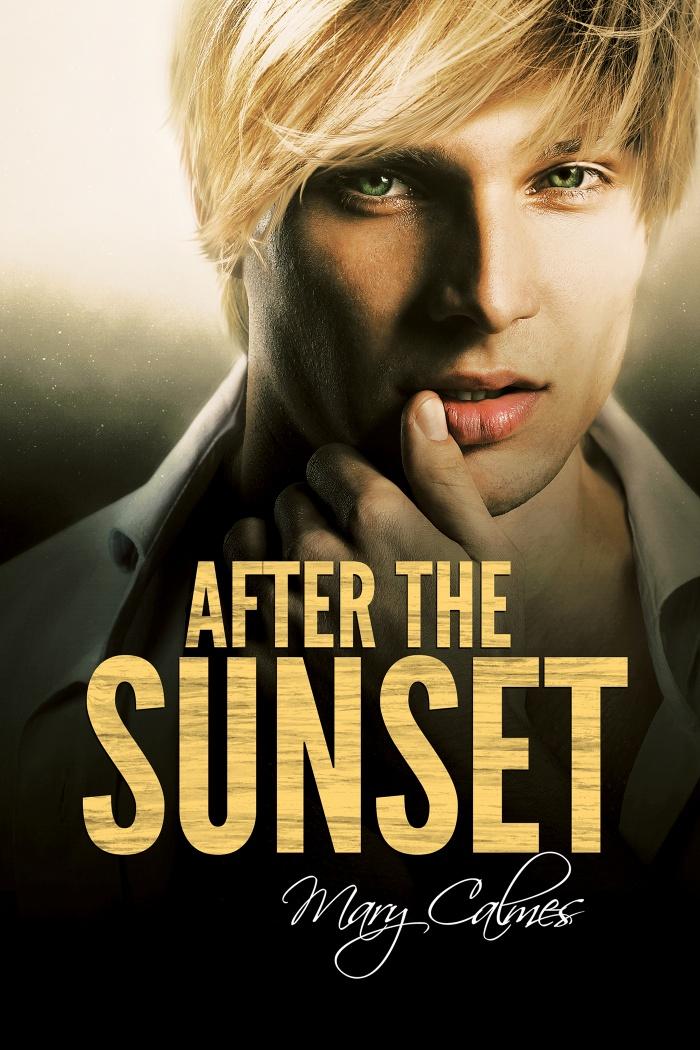 Title: After the Sunset
Author: Mary Calmes
Publisher: Dreamspinner Press
Pages:169
Characters: Rand Holloway and Stefan Joss
POV: 1st Person
Sub-Genre: Western
Kisses: 4.5
Blurb:
Two years after riding off into the sunset with ranch owner Rand Holloway, Stefan Joss has made a tentative peace with his new life, teaching at a community college. But the course of true love never does run smooth. Rand wants him home on the ranch; Stef wants an exit strategy in case Rand ever decides to throw him out. Finally, after recognizing how unfair he's being, Stef makes a commitment, and Rand is over the moon.
When Stef gets the chance to prove his devotion, he doesn't hesitate—despite the risk to his health—and Rand takes the opportunity to show everyone that sometimes life's best surprises come after the sunset.

Review:
After the Sunset is the second book in Ms. Calmes Timing series. Like the first book, this one is told from Stefan's point of view, but the story does not come across one-sided as can happen with some stories told from this view point. The story picks up about two years after the end of book one. Stefan has moved to Texas and is teaching at the community college. Some would think that this would mean everything between the two men is running smoothly. That could not be further from the truth.
Stefan is so used to being tossed aside that he keeps waiting for the other shoe to fall in his relationship with Rand. Because of this, Stefan has put off making major decisions which is causing Rand to wonder if Stefan is planning to leave. I did not have a good feeling about where the men's relationship was going when After the Sunset started. I could understand Stefan's concerns while at the same time understanding Rand's loss of patience, even though he is still madly in love with Stefan. I wanted to shake the younger man and tell him to open his eyes before he lost Rand for good. Thankfully I did not have to, as the author did it for me.
While Stefan comes to some clear understandings, he knows he must find a way to show Rand what he, and their home, mean to him. Like the first book I had read After the Sunset before, but forgot what would happen during the book so was surprised by the actions Stefan went to. I could not believe the d**k move Rand's uncle pulled and don't know that I would have been as understanding as Stefan.
For me it is this book more than the first one that shows just how much in love Stefan and Rand are. The home and future they have built is strong and readers can easily see that this is a relationship that will last. While this story does not have the added mystery woven through it like Timing did, it is still a story that will leave the readers turning the pages to see what will happen, and leaving them satisfied once they reach the last page. There are a couple of little twists and turns that I really enjoyed and think other readers will as well.
I am a fan of this author and have many of her books in my e-library. I love the way she brings her characters to life, and that they are always so different from each other. I also love that her characters do not always come perfectly formed, instant they have issues and imperfections which makes them and the story more believable. If you have not given Ms. Calmes a try, then I strongly suggest that you pick up this series.
Reviewed By: Lydia
Click HERE to enter the Dreamspinner Press Homepage