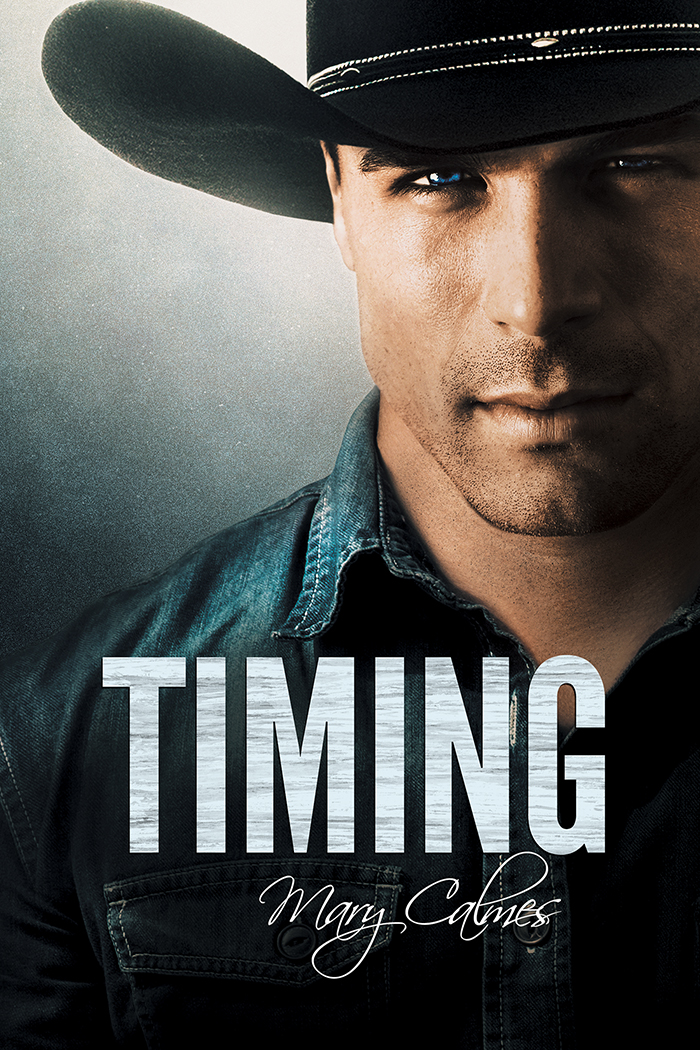 TITLE: Timing
Author: Mary Calmes
Publisher: Dreamspinner Press
Pages:204
Characters: Stefan Joss and Rand Holloway
POV: 1st Person
Sub-Genre: Western, Mystery
Kisses: 4.5
Blurb:
Stefan Joss just can't win. Not only does he have to go to Texas in the middle of summer to be the man of honor in his best friend Charlotte's wedding, but he's expected to negotiate a million-dollar business deal at the same time. Worst of all, he's thrown for a loop when he arrives to see the one man Charlotte promised wouldn't be there: her brother, Rand Holloway.
Stefan and Rand have been mortal enemies since the day they met, so Stefan is shocked when a temporary cease-fire sees the usual hostility replaced by instant chemistry. Though leery of the unexpected feelings, Stefan is swayed by a sincere revelation from Rand, and he decides to give Rand a chance.
But their budding romance is threatened when Stefan's business deal goes wrong: the owner of the last ranch he needs to secure for the company is murdered. Stefan's in for the surprise of his life as he finds himself in danger as well.
Review:
Mary Calmes' Timing is a romantic western with just a touch of mystery thrown in. The story is told in the first person from Stefan's point of view. Right from the beginning Stefan pulls you into his story and leaves you wondering how things between him and Rand will play out. The history between Rand and Stefan is full of discord. From the moment, they met, Stefan has been in lust with the older man, but for some reason Rand seems to hate Stefan. When Stefan's friend Charlotte, Rand's sister, is planning to get married, Stefan is willing to be the bride's maid. He just does not understand why it takes a whole week to tie the knot, leaving him more chances to run into Rand. Also, since he's already going to be in Texas he's talked into handling some business for his boss. Stefan can't wonder which is worse, the weeklong wedding foo-foo, handling business when he should be on vacation, or spending time with Rand.
Obviously, Rand does not really hate Stefan and watching how this plays out will be fun. When Rand calls a cease fire, Stefan is a little confused, but will do anything to make sure Charlotte has the wedding she wanted. The attraction between Stefan and Rand is easy to see and it is surprising that the two of them have been able to ignore it for if they have since it is so strong. Of course, the fact that Rand had been married at one point didn't help. I liked watching these two come together. Rand is so protective of Stefan that at one point I thought he was going to end up killing his own cousin. But the passion that exists between them does not necessarily mean there will be a lasting relationship, which has Stefan afraid.
Besides the romantic portion of Timing there is also the mystery. Even after reading this story numerous times I am always surprised by the bad guy. I want things to play out differently and am shocked by the extend the bad guy goes to. Yet it is because of what happens that Rand's and Stefan's feelings for each other is made clear to them.
Timing is the first book of Ms. Calmes series of the same name. This book, as well as book two, have been published previously. While the stories themselves have not been changed, the covers have. This story, along with the author's Matter of Time series made Ms. Calmes one of my must buy authors.
Reviewed By: Lydia
Click HERE to enter the Dreamspinner Press Website