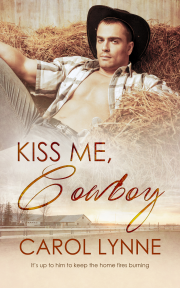 Title: Kiss Me, Cowboy
Author: Carol Lynne
Publisher: Pride Publishing
Pages: 46
POV: 3rd
Genres: Contemporary, Cowboys/Western, MM/Gay
Kisses: 4
Blurb:
It isn't easy to cling to teenage promises when you become one of the forgotten.
For Eli Barron, Jesse Clooney has always been the one. From their first day of kindergarten through their high-school graduation, the pair were inseparable. So, when a situation arises that splits the two men apart, it's up to Eli to keep the home fires burning as Jesse sets off to follow his dreams on the rodeo circuit. But how long can a man continue to stoke the fire before the flames die out?
Review:
Told from Eli's third person point of view, we get a tale of long-distance love, longing that lasts over the years but not with ease. Jesse follows his dream to become a bronc rider far away while Eli is left behind to tend to the family ranch, never able to put himself and his desires first.
This is well written, and the story moves fluidly and swiftly. There's a few editing snafus but not too many to take you out of the story. There's a mix of internal monologue and everyday dialogue, suppressed emotions and exposed sexual desires, though only one sex scene, just so you know. Plus, there's a whole heap of angst here, so much so that it hurts to read all of it.
When it comes to characterization, Eli's the more fleshed-out person since only his POV is given. He's supposed to be a giver and a sympathetic guy but all too often he comes off as a doormat. His heart wants only one thing: Jesse — who follows his own dreams, travels the country, and sleeps with other guys. To me, he came off as a selfish asshole who takes Eli for granted. I wanted Eli to get someone better, someone who appreciated him. But, as it often is with stories like this, even idiots do eventually see the light and we get our HEA.
For such a short story this one packs a punch. So many feels it's almost too much. Sometimes it's hard to choose between what to pursue, what to keep, and what to let go. Freedom is important but so is family. These kinds of choices are not meant to be easy, and we get the whole rainbow of feels from that.
Despite the short length, there's a full story here, so do check it out.
Recommended to those who like their cowboys making mistakes, learning from them, and being reunited to build a new life together.
Reviewed by: Susan
Click HERE to purchase Kiss Me Cowboy by Carol Lynne