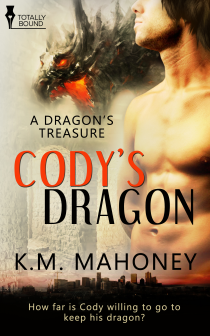 Title: A Dragon's Treasure, Book 1: Cody's Dragon
Author: K. M. Mahoney
Publisher: Totally Bound
Characters: Cody & Kirit
POV: 3rd Person
Sub-Genre: Fantasy
Kisses: 3.5

Blurb:
How far is Cody willing to go to keep his dragon?
Kirit is lonely and he's sick of coming home from the king's assignments to a cold, empty cave. After searching for years for a mate, Kirit decides it's time to try a new approach. Against the advice of all his friends, he heads for the human side of the world. There he finds Cody, and the man is everything he could ever want. It takes a little bit of persuasion, but he manages to talk Cody into coming back with him to Faerie.
Within a week of arriving, Cody is beginning to rethink his impulsive decision. He's trekked across more terrain than he would care to remember, been summoned to meet a king, and flown on a dragon—not an experience he's willing to repeat anytime soon. Kirit's growly possessiveness is starting to wear on his nerves, and the unexpected hostility he encounters at the palace is almost enough to make him give up.
But Cody is stubborn. He may not be willing to admit it out loud, but Kirit has got under his skin. He may even, shockingly enough, love the big guy.
Now Cody has to decide what he's willing to do to keep the man of his dreams.
Review:
"Cody's Dragon" is a typical romance, where the romance plot is the main plot rather than one of several equally central plots. Even so, I really enjoyed it, which is saying something because I usually find pure romances a bit trite.
If I hadn't been introduced to Kirit first, I might have really hated him. But that first glimpse shows you how lonely he is. For the last two hundred years, he's been looking for a mate. Having not found one in Faerie in all that time, he decides to go to the human side of the veil: Earth as we know it today. His struggle to find Cody was rather cute. Having said that, in the end, this story is more about Cody, his introduction to his mate, and Faerie.
There were a few times that quick POV switches irritated me and there are a couple of continuity issues among other things (they are mostly the reason I couldn't give this book a 4.5), but overall, I found myself cheering Cody and Kirit on. The characterizations were really good, with reactions being realistic and the secondary characters intriguing me too. I would love to read Harper's story, or Chaos'. And I definitely want to know more about the link between the Faerie King and the dragons.
The dragons are perfect (in my mind, anyway). They are bad tempered, growly, possessive, anti-social, and quick to bite. I rather enjoyed the snarky comments. It's a great romp of a story and very easy to read. I didn't even notice the pages turning, and at the end, I thought, "I want more!" This fantasy made me wish the next one was out already.
This story would be great for anyone looking for a fun, light romantic read. Especially dragon lovers. It's in my "permanent" files on my ereader, and I've actually re-read it a time or two already. Strangely enough, after reading this story, I realised I have read a few of the author's other books. "Lucky" and "Tristan" are Putnam County books, and are paranormals. They were also quite funny in a wry, sarcastic way.
Reviewed by Alison
Click HERE to purchase Cody's Dragon by K.M. Mahoney