In celebration of K.M. Mahoney, Pride Publishing is discounting the first in the A Dragon's Treasure series, Cody's Dragon! This book will be discounted to 99c/p from the 10th January for a limited time on Pride Publishing, Amazon, Kobo and other eBook retailers. Pride Publishing will also be discounting the rest of the series on their site and Amazon.
Click HERE to purchase Cody's Dragon at Pride Publishing
Click HERE to purchase Cody's Dragon at Amazon
Click HERE to purchase Cody's Dragon at Kobo
HERE IS MORE INFORMATION ON CODY'S DRAGON BY K.M. MAHONEY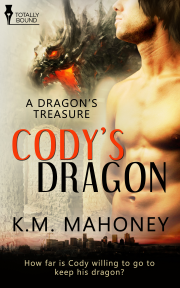 BLURB:
How far is Cody willing to go to keep his dragon?
Kirit is lonely and he's sick of coming home from the king's assignments to a cold, empty cave. After searching for years for a mate, Kirit decides it's time to try a new approach. Against the advice of all his friends, he heads for the human side of the world. There he finds Cody, and the man is everything he could ever want. It takes a little bit of persuasion, but he manages to talk Cody into coming back with him to Faerie.
Within a week of arriving, Cody is beginning to rethink his impulsive decision. He's trekked across more terrain than he would care to remember, been summoned to meet a king, and flown on a dragon—not an experience he's willing to repeat anytime soon. Kirit's growly possessiveness is starting to wear on his nerves, and the unexpected hostility he encounters at the palace is almost enough to make him give up.
But Cody is stubborn. He may not be willing to admit it out loud, but Kirit has got under his skin. He may even, shockingly enough, love the big guy.
Now Cody has to decide what he's willing to do to keep the man of his dreams.