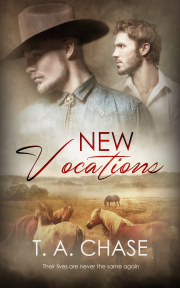 Title: New Vocations
Author: T.A. Chase
Publisher: Pride Publishing
Pages: 45
POV: 3rd
Genres: Contemporary, Cowboys/Western, MM/Gay
Kisses: 4.5
Blurb:
Two men who believe in second chances meet and their lives are never the same again.
Layne Daly comes to participate in the American Royal. He's there to show off the abilities of the retired thoroughbreds he adopts straight off the track. He wants people to know these animals can do so much more than race. He has three horses there to do exhibitions in reining, barrel racing and cutting. When his usual groom gets sick, he has to hire someone fast.
Carl Stewartson used to love coming to Kansas City for the rodeo. He'd ride broncs and hang out with his friends. But since his career-ending injury early in the year, Carl has been spinning his wheels, trying to find something to do with his life now that he can't rodeo anymore. He runs into Layne and offers to help him with his horses.
Together, they have to deal with not only the stress of the event, but also starting a new relationship. Second chances are what Layne does best and he's more than willing to give Carl the opportunity.
Review:
I love T.A. Chase's stories. They're realistic and honest, simple yet effective. Everything feels real, as if the author really knows their stuff. Cowboys are Chase's shtick.
Layne is an expert on horses that are a bit old for certain tasks but can still be great in other areas. Carl is in need of work, and the two men hook up, both for work and for sex. Both men have their vulnerabilities: Layne works with horses not everyone thinks can still be of use so he's fighting an uphill battle, while Carl has a leg injury from his bronc riding days that ensure he'll never compete again, but with Layne he can show he's not over the hill.
The writing flows smoothly, without any obvious flaws. The story's told in third person from both men's perspectives, and they're adorable, flirtatious but shy too. The main characters might not be described in full detail but that's never stopped me from being able to imagine them. These men are the rough and tumble sort, salt of the earth. They love animals, especially horses, and aren't pretentious in any way. They speak their mind, are honest and kind, and their sex blows your mind.
There are no troubling obstacles here or any angst. Just two guys meeting, getting together, becoming friends, and trying to see if they can become more. The ending suggests a HFN-but-soon-to-be-HEA. I wish this story had been longer, as I felt I just started getting to know these wonderful men. I recommend this to everyone who loves cowboys, kind men who love their horses and their men, and positive tales without dark themes.
Recommended!
Reviewed by Susan
Click here to purchase New Vocations by TA Chase