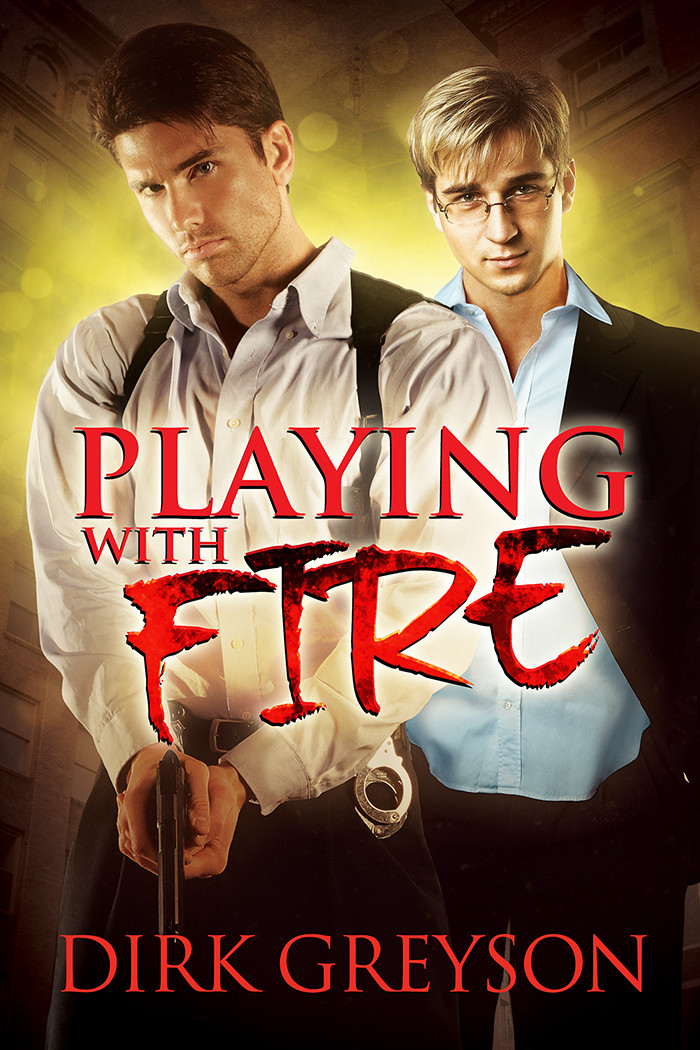 TITLE: Playing With Fire
Author: Dirk Greyson
Publisher: Dreamspinner Press
Pages: 200
Characters: Jim Crawford and Barty Halloran
Sub-Genre: Mystery
Kisses: 4.5
Blurb:
Jim Crawford was born wealthy, but he turned his back on it to become a police officer. Add that to his being gay, and he's definitely the black sheep of the family.
Dr. Barty Halloran grew up with lessons instead of friends and toys and as a result, became a gifted psychologist… with only an academic understanding of people and emotions.
When Jim's pursuit of a serial killer goes nowhere, he turns to Dr. Halloran for help, and Barty thinks he can get inside the shooter's mind. In many ways, they're two sides of the same coin, which both scares and intrigues him. Together, Jim and Barty make progress on the case—until the stakes shoot higher when the killer turns his attention toward Barty.
To protect Barty, Jim offers to let Barty stay with him, where he discovers the doctor has a heart to go along with his brilliant mind after all. But as they close in on their suspect, the killer becomes desperate, and he'll do anything to elude capture—even threaten those closest to Jim.
Review:
Playing With Fire is a great story by author Dirk Greyson. In fact, if you have not tried anything by this author, this story is a great place to start. It is a romance that has an excellent mystery woven through it, and from the first page the author will have pulled you into the story.
The main characters share a similar trait, both became who they are because of their childhoods. Jim was expected to follow in his father's footsteps. When he didn't his family becomes upset and determined to remind him of what he could be. Jim follows his dream and becomes a first-rate police officer and settles down, only to have the rug pulled out from under him. Moving from the big city to a smaller town he doesn't expect much crime. So, when they start to experience a rash of shootings, Jim looks for outside assistance to help him piece the puzzle together.
When Barty's nana saw, he wasn't getting what he needed at home, she stepped in and finished raising him. While she did her best Barty is still isolated from others because of his intelligence and lack of emotion. Early in the story Jim compared Barty to Sheldon on The Big Bang Theory, however I found him to be a bit of a mixture between Sheldon and Dexter, minus the butchering of bad guys. I liked Barty and had to laugh a few times at the way he was and could see why others were unsure what to do with him.
The relationship between Jim and Barty flows easily from strangers to friends and finally lovers. But remember there is a murder mystery woven through out this story and this has serious effects on the new relationship. This part of the story is very well done. There are so many little twists that it is hard to decide just who the bad guy is or what the motives behind the killings are. Readers will be surprised as this part of the story plays out.
While Playing with Fire is a story that I will be re-reading time and time again, there were several little things that really made this a keeper for me. I liked that it was Jim who seeks Barty out, rather than being upset because someone is hoisted on him. I also like the gentleness that Jim shows Barty, especially when it looks like the killer may be coming after them. I also like that the author could keep the mystery going, rather than it becoming easy to figure out.
Playing with Fire was a great read and fans of this author, as well as those trying him for the first time, are sure to enjoy the story.
Reviewed By: Lydia
Click HERE to enter the Dreamspinner Press Website