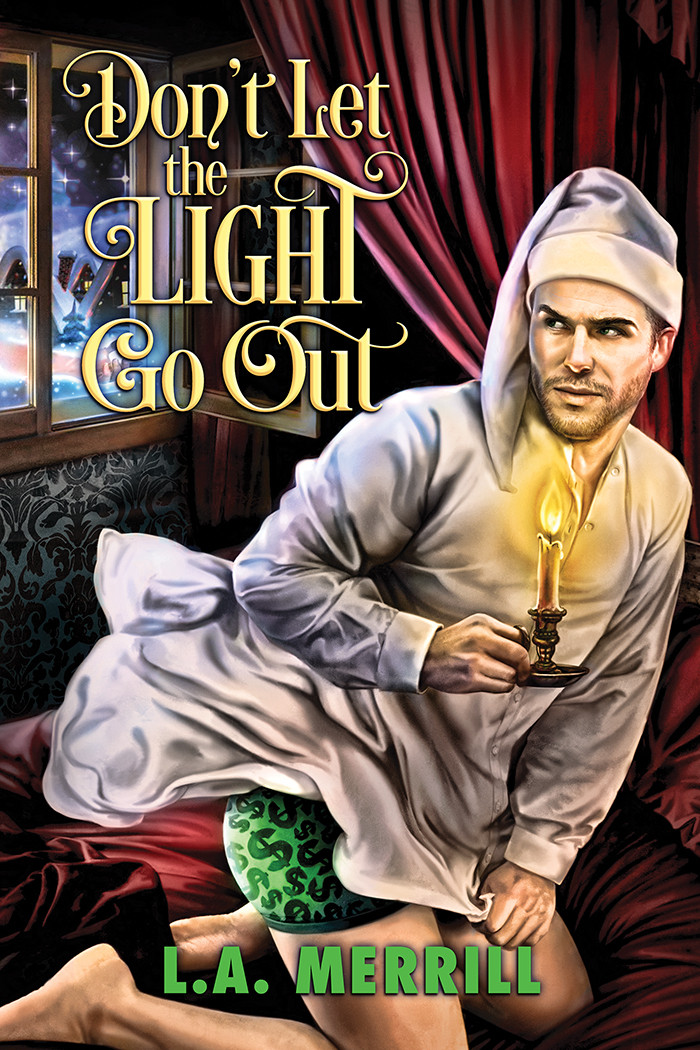 Title: Don't Let the Light Go Out
Author: LA Merrill
Publisher: Dreamspinner Press
Pages: 34
Characters: Ray Fine, Josiah Wilson
POV: 3rd
Sub-Genre: Holiday, DSP Advent Calendar 2016
Kisses: 5
Blurb:
Ray Fine would like to forget Hanukkah even exists. The holiday holds too many sad memories for the young widower. When he's paired with new convert Josiah Wilson in a year-long welcoming program at his synagogue, he doesn't know how he'll get through eight days of celebration, let alone twelve months of guidance.
Josiah has enough on his plate—school, conversion, the holiday concert season—without becoming someone's shoulder to cry on. But when he discovers there's more to his new synagogue buddy's sadness than a case of the "Hanukkah Blues," he sets out to show Ray how much there is to live for.
The first blizzard of the season has other plans, though, and Hanukkah might be a lost cause if Ray and Josiah can't plow through the snow—and their differences. Determined not to lose Ray to his own darkness, Josiah plans to teach him a lesson about the real Miracle of Light—and love.

Review:
Don't Let the Light Go Out is the first book I've read by LA Merrill and it definitely won't be the last. Don't Let the Light Go Out is not only a heartwarming story, it has a very uplifting, hopeful ending that is truly the spirit of this holiday season.
Both of these heroes were likeable men who lived and breathed off of the written page. I loved the way their friendship developed into something special and how they wanted to work at continuing at building the budding relationship that is just really beginning to develop between them.
As a reader, I appreciated the way Ray truly began to want to heal from the grief that kept him from living his life again. I loved how he saw Josiah as not only a friend, but someone that he might could build a strong and loving relationship with.
Between Ray's need to help himself and his need to be a whole person for Josiah, Ray is truly a hero I easily came to care about. With Josiah's sweet disposition and determination to ease Ray out of the darkness that he has allowed to surround him, this is truly a beautiful story to read…holiday or not.
Don't let the light go out is an easy book to recommend. Lovely and thoughtful, it is a perfect read for the holiday season.
Highly Recommended!
Reviewed by: Gabbi
Click HERE to enter the Dreamspinner Press Homepage