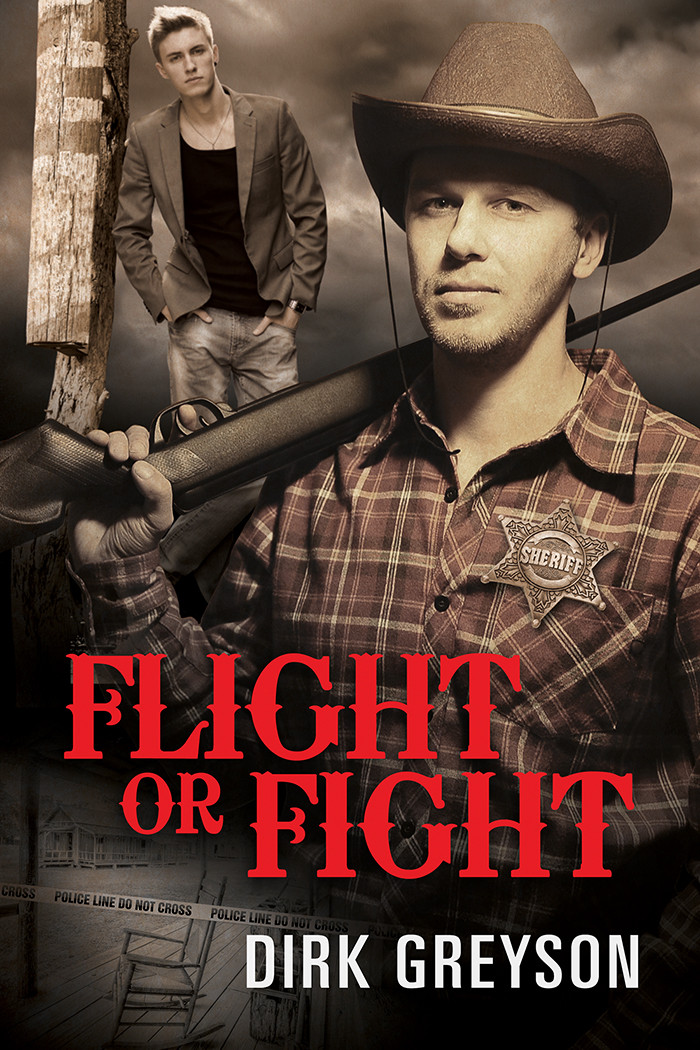 Title: Fight or Flight
Publisher: Dreamspinner Press
Author: Dirk Greyson
Pages: 200
Kisses: 4.5


Blurb:
Life in the big city wasn't what Mackenzie "Mack" Redford expected, and now he's come home to Hartwick County, South Dakota, to serve as sheriff.
Brantley Calderone is looking for a new life. After leaving New York and buying a ranch, he's settling in and getting used to living at a different pace—until he finds a dead woman on his porch and himself the prime suspect in her murder.
Mack and Brantley quickly realize several things: someone is trying to frame Brantley; he is no longer safe alone on his ranch; and there's a definite attraction developing between them, one that only increases when Mack offers to let Brantley stay in his home. But as their romance escalates, so does the killer. They'll have to stay one step ahead and figure out who wants Brantley dead before it's too late. Only then can they start the life they're both seeking—together.
Review:
Fight of Flight is a fast paced read by author Dirk Greyson. This is the type of story that will pull you in from the very beginning and keep your attention until the last page. Both main characters are likeable, and the secondary characters keep you guessing as to who the bad guy is.
Brantley realizes he needs a change of pace and leaves New York. He knows nothing of living in the country but buys a huge farm house and plans to stay. I had to laugh the first time he sees cows through his window and calls the cops. Then there is the fact that Brantley's idea of western wear belongs more in a movie like city slickers rather than on a farm. But for Brantley that is not the worse part. Returning home after a day exploring his new home town, he finds a woman dead on his front porch.
Mack is the sheriff. When life in the big city did not work out, he returned to his hometown and became sheriff. When he's called out to the Richardson's Place he's surprised to find the new owner standing over a body. Neither man is ready for the attraction they feel and I like that instead of ignoring what is going on, they embrace it, but before they can move on to something permanent they have to find out who is trying to kill Brantley and why.
The author handles this part of the story very well. Several secondary characters are introduced during the course of the book with more than a few who could be responsible for the crimes that have been going on. I will not go into too much more on this case as I do not want to spoil anything, however, I will say that I did not see any of the outcome coming.
I have read several books by Mr. Greyson and have become a fan. If you like stories that are more than fluff you really need to check out Mr. Greyson's books, starting with Fight or Flight.
Reviewed by: Lydia
Click HERE To enter the Dreamspinner Press Website