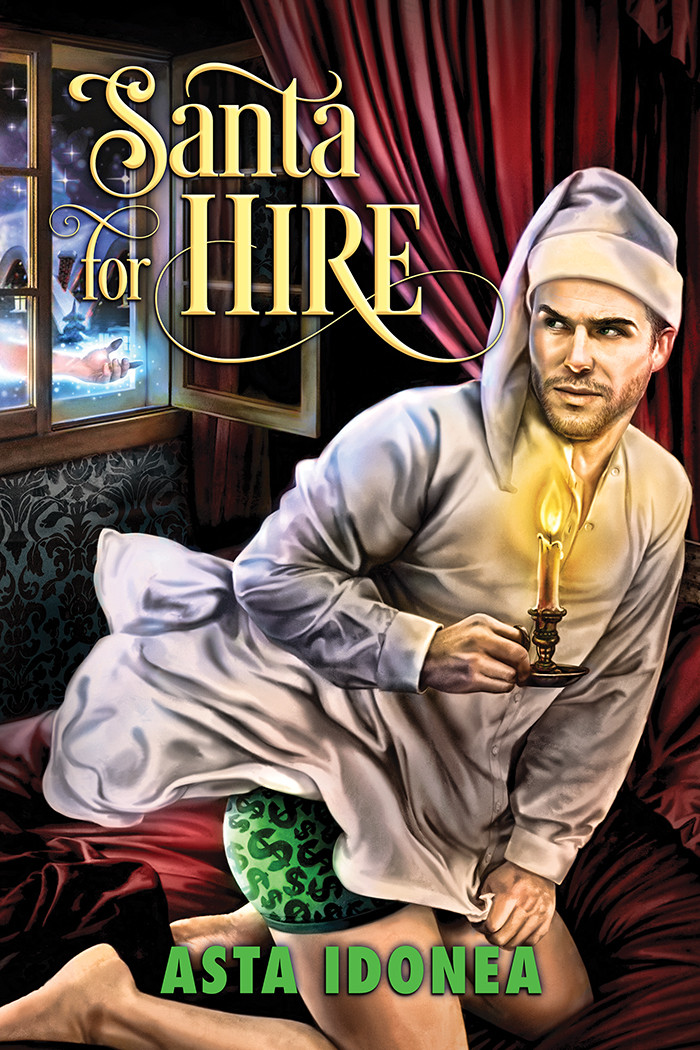 Title: Santa for Hire
Author: Asta Idonea
Publisher: Dreamspinner Press
Pages: 31
Characters: Richard Barratt, Blaine Ryder
POV: 3rd
Sub-Genre: Holiday, DSP Advent Calendar 2016
Kisses: 4.5
Blurb:
Dumped by his ex on Christmas Eve two years ago, Oxford Street department store manager Richard Barratt now hates the holidays. Things go from bad to worse when the store's usual Santa is too ill to reprise his role and the firm sends cocky but handsome Blaine Ryder to take his place. The attraction between the two is clear, but Blaine is an incorrigible player who reminds Richard of his ex. His idea of a relationship is a quick roll in the hay, and his advances have Richard running for the hills. It might take some special intervention for both of them to realize they can change enough to have a chance at a holiday romance.
Review:
Santa for Hire is a sweet and uplifting short Christmas story that left this reader with a huge smile on her face.
Richard can't stand Christmas. Two years ago his ex-lover left him on Christmas Eve and since then, Richard has been going through the motions of life. When the new Santa, Blaine, steps in for the season, Richard is both fascinated and leery of him. He knows that under Blaine's flirtatious manner and sex appeal, is a man who could never commit to something serious and Richard isn't interested in giving his time and heart away to someone who wouldn't cherish and appreciate him.
The moment Blaine meets Richard, he knows there is something special about him. As time goes by and he gets to know the quiet man more, Blaine is convinced that Richard is the man he wants to take a chance with. Blaine knows it will be a challenge to get Richard to open his heart and mind to him but he knows gaining Richard's heart and trust will be worth it in the end.
I thought this was a very sweet story. The chemistry between these two men was strong one. It was obvious that they had something special flowing between them and I quickly found myself gripped within the story they had to tell. I liked Blaine's persistence to win over Richard's trust and heart. Both men were likeable heroes that I really enjoyed getting to know.
If you like Christmas stories that will lift your spirits and bring a smile to your face, then Santa for Hire is definitely the novella for you!
Reviewed By: Gabbi
Click HERE to enter the Dreamspinner Press Website.