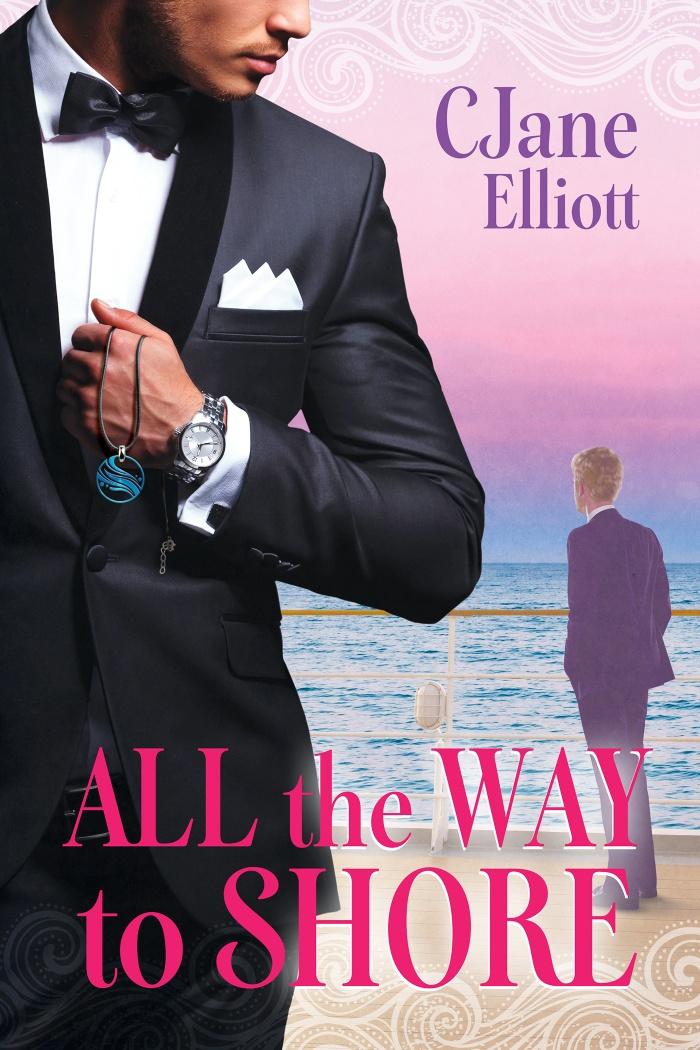 Title: All the Way to Shore
Author: CJane Elliott
Publisher: Dreamspinner Press
Pages: 181
Characters: Jonathan Vallen, Marco Pellegrini
POV: 3rd
Sub-Genre: Contemporary Romance
Kisses: 4.5
Blurb:
Jonathan Vallen has never felt good enough. A gentle musician who loves to garden, he's woefully unsuited to running Vallen Industries, the family business. When his father hires a hotshot executive, Marco Pellegrini, to save the company, Jonathan moves away and leaves his humiliation behind. A year later and forty pounds lighter, Jonathan runs into Marco on an LGBT cruise. Marco doesn't recognize him, the sparks fly, and Jonathan pretends to be someone else for the week—Jonah Rutledge—someone good enough to be loved.
Marco Pellegrini has always been driven. He rose from poverty to the pinnacle of business success, and he'll do anything to protect his reputation—including hiding his bisexuality. Having saved Vallen Industries, he's weary of the rat race and ready for a more meaningful life. When Marco meets his soul mate for that new life—Jonah Rutledge—on an LGBT cruise, he prepares to stop hiding and start living.
Back on land, the romance crashes when Marco discovers his perfect man is not only a lie but the son of his boss, Frederick Vallen. Jonathan resolves to win Marco back, but Frederick takes vengeful action. Jonathan and Marco must battle their own fears as well as Frederick's challenge to get to the future that awaits them on the horizon.
Review:
All the Way to Shore is the second book I've read by CJane Elliott and I really enjoyed it. Ms. Elliott has wrote a book with two characters that I ended up really liking and enjoyed the story they had to tell.
Sparks do not fly when Marco and Jonathan first meet. Marco has been hired to save Jonathan's father's company, and though Jonathan has tried to be as involved with the family business, he has no heart for it. Though Jonathan thinks Marco is handsome, his cold exterior and the way he seems to look right through Jonathan instead of noticing him, makes Jonathan feel even worse about himself than he already does.
Since the death of his mother and brother, Jonathan has been living to please his father. He's pushed aside his wants and dreams and it's because of this, that he's miserable. When Marco begins to run the company, Jonathan sees a way out of the life he has learned to hate, so he leaves and becomes determined to live a life he feels destined to have.
Fast forward to a year later. When the two men meet on a LGBT cruise, Marco is immediately struck my Jonathan. Though they worked together, Jonathan has changed a lot. He has lost weight, gotten contact lenses and lightened his hair. When they strike up a conversation, Jonathan's cousin introduces him to Marco as Jonah and to both Jonathan's relief and worry, Marco is fooled.
One of the strong points of this story is the way the author makes it obvious that there is more to both of these men than meets the eye. Marco isn't the cold-hearted businessman Jonathan thought he was and Marco sees Jonathan *Jonah* as a warm-hearted, intelligent and kind-hearted person he is. I enjoyed watching these two men really learn about one another. Their chemistry is a good one and I loved how they truly began to connect with one another.
These two men are easy to like. As the story progressed, I hoped the lie about Jonathan's identity would be revealed in a way that Marco might one day forgive. I hurt for both men when it did, and loved the way Jonathan wooed Marco's trust and love back to him.
Some readers will probably say this is an insta-love story. In some ways, it probably is, but there is also a real lovely way these men truly began to feel about each other that made it enjoyable for me to read. I honestly don't know how Marco didn't suspect Jonathan's true identity, but all in all, I found this book to be a very enjoyable read.
All the Way to Shore is a sweet and sexy read that will leave a smile on your face. It's a great choice if you are looking for a romantic, lovely story for a few hours of escapism.
Recommended!
Reviewed By: Gabbi
Click HERE to enter the Dreamspinner Press Website