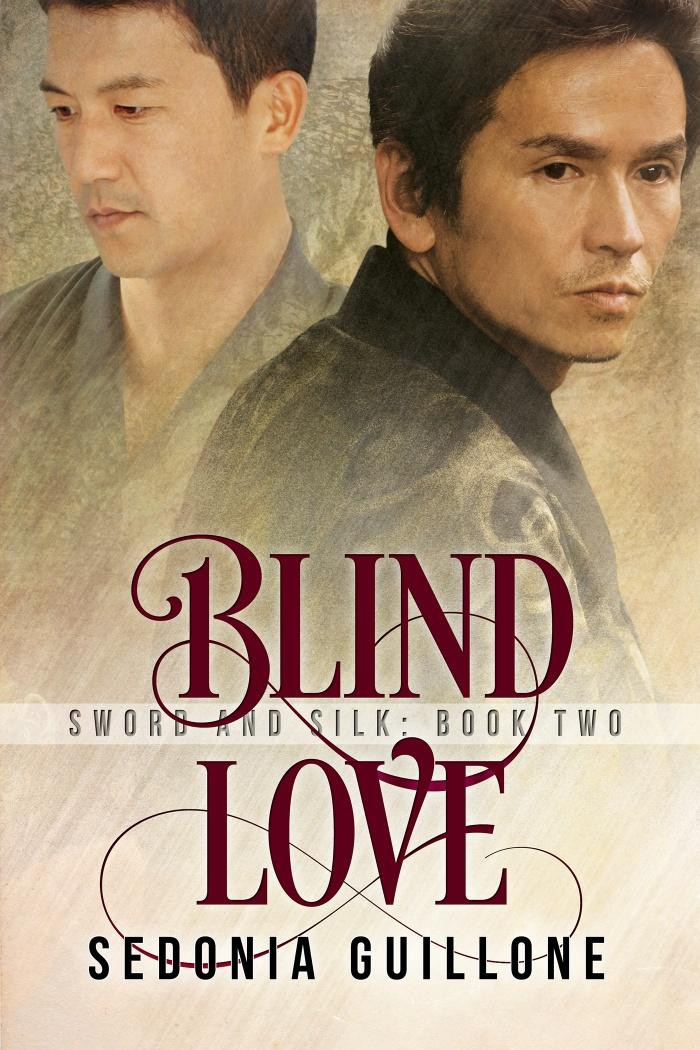 Title: Sword and Silk, Book 2: Blind Love
Author: Sedonia Guillone
Publisher: Dreamspinner Press
Pages: 95
Characters: Hirata, Sho
POV: 3rd Limited
Sub-Genre: Historical, Romance, Series
Kisses: 5
Blurb:
Sword and Silk: Book Two
After a harrowing seventeen-year separation, Hirata Morimasa leaves his home and secure future to search for his childhood friend, Sho. Blinded by illness when they were children, Sho was sent away, apprenticed to a blind masseur (an anma) to learn his trade, and then disappeared.
Desperate to find the other half of his heart and soul, Hirata willingly sacrifices the prestige and security of his father's dojo to find him. When an anma who looks exactly like Sho crosses his path in front of a gambling parlor one day, the man flatly denies he is Sho. Hirata knows better and is determined to get the truth… and to get back the friend he'd lost. However, even though Hirata knows in his bones this man is his soul mate, Sho has changed in ways Hirata could not have prepared for in his wildest imaginings, changes that could continue to keep them apart… forever.  
A Timeless Dreams title: While reaction to same-sex relationships throughout time and across cultures has not always been positive, these stories celebrate M/M love in a manner that may address, minimize, or ignore historical stigma.
First Edition published by Ai Press, 2013
Review:
I've read several books by Sedonia Guillone and I've really enjoyed them all. Ms. Guillone has a real knack of writing thoughtful, heartfelt characters that really resonate with me as a reader.
Somehow I missed the first book in the series, Flying Fish, so I came into reading this series a little behind. After reading this story, I plan on reading and reviewing the first book because I truly enjoyed this story so much. Though I haven't read the first story, Blind Love is so well-written it was easy for me to jump right into the story these two heroes had to tell. This book could be read as a standalone story, but I'm still going to recommend reading this series in order because this book is so good.
I loved this book because of the emotional connection these two men had for one another. They are childhood friends who knew they were deeply connected in more ways than one. Together they were whole, but when they are separated, both men feel as if they are missing half of their hearts.
The main hero is Hirata. The story is mainly told through his eyes and my heart truly broke for him as he struggles to both live his life without his soulmate and to determinedly find him. This was no easy task for him. He goes through a lot of disappointment and heartache as he searches for his true love. One of his greatest qualities is his determination to right what was wronged and to be reunited with Sho. Even when Hirata finds Sho, it's not the reunion he had hoped it to be, but Hirata's hope and love for Sho to once again admit they are much better together than apart made me both empathize and love him.
I understood why he loved Sho. In many ways, Sho is a mysterious and loveable character. He's been damaged in more ways than one and does not believe he is worthy of Hirata's love and devotion. I loved how these two men learn to once again to communicate with one another and find a way to heal and begin their lives again.
Another reason why I loved this book was the setting of the story itself. I loved learning about a long-ago culture and the descriptive way Ms. Guillone wrote it, made me feel as if I were there with these characters.
I cannot wait to read the first book. I'm also anxious to read the next book in the Swords and Silk series. Ms. Guillone is a true master at writing stories that will live with you long after you finish reading the book.
Highly Recommended!
Reviewed By: Gabbi
Click HERE to enter the Dreamspinner Press website