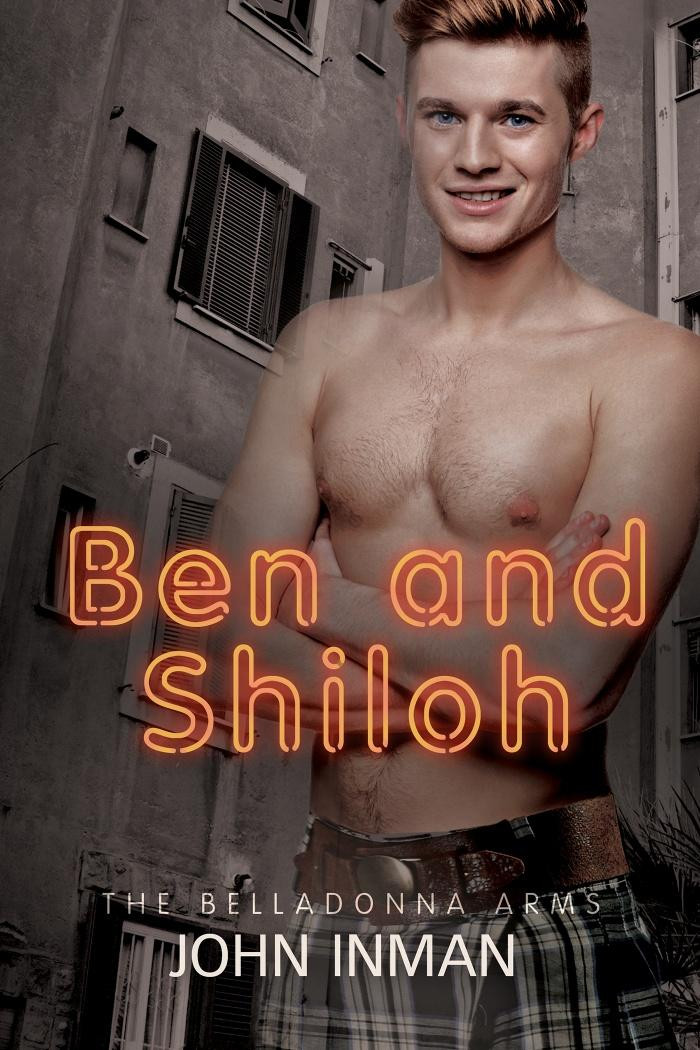 Title: Ben and Shiloh
Publisher: Dreamspinner Press
Author: John Inman
Pages: 204
Kisses: 4.5


Blurb:
Shiloh Smart is alone and looking for a fresh start. Convinced he's finished with love forever, he signs a lease at the Belladonna Arms, a tacky, run-down apartment building situated high on a hill in downtown San Diego.
Determined to turn his back on romance, Shiloh works hard at carving out a life for himself where love doesn't stand a chance and staying single is all that matters.
Then his drag queen landlord's nephew, Ben Moss, moves in. Thanks to a rumor Ben has heard since childhood of a fifty-year-old crime and a fortune in stolen money, he sets out to find the loot supposedly hidden decades ago in his uncle's apartment building.
The minute Ben spots a kilted Shiloh toddling off to work at the Scottish restaurant up the street where he waits tables, he falls hard and fast for the aloof young redhead. Even a hidden treasure can't compete in Ben's eyes with the beautiful waiter with the fiery copper hair.
But even while he diligently works to break down Shiloh's defenses, Ben doesn't give up his quest for buried treasure. Soon, as their friendship deepens, the two young men join forces in a search for the stolen cash.
As the treasure hunt gathers steam and all the tenants get involved, Ben and Shiloh come to realize the greatest treasure isn't buried in the Belladonna Arms at all. It's buried far deeper—in each other's hearts!
Review:
Ben and Shiloh is the newest book in the, The Belladonna Arms series. This series centers around a run down apartment complex in San Diego. Each book brings into focus a main couple who has found their way to the Belladonna Arms. This time it is Ben and Shiloh.
Ben is on a treasure hunt. Back in the day, when the Belladonna was a prime location, a robbery took place and the thief found his way to the Belladonna Arms before getting caught. Now Ben is searching for that money, thank goodness his uncle owns the Belladonna, giving him easy access to the property.
Shiloh is done with love. After being cheated on and kicked out of his apartment, he finds his way to the Belladonna Arms. The only thing the place has going for it as far as Shiloh can see is that it is close to his job. Then he sees Ben. Ben may be good looking, and cause Shiloh to feel funny, but Shiloh can't help wondering if Ben is a little crazy.
Anyone who has ever read a John Inman book knows that his stories can be a little snarky, may make you laugh, and will keep you turning the pages. This book is no different. I loved watching Ben and Shiloh together. In the beginning it is easy to see why Shiloh thinks that Ben is off his rocker. There are a few moments where i could not help wonder the same thing. I really loved the chemistry between them. The way they come together is hot, and the make the perfect couple as each has something the other needs in their life.
Ben and Shiloh is full of wonderful secondary characters, most of whom live at the Belladonna. These characters add a lot of humor to the story , especially Ben's uncle. as well as help the two young men, not only with their relationship but also in the search for the treasure.
This is another Inman book that I will be re-reading again. I can not wait to see what he plans to bring out next.
Reviewed by: Lydia
Click HERE to enter the Dreamspinner Press Website