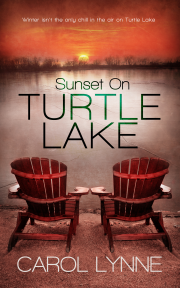 Title: Sunset at Turtle Lake
Author: Carol Lynne
Publisher: Pride Publishing
Pages: 71
Characters: Sam Burgman, Ian Mendoza
POV: 3rd
Sub-Genre: Contemporary Romance
Kisses: 4.5
Blurb:
Winter isn't the only chill in the air on Turtle Lake.
When Sam Burgman's mother, Gloria, nears the end of her battle with cancer, Sam makes the hard decision to leave his job as a corporate lawyer in Miami to take his mom home to Turtle Lake, Minnesota.
Ian Mendoza takes his job as Gloria's caregiver very seriously, but, unlike the assignments he's taken in the past, Ian fails to maintain a professional distance when it comes to Sam. Unfortunately for Ian, Sam refuses to open his heart despite their mutual attraction.
Born and raised in Miami, Ian isn't prepared for the frozen landscape that is Minnesota in the winter, but the chill he wants to erase is the one coming from Sam.
Reader Advisory: This book deals with maternal illness/death.
Review:
Carol Lynne writes warm and wonderful romances that will live in your heart long after you finish reading the book.
Sunset at Turtle Lake is a heartfelt read that gave this reader a roller-coaster ride of emotions while I read it. I've read many books by this author and enjoyed them all, with this story I really became invested in the characters and found myself experiencing a wide range of emotions as I read it.
Both heroes are interesting and unique in their own way. Sam's mother has cancer and it's taken a toll on both her and Sam. Though she's fought the hard battle, she is now in hospice and in the last stages of her life. Though Sam loves his mother, he has a hard time dealing with watching her die and has a tendency to push her and other people away because of it. Sam decides to abide by his mother's wish to take her to Turtle Lake where they both know will be the last moments in her life. There he must face not only the loss of his mother but he must accept the changes in his life that sometimes a loss of a loved one gives him.
Sam is a little bit of a lost soul. His tendency to push others away to keep himself from being hurt was something I understood and could even empathize with. Though he knows his emotional distance often can hurt others, Sam has a hard time working through the fear of loss and the fear of sticking himself out there and making himself vulnerable to others. It's a good thing his mother's caretaker, Ian is there to comfort him and prepare him for the loss of his mother and for giving him hope for a bright future ahead of him.
Ian was my favorite character. He is a warm and loving man who you can't help but fall in love with. Ian gives so much comfort and love to both Sam and his mother that it truly warmed my heart as the story progressed. Ian wears his heart on his sleeve and it's because of this, his unrequited love for Sam often breaks his heart.
I have to say that this story has more angst than many of Ms. Lynne's other stories. This book made me angry *Sam drove me crazy at times* and cry and even rejoice in the future for both of these characters. I really enjoyed every minute I spent reading this story and recommend it to those who crave an emotional, well-written read.
Highly Recommended!
Reviewed By: Gabbi
Click HERE to Pre-Order Sunset at Turtle Lake