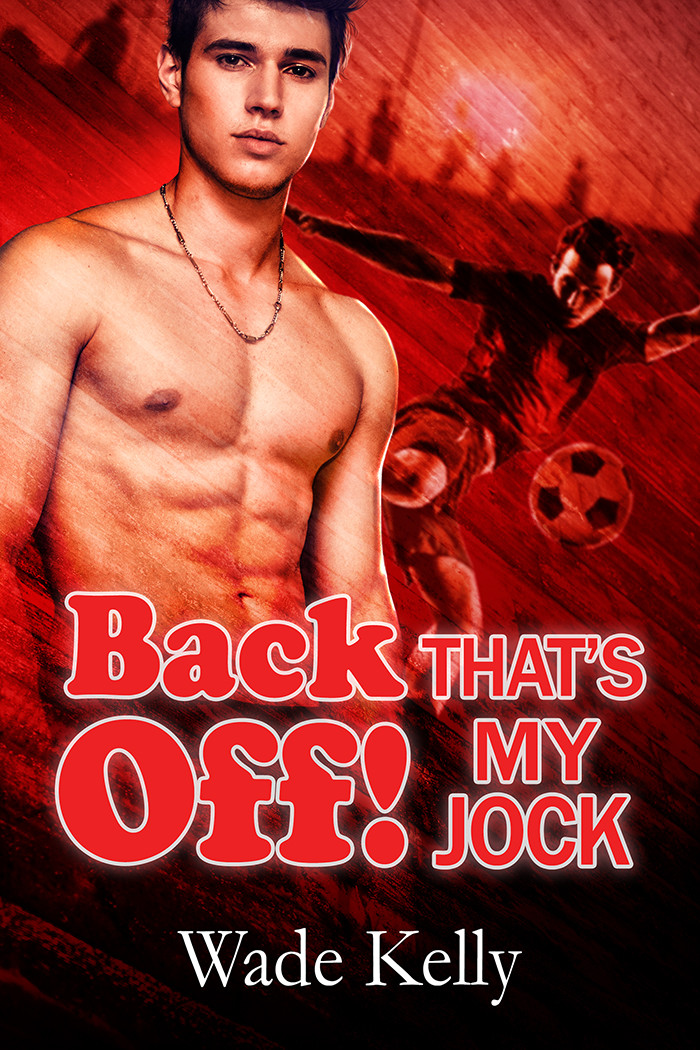 Title: Back Off! That's My Jock
Publisher: Dreamspinner Press
Author: Wade Kelly
Pages: 290
Kisses: 5+


Blurb:
Defining his sexuality didn't make sense until his best friend spelled it out.
Doug Archer did some pretty idiotic things in the first eight weeks of his junior year of college. First, he kissed his gay best friend, and second, he kissed a guy he'd mistaken for a girl. Not stellar moments for Doug. If he isn't careful, he'll lose his spot on the soccer team to the new freshman, or worse, he might misconstrue his new friend Rob's overly affectionate tendencies for flirting. But if Doug isn't bothered by another guy's attention, and he normally dates girls, does that mean he's gay or bisexual?
Sam Garber suppressed his same-sex attraction his entire life. His father told him it was immoral, and Sam did everything he could to bury his feelings. However, after meeting Doug at a party and kissing him, Sam can't think of anything else. He decides dating girls is the best way to keep his secret hidden. With playoffs in sight, this is no time to think about guys in any other context than soccer. Only neither boy anticipates the difficulty in suppressing his attraction for another jock!
Review:
Back Off! That's My Jock is the third book in the Jock series. Book three brings back Doug, Chris' friend from book two. Those that have been following this series may remember that Doug is struggling with his sexual identity. He has always believed he was straight, but then there was the kiss with Chris. Now there's Sam and Doug is totally confused. I will admit that I did not remember Sam right away, as it has been a while since I read No! Jocks Don't Date Guys.
Sam is a quiet one with a lot to overcome. He's gay but because of his upbringing he is struggling to be straight. This causes a lot of problems for both Sam and Doug as they try to come to terms with their feelings and what that will mean for their lives. Thankfully the young men have their team mates and coach to turn too, especially since Sam tries to hang on to the illusion of being straight. While in other stories this would drive me a little crazy, in Back Off! That's My Jock; the author gives the readers multiple examples to show why Sam is reluctant to turn to Doug. Be prepared though because once these two finally come together they really heat up the pages. I had to laugh when Doug turned to porn to figure out what to do with Sam, only to have Chris walk in. And Sam turns out to be a bossy little bottom who has Doug wrapped around his finger.
I want to say that once these two come together everything works out wonderfully for them, but they still have much to overcome. There are girlfriends to break up with, families to come out to, and abuse to come to terms with. Parts of this story may be hard for some readers but the scenes are needed for the story.
A majority of the secondary characters in this book come from the previous books. I really loved Rob and more than once I wanted to laugh at his actions. I loved the way he and Doug bonded and had to smile when Doug told his mother that Rob was his adopted brother. The author has stated that there will be one more book in this series and I am crossing my fingers that it will be Rob and Russell's story.
While it is possible for each of the books in the series to stand on its own, I would recommend that the readers read the books in order.
Reviewed by: Lydia
Click HERE to enter the Dreamspinner Press Website