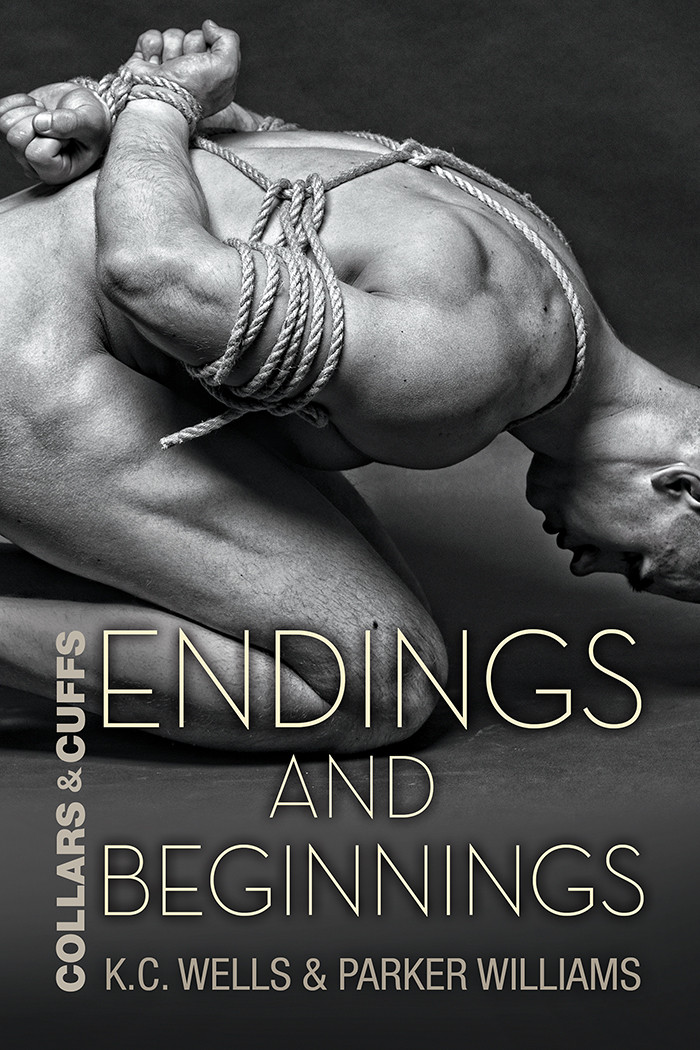 Title: Endings and Beginnings
Authors: KC Wells and Parker Williams
Publisher: Dreamspinner Press
Pages: 350
Characters: Darren Fielding, JJ Taylor
POV: 3rd
Sub-Genre: BDSM, Contemporary
Kisses: 5
Blurb:
In all his relationships, Darren Fielding never found the level of intimacy he witnessed between Thomas Williams and his sub, Peter, the day of Peter's "rebirth." Not only that, he never realized such intimacy was possible. For two years, Thomas's business card has been burning a hole in his wallet. When Darren's lover moves on, maybe it's finally time to see where that card takes him.
Collars & Cuffs' new barman, JJ Taylor, is really conflicted right now. He went to the club with a very specific purpose, already convinced of what he'd find there. Except it's not what he expected at all. He certainly didn't anticipate finding himself drawn to the new wannabe Dom. Nor could he have guessed the direction that attraction would lead him.
Old love, new love, vows, pain, rage, moving in, moving on…. The members of Collars & Cuffs face an event that touches some of them deeply, but it will only reinforce what they already know: together they are stronger, and some bonds cannot be broken.
Review:
The Collar and Cuff series by Parker Williams and KC Wells is one of my favorite BDSM themed series. Each and every book is special within its own right and believe me when I say it's a pleasure to read and revisit each and every one of them. What I appreciate as a reader is that the BDSM aspect of the relationship is a strong one, but it's never over the top. I've read many BDSM books and thought they were a bit outlandish, but in this series, in my opinion, it's more realistically written. Even those who do not care for BDSM themed books, should give this series a try. It's a perfect BDSM/Romance mix that I believe will satisfy almost all readers.
I've been looking forward to this book AND I've been dreading it. Since it is the last book in the series, I began reading it knowing I was going to have to say goodbye to some of my favorite characters. As with all of the books, the main heroes in the previous stories play a big part in the current story, so I loved catching up with all of the beloved heroes and seeing how their relationships continue to progress as the series continues. I was so thrilled to see that the authors ended the series and though there were tears, there were both happy and bittersweet ones. They leave the book on a high note and I hope and pray they will start a new series with two of my favorite men. *Crosses fingers*
As to this book, I loved it because we get to see JJ's character really evolve and grow as the story progresses. I liked how Darren and JJ connected with each other as well learn to trust in one another. Just like the other books before this one, this story is about trust, friendship, honestly, integrity, respect and love.
Most of all this wraps up the series in a way that will leave a smile on your face. I will miss the characters but know that each and every one of them have gone onto a happy journey with their partner together.
Parker Williams and KC Wells have a real knack at writing romances that will live with you long after you finish the book. They really know their characters and the depth of the love they share with their partner is truly a beautiful thing to read.
Endings and Beginnings is the eighth book in the Collars and Cuffs series. I highly recommend reading these books in series order. Each and every book shows a progression of all of the characters' lives. If you miss one, I'm afraid you'll be a little lost.
The Collar and Cuffs series in book order are:

An Unlocked Heart
Trusting Thomas
Someone to Keep Me
A Dance with Domination
Damian's Discipline
Make Me Soar
Dom of Ages
Endings and Beginnings
Highly Recommended!
Reviewed By: Gabbi
Click HERE To enter the Dreamspinner Press Website